Peloton is the popular in-home, connected workout service that has grown like crazy in the past year.  It is not inexpensive, though, so can be a major investment. One of the questions we get most often is "is Peloton worth it?"
That is a question we will try to answer in this piece, although we will first do a bit of a spoiler:  It depends on your situation.
Is Peloton Worth It?
As with so many purchase decisions, it depends on how much you use it.
There is no doubt, Peloton is popular.  The service was only introduced in 2014, but quickly grew and went public in 2019.  Peloton further benefitted from the COVID-19 pandemic as workout warrior flocked to home-based workouts.  We expect that trend to continue, even in a post-pandemic world.
With a healthy marketing budget, Peloton's ads can be found on everything from online videos to billboards.  As of 2022, Peloton boasted about 3 million paying subscribers, but even more are registered members who might not be recurring subscribers.  At $40 a month, that means Peloton has a nice revenue stream.  But as a workout warrior, what you are worried about is your monthly subscription fee and will you get your money's worth for it.
Peloton's Cost – How much is a Peloton?
Let's start with the cost of Peloton, which is not insignificant.  The price of a Peloton bike has actually decrease in the past year, but is still expensive.  Expect to pay $1,500 or more – without any accessories like shoes or a floor mat (compare that to more than $2,200 per bike a couple years ago).  That is a pretty significant investment in a piece of exercise equipment that really only works once you have spent even more on the subscription.  For the cost of a Peloton bike, you can get a pretty nice entry-level road bike, one with a carbon frame and disc brakes.
Peloton allows buyers to finance the cost of the bike over 12 months.
Speaking of the subscription fee, as of this writing the subscription fee for Peloton's streaming service was $44 a month for access to the integrated, coached cycling sessions.  So expect another $500 a year for the subscription, in addition to the upfront cost of the bike.  Is it worth it?  In order to determine that, we need to look at the benefits, and factor in how often you will use the bike.
Peloton's Benefits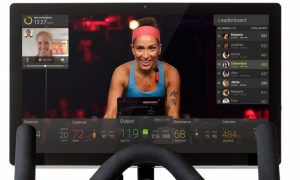 Peloton's benefits are what make people look past the cost and go all-in.  The bottom line is that if you are going to faithfully use a Peloton bike, it might be worth the cost.  There are a few things about Peloton that make it so attractive for workout warriors.
First, the monthly subscription gives you unlimited streaming access to all of Peloton's workouts.  You could do two-a-days if your schedule allowed, there is really no limit.  Considering that you might drop $20 to go to a spin class in a studio, $39 for the month of unlimited Peloton workouts might not be a bad deal if you use it.  The convenience of a home-based workout is not unique to Peloton – everything from Mirror to smart bike trainers (more on that below) to simple streaming workouts on a tablet are available, but Peloton seems to have found a critical mass of users and classes that puts them in the top tier.
Second, you have the option of live workouts with an instructor, or pre-defined on-demand rides.  There are up for 14 live classes a day, or you can call-up another ride with the on-demand function.  There will be no shortage of rides to choose from.
Third, you can ride with friends.  Maybe you want to do a ride at the same time as your sibling who lives half way across the country – you can!  It can be a great way to virtually ride together.
Finally, more than one family member can ride the Peloton bike.  An all-access Peloton membership allows everyone in your household to share the bike.  You just need to make sure everyone remembers their correct bike settings so it fits well from person to person.  This is an underrated benefit of a Peloton bike, as having a smart bike trainer is great for a solo rider, but it can be cumbersome for two or more family members to swap their bikes in and out.
If you use Peloton enough, it can really whip you in to shape.
Are There Any Downsides of Peloton?
Let's put the cost aside for now, the most obvious downside.  There are some other downsides to the Peloton model from various angles.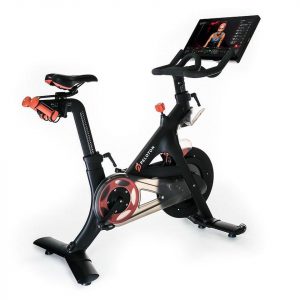 First, the bike doesn't have much use other than with Peloton's $40-a-month service.  It is probably not a bike you would just hop on and ride for the heck of it, and you obviously can't take it outside and hit the trails.  If you drop the two grand-plus on this bike, it is going to be solely for riding Peloton classes.  The bike really does not have multiple uses, not in the way that a real bike might.
Second, you are not riding your own real bike.  This is not a big deal for people who want to ride Peloton in the place of going to a spin class.  But for someone training for road riding or a triathlon, you may want your intense bike workouts to translate directly to your ability to ride faster when outdoors.  In that case, it might be better to be on your own bike frame while riding indoors.  More on that below.
Third, Peloton is very spin-class-based.  If you are not a fan of spin classes and prefer "free rides" or riding courses, there are better options out there.  For example, if you are someone who just likes to go and ride an interesting course, the gamification of Zwift might be a perfect fit for you.
Finally, in addition to having you ride on a bike that is not your outdoor bike, Peloton really prefers that you not swap-out any parts, such as pedals.  The Peloton bike comes with pedals that require a Delta — or 3-hole — bike shoe and cleat.  (if these terms are new to you, go to our in-depth piece on bike cleats explained).  For those who are used to riding in a different shoe and cleat system, this might mean having a shoe on hand just to ride the Peloton.
Alternatives to Peloton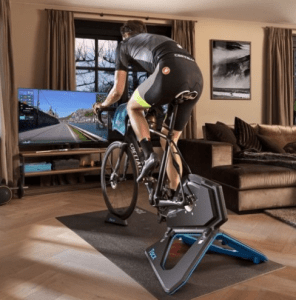 Smart bike Trainers with Apps
If plunking down more than $2,000 on a bike that only works indoors with the Peloton streaming service isn't for you, there are other good options to consider.  We covered most of them in this piece on the best smart bike trainers and apps.
If looking at alternatives to Peloton, you need to probably examine the smart trainer market.  You could go full-on traditional trainer, but it won't give you the benefits of integrated, connected workout technology which might defeat the purpose.
Many cyclists rely on the combination of the smart trainer and smart cycling workout app, and there are multiple options for both.
A smart trainer is a device that your regular road or tri bike connects with, and allows your bike to talk with various apps via the smart trainer's Bluetooth function.  Popular smart trainer are made by Wahoo, Saris (formerly CycleOps), and Tacx.  Right now, we are recommending the Saris H3, a high-quality, quiet trainer that will connect easily with a wireless connection.  We did a thorough Saris H3 Review, and evaluate it for yourself.
Just a tick below the Saris H3 is the Tacx Flux 2, an excellent and very quiet trainer that gives you 99% of the functionality you need with a training app.  Tacx is an outstanding brand, and the Flux 2 is the middle of its smart trainer lineup.  It has a smaller flywheel than the Saris, and is not as foldable when not in use, but it is very, very good.  Check out our full Tacx Flux review.
As far as apps go, there are several really good options to choose from.  We tend to lean toward either Zwift or Sufferfest, but there are others such as Trainerroad.  We profile them here.
The app seamlessly connects to the smart trainer, and you can monitor your workout on a device like a phone, tablet, or a TV outfitted with a simple Apple TV device.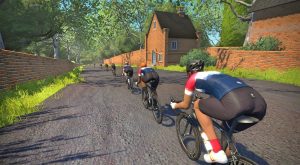 Total cost for the smart trainer is about $1,000, and the app usually runs $10 to $20 a month – so you are looking at a total cost of about half the price of Peloton.
The other reason, besides cost, that we see many seasoned cyclists opt for this setup instead of Peloton is that you can ride your own bike on it.  If you have invested a lot of money in your road or tri bike, and gotten the fitting just right, it is kind of nice to right it even when you are indoors.
Other Smart Bike Options
In addition to smart bike trainers, which have become so advanced that we highly recommend them, there are a couple other smart bikes on the market.  Like a Peloton unit, they give you everything you need for riding right out of the box — not additional bike needed.
The one we like best is the Wahoo KICKR Bike, made by the trusted Wahoo brand.  It gives you a stationary smart bike that feels a like like a high-end road bike, so might be a nice option for people who want their indoor smart bike to feel just like the real thing.
We also tested the WattBike, and wrote about it in our WattBike Review.  While we liked it, and it gave us a heck of a workout, we were partial to the more expensive KICKR bike.
How Can You Make a Peloton Cheaper?
That is where it is hard.  Because Peloton has what we call "vendor lock", when you use Peloton it is hard to find ways to shave costs off around the edges.  Part of the beauty of Peloton's model, to give them full credit, is the integration.  That means that it works best to use their full-priced bike in conjunction with their full-priced streaming service.
Still, there are a couple known ways to reduce the Peloton's price.
The most straightforward is to access a discount from the company, which Peloton is willing to do for members of the military, first responders, and medical personnel.  You will need proof.  You can find more information on the discount program here.
It actually is possible to stream the Peloton app only, and ride on your own bike setup.  The problem is that it would not be integrated, so instead of having a "smart" home workout it would be pretty old school.  Still, if you are content following along on a Peloton-led workout, but using your own gear without the feedback loop and integration, it could be a money-saving option.
Does Peloton Have Scenic Routes Like Zwift and others?
Not exactly.  You can do a "guided" scenic ride with one of Peloton's instructors, and it can be fun if you like riding with others. But the ability to hop on your bike and ride through a gamified version of London, or see actual Swiss postal roads on Sufferfest is something you will only get by using a smart trainer and app.
Is Peloton Sold in Stores?
Kind of.  Peloton is sold in Peloton stores.  Other than that, you need to purchase a Peloton system online.  Most major metro areas of one or two stores where you can check out a bike and even do a test ride.  But they are not sold in stores or bike shops the way that other cycling and fitness equipment is.
 Conclusion
If you are someone who loves spin classes, and wants to be able to get quality workouts in your home, and have the budget for a Peloton bike, then Peloton might be for you.  Many people we talk to swear by Peloton – it gives them the opportunity to workout at home when they otherwise would not get any workout in.
If the budget is a challenge, or you prefer free rides or riding on your own bike, then some of the other options we described might be better for you.
Von Collins is an accomplished triathlete and cyclist, and the author of four fitness and training books: Smarter Running, Your First Triathlon Guide, Fit Foods, and 30 Rut-Busting Workouts.
Von has been cited as a triathlon, cycling, and fitness expert by Healthline, CNET, Forbes, Eat This, Not That and other major outlets.
Von has done dozens of triathlons and endurance bike races, coaches, and is an avid part of the cycling and triathlon community.