Best Ebike for Seniors: 5 Great E-Bikes for Older Riders
Choosing the perfect electric bike can feel like a daunting task. Ebikes hit the scene fast, causing many of us to have to catch-up on their features and other details.
In this article, I will explore and discuss the best e-bikes for seniors, focusing on factors such as comfort, ease of use and accessibility.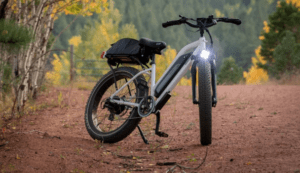 There are so many choices when it comes to ebikes, starting with the design. When evaluating ebikes, look for the design and features that cater specifically to seniors' needs. Features such as a step-through frame design, comfortable saddles, and easy-to-reach controls can make a significant difference in the overall enjoyment of the bike. I find it is also important to think about the e-bike's power and performance, as well as its ability to handle various terrains, so that every ride is smooth and enjoyable.
As I delve into the world of e-bikes for seniors, my goal is to provide clear and unbiased information to help you find the right e-bike for the type of riding you expect to do. After all, picking out an e-bike should be fun, not stressful.
Understanding E-Bikes
Key Features
E-bikes come with a number of features that increase as you spend more. Some bikes have features specifically designed for seniors, prioritizing comfort, safety, and ease of use. Some primary aspects include step-through frames for easy mounting, comfortable upright seating positions, and reliable suspension systems for a smooth ride. In addition, many e-bikes for seniors come with built-in rear racks, fenders, and lights for extra utility and safety.
How They Work
E-bikes combine the traditional cycling experience with an integrated electric motor, which provides assistance while pedaling. This added boost makes it easier for seniors to maintain a steady speed, climb hills, and travel longer distances with less fatigue. Typically, e-bikes come with easy-to-use control panels for adjusting the level of assistance, allowing riders to find the perfect balance between exercise and ease.
What are the Ebike Classifications
E-bike classifications help distinguish the motor's power and speed capabilities. There are three main classes:
Class 1 e-bikes have a maximum assisted speed of 20 mph and only provide assistance when the rider is pedaling.
Class 2 e-bikes also have a maximum assisted speed of 20 mph, but they can provide assistance without pedaling, often thanks to a throttle.
Class 3 e-bikes are faster, offering assistance up to 28 mph. However, the assistance is only available while pedaling; there is often no throttle option for these models.
On the trails around me, I've noticed that seniors often opt for Class 1 or Class 2 e-bikes, as they strike a good balance between assistance and manageability. Please remember to always check local regulations before choosing an e-bike, as some areas may have restrictions based on the bike's classification. The last thing you want is to buy an ebike that is not allowed on your local bike trail.
5 Great E-Bikes for Seniors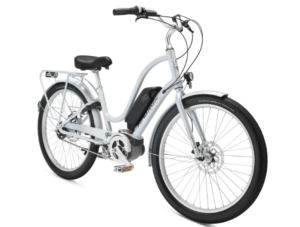 The Electra Townie Go 5i is a popular option for seniors because of its comfortable design which keeps the rider relatively upright. The bike features a low-step frame, making it easy to mount and dismount, and a Bosch mid-drive motor that provides smooth and efficient power delivery. I also like the wide, cushy seat and upright riding position that make it comfortable for long rides.
The mid drive motor, in my experience, makes up for the smaller 250w power. It should be a good choice for most people who just want some extra power on uphills or on those longer rides.
The pedal assist is smooth, kicking in when you need it but otherwise being seamless with your own pedaling. That makes it a good option for people who want to get their heart rate up but also have the benefits of the motorized assist.
Pros:
Comfortable, ergonomic design
Bosch mid-drive motor for smooth power delivery
Seamless shifting into pedal assist mode
Easy to mount and dismount
Cons:
Higher price point compared to other e-bikes
Some may want a stronger motor than 250w
Power: 250 watts
Weight: 55 pounds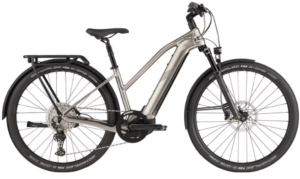 The Cannondale Tesoro Neo X1 Remixte is a versatile option, designed to take on both city streets and light off-road trails. I appreciate the reliable Bosch motor that offers a good balance of power, and the suspension fork that helps absorb bumps for a smoother ride. The Remixte frame is easy to step through, making it a great fit for seniors looking for accessibility.
The Cannondale Tesoro is a pretty high-end bike, and for some people it might be more than they are looking for. I think it is overkill for anyone who mainly wants to ride on a quite, paved trail.
I love that the battery is concealed in the tube, giving this a look that makes you wonder if it is even an ebike. The motor is a 250w, so there might be some riders who are looking for a more effortless ride. This is for people who still want to be active.
Who do I recommend this bike to? Anyone who enjoys getting on gravel roads, paved trails, or even a little easy singletrack, and doesn't want to give that up with an ebike. This bike can handle a bit of everything without disappointing or breaking, which is why you pay more for it.
Pros:
Versatile for city streets and light off-road trails
Reliable Bosch motor and suspension fork
Easy step-through frame
Cons:
Quite expensive
Slightly heavier than some other e-bikes
May be more bike than those just looking for a commuter bike need
Power: 250 watts
Weight: 55 pounds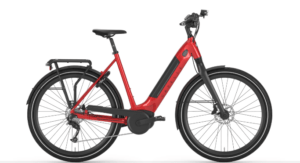 The Gazelle Ultimate T10 is a highly reliable e-bike with a comfortable riding position and a powerful Bosch mid-drive motor. Its low-step frame and wide tires provide stability and easy handling, while the Enviolo continuously variable transmission ensures smooth gear changes. I also like the integrated lights that add an extra level of safety.
At 250 watts, this bike is not going to be one that takes you fast uphill, but it will give you enough assist to go anywhere you want.
I love the comfortable riding position that the Gazelle Ultimate T10 offers to seniors. You will be a bit more upright, but not in a way that diminishes the ride experience. This sport posture will help remove some of the weight from your hands, wrists, and elbows, something that I often hear older riders providing feedback on when it comes to ebikes.
Pros:
Comfortable riding position with low-step frame
Bosch mid-drive motor allow for more control of power
Enviolo CVT for smooth gear changes
Ideal as a commuter bike
Cons:
Premium price
Designed to stay on the tame trail
Power: 250 watts
Weight: 51 pounds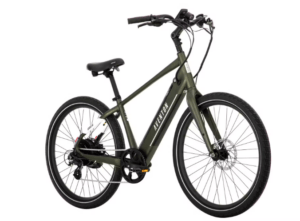 The Aventon Pace 500 boasts a sleek design and powerful motor that can tackle hills with ease. I like its top speed of 28 mph, which makes it a great choice for those who want to ride faster or cover longer distances, however it can be adjusted to be in line with Class 2 bikes, topping-out at 20 mph. The relaxed, upright riding position and step-through frame provide comfort and accessibility for seniors.
The 500 watt motor gives you plenty of power. It is a single speed hub motor, so you aren't going to be able to shift and control power, but there is more than enough to get you up those big hills.
Expect 30-45 miles, depending on how much you are using the motor. More assist = shorter battery life.
This bike is less expensive than some others, which caused me to ask "OK, what DON"t you get for the money?" The main thing you will forfeit is a suspension fork, making the ride a little rougher. The suspension is nice when you hit the unexpected pothole on a gravel road, or some washboard surface. But if you will mainly be riding on well-maintained pavement, forgoing the suspension might be a fine choice.
Pros:
Sleek design
Powerful motor with 28 mph top speed
Comfortable step-through frame
Nice price
Cons:
Limited range compared to other e-bikes
No suspension fork
Power: 500 watts
Weight: 52 pounds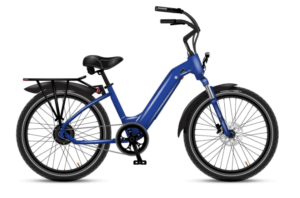 I'm a big fan of this bike!
The Electric Bike Company Model R is an American-made e-bike that offers a comfortable ride and quality components. Its 500W motor delivers ample power, and the customizable frame and components allow for a personalized fit. I love the large seat and upright riding position that provide comfort on longer rides.
I did not know that much about the Electric Bike Co before testing a few bikes, but it did not take me long to become a fan. They offer 9 bikes in their lineup. The reason I liked the Model R when it came to seniors or older riders had a lot to do with the frame design. The sleek step-through frame make the big easy to mount and dismount, but you still have a bike that gives you plenty of power and the ability to climb and handle a little rougher stuff. That makes it a great option for folks who used to be avid cyclists and still want the feel of exploration when on the ebike.
These bikes are typically ordered online, as they don't have a lot of stores. The bike will arrive fully-built in a tough shipping box on a pallet. From there, you will just need to give it a quick charge, do a once over on the components and tires, and start riding.
Overall, you get some really good features for the price.
Pros:
American-made e-bike with quality components
Customizable frame and comfortable riding position
Powerful 500W motor
Good value
Cons:
Higher price point
A touch on the heavy side
Power: 500 watts
Weight: 56 pounds
Best Ebike Summary:
Best for comfort: All 5. We prioritized comfort on this list.
Best for off-road or gravel: Cannondale Tesoro
Best for commuting: Gazelle Ultimate
Best overal value: Electric Bike Co Model R
Nod to being American-Made: Electric Bike Co Model R
All bikes featured above in more detail.
Choosing the Best E-Bike for Seniors
Choosing the right ebike can be a tough choice, because the number of options have exploded in the past 3-5 years. Based on my testing as well as many, many conversations with folks on the trail, here are a few things to consider when choosing the best e-bike for seniors, focusing on comfort and size, weight, stability, ease of use, and battery and range.
Comfort and Size
First and foremost, the comfort and size of an e-bike play a crucial role in ensuring a pleasant ride. Look for e-bikes with an ergonomic design, adjustable handlebars, and a comfortable saddle. Step-through frames are ideal for seniors, as they allow easy mounting and dismounting. Brands such as Ride1UP and Cannondale offer suitable options for seniors.
Most bike manufacturers have a grid on their website showing what size of their bike is best for you, based on your height, weight, build, and other factors.
Weight
One thing you need to know about e-bikes right upfront: They are heavy! They are typically anywhere from 2 times to 3 times heavier than traditional bikes, due to the motor and the other mechanics required to get power to the wheels. This means that the bike might take a little getting used to, especially in situations where you need to be agile.
The weight of an e-bike can significantly impact its maneuverability and accessibility. Lighter e-bikes are easier to handle, especially for seniors who may have limited strength or mobility. Consider models that cater to the needs of seniors with their lightweight design.
Stability
Stability is essential for seniors, as it helps prevent accidents and maintains balance during the ride. E-bikes with wider tires, lower center of gravity, and robust frames can provide a more stable riding experience. If you think you might be riding on uneven surfaces, considering prioritizing stability by getting wider tires.
Ease of Use
Simple and intuitive controls are crucial for seniors to ensure a hassle-free biking experience. Look for e-bikes with easy-to-read displays, user-friendly controls, and minimal maintenance requirements.
There are high-end bikes that have control panels with many different options, but the bikes I recommend all are pretty easy to use, even for someone new to ebikes.
Power, or Watts
Ebikes all have motors that put out a specified amount of power, measured in watts. The more watts the motor can put out, the more help you will get when you are looking for assistance while you ride.
The base level of power is 250 watts. The next step up is 500. There are 750, 1,000, and higher watt bikes, but I don't advise them for older riders because they can hit such high speeds that they basically become motorcycles.
A 250 watt bike, generally speaking, will help you get up a hill while you pedal and will take some of the effort out of pedaling long distances. Also, you will find yourself moving at a faster speed on flat surfaces than if you were pedaling with no motor. They will typically max out at 20mph.
A 500 watt bike will have more power, which will especially be noticeable on climbs and uphill routes. On straightaways, these bikes may be able to achieve speeds in the high 20s (if allowed by your municipality).
A 750 and higher watt bike can achieve speeds higher than 28 with the right modifications. I don't recommend any of these for seniors because very good agility and reaction time is required to be riding at such speeds.
Battery and Range
Consider the ebike battery capacity and range of your e-bike. Seniors may prefer longer rides or have limited access to charging points, meaning a longer battery life can be beneficial. Look for e-bikes with reliable batteries and sufficient range, which offers a range of at the very least 50 miles on a single charge. Some bikes (like the Model R, above) can give you 150 miles of range on a single charge.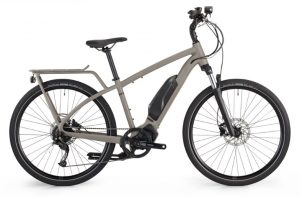 Consider investing the $200 to $400 in a spare bike battery, if you have the budget for it. It allows you to charge one while riding on the other.
Safety Measures for Senior E-Bike Riders
As a senior e-bike rider, it's crucial to prioritize safety while enjoying the benefits of electric bicycles. In this section, I'll discuss some basic precautions and recommended safety accessories.
Basic Precautions
First and foremost, I need to follow the rules of the road and treat my e-bike as a vehicle. This includes riding in the same direction as traffic, signaling turns and lane changes, and obeying traffic laws source. Additionally, it's important for me to:
Stay visible: Wear bright, reflective clothing, and use lights when riding in low-light conditions.
Choose the right e-bike: Opt for a bike that fits my needs, body type, and comfort level. Some e-bikes designed for seniors focus on ease of use and comfort.
Use a helmet: Wearing a properly fitted helmet can significantly reduce the risk of head injuries in case of an accident.
Maintain the e-bike: Regularly inspect and perform maintenance on my e-bike to ensure its components are functioning correctly and safely.
Stay in control: It can be tempting to get your ebike going up to 28 mph, especially if you have a Class 3. But keep in mind that when you were riding a normal bike, you were probably going at speeds of 13 – 18mph. Just because your bike can go faster doesn't mean you are experienced enough to stay in control if a hazard runs out in front of you. Stay in control. The benefit of the power is really on the climbs and the accelerations. If you are going at 28mph, your reaction time to any hazard needs to be much better than if you are going 15mph. Safe speeds are critical.
Recommended Safety Accessories
In addition to basic precautions, there are specific safety accessories that can enhance my riding experience and safety:
Helmet: Yes, I just mentioned it above, but it is really important you have a helmet on your ebike
Mirrors: Installing mirrors on my handlebars can help me keep an eye on traffic behind me without having to turn my head constantly.
Horn or bell: A loud horn or bell allows me to alert others to my presence, especially in busy urban environments.
Gloves: Wearing gloves can help protect my hands in the event of a fall or scrape, and provide a better grip on the handlebars. A good pair of bike gloves actually helps your arms, shoulders, elbows, and back feel more comfortable during the ride, too.
Fender: You will probably be given the option of purchasing a rear fender for your bike. If you routinely ride with others, do it. The real value of the fender is preventing rocks from being thrown into the face of the rider behind you, by your rear bike tire. It can help make group riding safer.
By taking these precautions and using the recommended safety accessories, I can make my e-bike rides safer and more enjoyable as a senior rider.

Final Thoughts
As I've explored the world of eBikes for seniors, it's clear that manufacturers are designing bikes with elderly riders in mind. Companies such as Trek, Rad Power, and Gazelle offer excellent options that focus on comfort, safety, and ease of use.
Key features to consider when selecting the best eBike for seniors include step-through frames, adjustable seating, and reliable braking systems. Step-through frames provide easy access to the bike, without having to lift a leg high over the frame. Adjustable seating helps riders find a comfortable and ergonomic riding position. Reliable braking systems ensure that the bike can stop efficiently in various conditions.
Another aspect to look for is battery life and the power of the electric motor. A longer battery life allows for extended rides without worry of running out of power. The power of the electric motor is crucial in providing assistance on hills and longer distances. I'd recommend opting for eBikes with mid-drive motors as they offer better balance, power distribution, and overall performance.
In summary, finding the best eBike for seniors can significantly improve the quality of life for elderly riders. It can help maintain an active lifestyle, ensure social connections, and increase independence. By focusing on comfort, safety, and ease of use, seniors can enjoy the benefits of cycling without unnecessary strain or risk.
Frequently Asked Questions
What is the most comfortable electric bike for seniors?
That's what this whole article was about! When it comes to comfort, everyone is different. Be sure to get the style that you think you will make the most use of. Each of the bikes I listed above where chosen because I think seniors will find them comfortable. I filtered-out all of those bikes that I saw and tested that had a heavy forward-leaning riding position. I find that they can be hard on the hands, wrists, and elbows, especially for those with arthritis or similar conditions.
Which e-bikes are best for seniors with balance issues?
For seniors with balance issues, I recommend e-bikes with a step-through frame, as they provide easier mounting and dismounting. It also allows you to be a bit more agile in the event you get in a sticky situation, such as the need to stabilize yourself at a low speed stop. Throttle e-bikes that can be ridden without pedaling are excellent for riders rehabilitating an injury or those with limited mobility.
Are there affordable electric bikes suitable for older adults?
Yes, there are affordable e-bikes suitable for older adults. While higher-end models come with more features, it is essential to choose an e-bike that meets your specific needs within your budget. Many brands offer budget-friendly models with basic yet practical features that can provide a comfortable and enjoyable riding experience for seniors.
We also did a piece on the best ebikes under $2,000, if that is a key price point for you. Of the bikes above, the Aventon Pace 500 is a really good value, in my opinion.
Is there a specific e-bike design for senior women?
While there isn't a specific e-bike design exclusively for senior women, some models are designed to be more suitable for women and seniors in general. Step-through frame e-bikes are a popular choice, as they provide easier mounting and dismounting for women and older adults. Additionally, some e-bike brands offer unisex models with adjustable seats and handlebars, catering to different height and body types.
Jim is an accomplished triathlete and endurance cyclist, and has raced in more than 3 dozen USAT-certified races.  He is also an avid trail runner and gravel bike rider.
His areas of expertise are in endurance training, cycling, triathlon technique, race direction, and training plans.  In addition to writing extensively about the endurance world, he has managed gyms and fitness centers in the US.  Jim is a longtime writer for Complete Tri, Compression Design, and his work can be found on the resource pages of many triathlon and cycling clubs in North America.