When it comes to hitting the trail or pavement on your Ebike, you need a battery that isn't going to let you down! But what should you look for in one? We profile some of the best Ebike batteries out there plus answer some of the most frequently asked questions about them!
What You Need to Know About Ebike Batteries Before Getting Started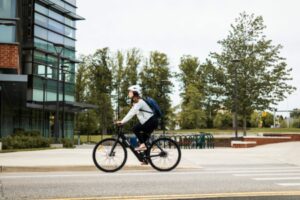 Let's cover a bit of basic information and terms you'll need to know before we dive into some more technical information!
Terminology
Some terms that will come up in the article (and during your own research) include:
Amperes (Amps)

Amps refers to the unit of electrical current and is used all over the globe.
You may also see Ah, which stands for ampere per hour.

Voltage (V)

V, or Volts, is the electrostatic difference between two conductors.

Watts (W)

Watts is the standard unit of power. The higher the watts, the higher the output.
Wh stands for watt per hour.
Types of Batteries
Next, let's dive into the types of batteries and what each strengths, weaknesses, and applications are.
Lead Acid Batteries
Lead acid batteries are inexpensive, heavy, and one of the least powerful options out there. While they can be used for golf carts and ebikes, they're generally not recommended however for ebikes due to the downsides.
Nickel-Cadmium Batteries
Nickel-cadmium batteries have more capacity than lead acid, but not quite as strong as other options. They can also last quite a while if you give them proper maintenance. However, this battery tends to be more expensive and cadmium is, in fact, a pollutant.
Nickel-metal Hydride Batteries
As we continue the trend, nickel-metal hydride batteries are stronger than either of the two types above, but they are quite complicated. They're not durable and not really recommended for e-bikes.
Lithium-ion Batteries
Lithium-ion batteries tend to be the go-to for most cyclists. Durable, long-lasting, and powerful, they're everything you need on your ebike. They do, however, always need to be handled properly as improperly handled lithium-ion batteries can catch on fire. They also tend to be on the more costly side of the spectrum.
There are several types of lithium-ion batteries available including lithium manganese, lithium cobalt, and lithium-ion polymer, each with their own pros and cons.
What Should You Look For in an Ebike Battery?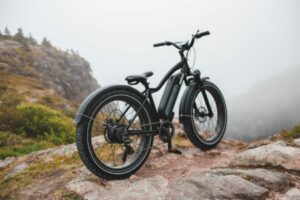 Now that you know the basics, what should you be looking for in an ebike battery?
Power
Before choosing an ebike battery, you'll first want to look at the voltage, amps, and watts. All of this will affect your speed, how much current can get to your bike, and how long your bike will last during your cycle.
Size, Shape, and Weight
Of course, you don't want a battery that is simply too big or too heavy for your ebike. Going larger could give you more power, but… will you be able to mount it on your bike?
Range Estimates
Range estimates should always be taken with a grain of salt. These are estimates, not guarantees. Part of this may be a sales pitch, so if it sounds too good to be true, it is. The weight and power of your battery will determine just how far your bike can go. A 6-8 lb lithium-ion battery, for example, tends to average only 20 miles. I recommend finding a battery with a range of at least 50 miles. Some can last up to 150 miles!
Cost
And, of course, you should always give consideration to your budget! Lithium-ion batteries are on the more expensive side, but there are less costly ones that should fit your needs.
3 Best Ebike Batteries
Bosch PowerPack 500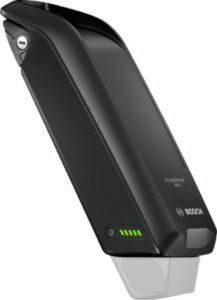 The PowerPack 500 from Bosch is a frame or rack battery that is fantastic for ebikes. Lightweight and compact, they're made for long distance rides. Here are some of their stats:
Uses the Bosch eBike system 2
36 V
13.4 Ah
About 500 Wh
5.7 – 6 pounds
13.9 x 3.6 x 3.5 in / 14.6 x 4,8 x 3.1 in
Dual battery compatible
Takes 3 to 15 hours to fully charge depending on type of charger used
Fully charged, your PowerPack 500 should be able to go about 25 to 50 miles
Mount: Frame or rack
Bosch PowerPack 400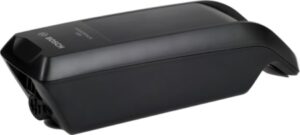 If you only need an ebike battery for quick jaunts, the PowerPack 400 can do the trick, too! Also made to be mounted on the frame or rack, this is a more affordable option if you don't need all the power of the 500.
Uses the Bosch eBike system 2
36 V
11.0 Ah
About 400 Wh
4.8 – 5.7 pounds
13.9 x 3.6 x 3.5 in / 14.6 x 4,8 x 3.1 in
Dual battery compatible
Takes 2.5 to 6.5 hours to fully charge depending on type of charger used
Fully charged, your PowerPack 400 should be able to go between 20-40 miles
Mount: Frame, rack, or top tube
Shimano BT-E6000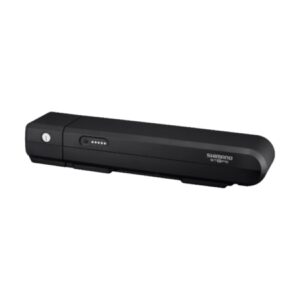 The Shimano BT-E6000 is a rear carrier mounted battery and designed for the Shimano STEPS system. Available in black and gray, some of its stats include:
36 V
11.6 Ah
418 Wh
Weighs about 2.58 lbs
Fully charges in 4 hours
With supported travel, it can last up to 93 miles on a single charge
Mount: Rear carrier or rack
Frequently Asked Questions about Ebike Batteries
How do I know which battery will fit my Ebike?
The batteries listed above will fit a number of bikes, but always be sure to check the measurements before purchasing. If you're unsure if it will be compatible with your bike, try searching for your bike and the battery to see what others are saying.
One way to get a backup battery is to buy a 2nd one at the same time you are buying your bike. As we were doing the research for our piece on the best e-bikes for seniors, we noticed that several manufacturers give a discount if you bundle a spare battery purchase with the bike.
Can I just buy any replacement battery?
Generally, no, you cannot buy any replacement battery. When it's time to replace, it's recommended that you buy from the same manufacturer and choose one that has the same specs. Choosing any option can lead to risks with how energy is transferred and could cause problems with the battery or bike.
It's also recommended that you use a charger that comes from the manufacturer, as well, to avoid malfunctions.
If your original source is no longer available or you definitely want to choose a different battery, research is necessary to be sure they are compatible.
How long should a battery last?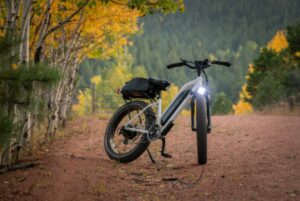 An ebike battery can last anywhere from 2 to 5 years, depending on how often it's used, how it's charged, and how well you take care of it!
How can I take care of my ebike battery?
In order to properly care for your ebike battery, you should
Start charging your battery before it reaches 30% charge
When traveling with your e-bike on car's bike rack, remove the battery from the bike and store it in the vehicle
Keep it in a dry environment
Protect it from sunlight
Keep it in a room temperature of between 50 degrees F and 68 degrees F

And recharge it at room temperature