At some point in your fitness journey you may be looking around your workout space and seeing the clutter. When it comes to creating a comfortable and motivating weight lifting area, a dumbbell rack is a great place to start.
As we see more and more endurance athletes get in to weight and strength training to maintain muscle mass, a small weight area in a home gym is common.  Along with doing some at-home HIIT training, keeping a few dumbbells around offers the best flexibility for home workouts.  Keeping dumbbells on a rack is the way to go.
But, the importance of a dumbbell rack is not just for storage and organization. It contributes to the ease and safety of workouts both at home, and in the gym. Imagine how good it will feel to never have to lift a heavy dumbbell off the floor again. We all want the hardest part of our workouts to be the reps, not the retrieving and replacing of equipment.  Just like how having a Zwift or Peloton setup in your basement is such a time saver, the whole point of having the dumbbells at home is to get able to sneak efficient workouts in.
What Should You Look for in Dumbbell Racks?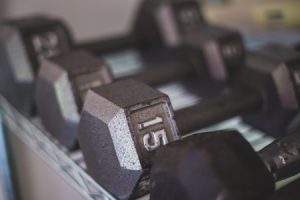 First things first, you need to identify what you need out of a dumbbell rack!
Are you looking to downsize your current setup in order to make more room in your workout space? Maybe you're making a jump from beginner weights to heavier dumbbells and need a rack to support your transition. Or, perhaps you are dipping your toes into the world of dumbbells and want the best product for the lowest price. Regardless of your motivations, you may get lost in the variety of dumbbell racks at your disposal, but there are key things to keep in mind that will help you to narrow down your search.
Weight Capacity
Each dumbbell rack has a weight limit ranging between 200-1500 lbs depending on size, design, and material. It is important to make sure the rack meets the requirements of your dumbbells, and many cyclists use rather heavy weights to work the big muscles used in cycling.  So, if you are looking to store pairs of 5, 10, 15, 25 pound dumbbells, a weight limit of 200 lbs may be sufficient for you, but insufficient for someone looking to store say, four to five dumbbells 50 lbs or heavier.
Safety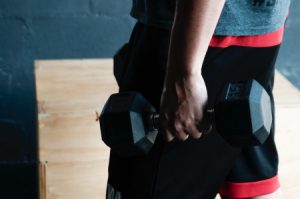 The overall design of a rack contributes to the safety and convenience for the user. Some features to pay attention to are: the angle of the racks (racks that have layered tiers or angled rails for dumbbells are especially important if you're dealing with heavier weights in order to prevent injuries), spacing of the rack (consider your dumbbell type and size so that you don't risk pinching fingers or dropping weights), and the material of the rack (look for sturdy material like steel instead of rubber and plastic variants).
Sizing
You can narrow down your search by looking for dumbbell racks that best fit your gym space. When considering where a rack might fit, don't forget to leave enough space for the easiest access to the weights. Be sure to take into account the size of the rails for the dumbbells themselves and if they are compatible with the ones you wish to store.
Best Dumbbell Racks
To get you started, here are three of the best dumbbell racks for any gym level. They are easy to assemble, safe, and kind to your wallet.
Royal Fitness 3-Tier Dumbbell Rack
The Royal Fitness rack is the largest and strongest of the three listed here, with a weight capacity of 1,000 lbs. All three tiers are angled using rails, which are compatible with several variations of dumbbells. Angled rails are a good edition for a rack with this weight capacity, allowing you to handle your heaviest dumbbells with ease. The rack is also supported by a triangular base for maximum stability, an d is celebrated for its safety.
If you're looking to store other weights, such as kettlebells, this rack might not be for you due to the rail design. Yet, a three tier design, versus a one or two tier, gives the user optimal storage for a wider range of weight. If you are sharing space with a lifting partner of different capabilities, this could be a good option to house multiple weight sizes.
Pros:
Large, strong, and provides great presentation of dumbbells
Cons:
Anecdotes of shipping issues / blemishes on new products
Cap 2-tier Rack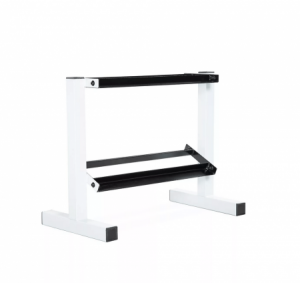 Slightly smaller, but just as sturdy, this two tier option does a lot for its size. The first tier is flat while the one below it is angled for easy removal of dumbbells. Most consumers use the upper section for smaller weights, but with a weight capacity of 500 lbs the design allows for you to use both the top and bottom rails for heavy weights. So, if you have a few pairs of ultra-heavy dumbbells, the safety of this rack will do the trick.
The Cap 2-tier is great for small spaces that are looking to do a lot: compact, stable, and versatile. It is also a good option if you're needing to store double the amount of weights. Side by side, two of these racks can be arranged more conveniently than other, larger options, especially if you're having to be creative in limited gym space.
Pros:
Easy access to weights if you have space against a wall
Price is right
Cons:
Need two racks if you have a full dumbbell set
Cap A-frame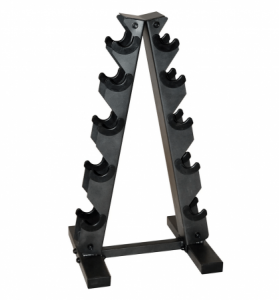 Where this rack lacks might, it excels in efficiency. The A-frame design is an ideal space saver, and with the dumbbells stored on the exterior there is space to store other equipment, such as kettlebells, underneath. It holds 200 lbs and would be ideal for neoprene dumbbells, but is compatible with several different dumbbell types. It is stable, but the weight limit should be taken into consideration in order to avoid toppling of weights and injuries.
This rack uses hooks to store the weight, which also limits dumbbells size (anything too large and you may pinch your fingers between hooks). It is ideal for dumbbells ranging from 5-25lbs. It will allow up to a 35 lb dumbbell, but the combinations vary due to the space between the hooks. There are no rubber soles on this rack, but if the user keeps to the weight limit there shouldn't be any issues. If you are looking for something to hold dumbbells in the 30-50lb range, this rack isn't for you.
Pros:
Uses space extremely well
Cons:
Not suited for weights above about 30 lbs.
Alternative to a Dumbbell Set
If floor space is at a premium, one alternative to getting a full set of dumbbells which will require a rack is to get an adjustable dumbbell set.  These are just two pieces of equipment, each capable of being adjusted to get the right weight.  Adjustable dumbbells have been around for a long time, and for a while they weren't very fun to use.  The weights didn't set on well, and the sizing was awkward when using larger weights.
Today's adjustable dumbbells have come a long way and we really like their functionality.  Best of all, they take up very little space.  The one that is probably #1 in our book is the Bowflex 552, sturdy and good to use. Here on Amazon.
Conclusion and Recommendation on Dumbbell Racks
Even if you are just looking to get your dumbbells off the floor, it's good to understand what is going to work best for your specific needs. Every gym deserves a safe and convenient dumbbell rack, and all of the options listed here provide that. As your dumbbell collection grows, changes, and evolves, make sure to keep in mind the tips you've learned here.  We like the Cap 2-tier rack if you have the space for it.  If you don't, the Cap A-frame will do a nice job for you.
Hannah Diaz is a professional soccer player, currently with the Houston Dash. Hannah's expertise expands to sports nutrition, general fitness, and running.  She has coached soccer and conditioning sessions for athletes at many levels.