When we started preparing for our first 100-mile ride, we knew we were going to need to bring along plenty of food to fuel our ride. Our jersey pockets just weren't going to cut it – we needed a top tube bag with easy access so we could eat on the bike. Top tube bags are ideal for long rides because they give you extra carrying space on your bike but are more aerodynamic than a handlebar bag. Tucked right up behind your stem, it will save space and be easy to access.
In this article, we'll discuss the best three top tube bags for long rides. But before we do that, let's talk about what to look for in a top tube bag.
What to Look for in a Top Tube Bag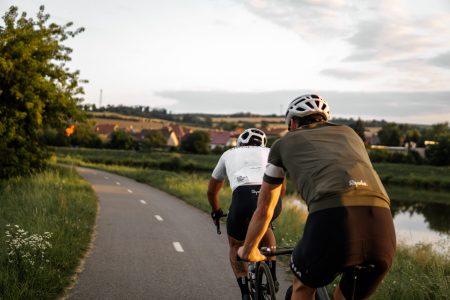 Space
The first thing to look for in a top tube bag is how much space it has and how much food or items it can hold. So, first think about what goes in your bike bag. For example, if you only plan on packing gels in your top tube bag, you might want the smallest one. On the other hand, if you're going to pack your cell phone, your charger, as well as your snacks in there, you'll need a larger one. Most top tube bags hold anywhere from half to 1 liter of items.
Compartments
You might want one large open bag, or you might prefer a bag with separate compartments to keep all of your goodies organized. For example, you can keep your gels on one side and your bars on the other. Other bags have outside pockets for quick access.
Frame Fit
For your top tube bag to be aerodynamic, it needs to fit your frame correctly. It should fit snugly up to the stem of your bike. If your top tube bag hangs over the side of the frame, it won't be as aerodynamic as if it just hides behind the stem. If your bag has straps, they need to be long enough to wrap all the way around your top tube and stem. This isn't usually a problem with steel frames, but carbon aero-bikes tend to have larger top tubes that might be difficult to fit, and some triathlon bikes have funky geometry with tight angles.
You also want to ensure your top tube bag doesn't interfere with your riding. It should be big enough to hold everything you need without banging into your knees.
Mounts and Straps
If your top tube has mounts built-in, you can use a frame bag that also has mounts. These work the same way that you would attach a water bottle cage to your frame. Not every bike has mounts, so if yours doesn't, you'll want to choose a top tube bag that has straps.
Durability
Your bag needs to last. Look for a bag with sturdy material and a strong zipper. Most bags are made from nylon, and some will be padded for extra protection. This is especially important if you are going across rough terrain, such as in one of the popular gravel bike races that is really catching on around the country.
Waterproofing
Some top tube bags are waterproof or at least water-resistant. This is important if you want to keep your snacks or phone dry if you get caught out in the rain. If waterproofing is important to you, make sure the zipper is also waterproof, or your bag will leak.
Charging Ports
Some top tube bags have built-in spots for charging ports. This is a reinforced hole in the bag so you can thread wires through. You can keep your battery pack in the top tube bag and charge your bike computer or phone while riding.
Top Three Top Tube Bags
Rockbros Top Tube Bag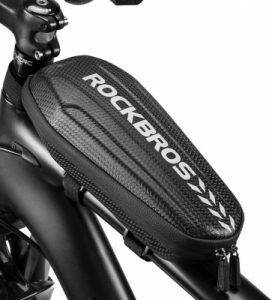 Rockbros is known for producing quality bike products at reasonable prices. This top tube bag is easy to open and attaches snugly to your bike frame with Velcro straps. There's plenty of room for your most needed items, including your cell phone, snacks, tools, and even your mini pump. It's designed to be aerodynamic and thin enough that it won't hit your knees while you are riding.
It features:
Main compartment with two netted inside pockets
One tie rope on the outside
Attaches with three straps
Lightweight and aero
Made with weather-resistant and durable fabric
Slim design won't interfere with riding
Weight: 98g
Size: 22*10*5.5cm
Capacity: About 1L
Personally, I love this top tube bag because I can fill it with snacks. Also, they're easy to get out and munch without scraping against my knees while I ride. This bag is great for anyone who needs a larger bag for long rides that doesn't get in the way, or whose frame design isn't as conducive to a bag that hangs under the frame.
Pros:
A large-capacity bag
Very easy access while on the move
Cons:
Too big? Maybe overkill for shorter rides
Topeak Fuel Tank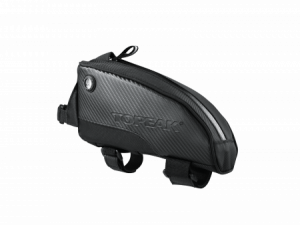 The Topeak fuel tank is available in both medium and large sizes, so you can get the one that fits your needs. It attaches to your bike frame with hook and loop straps. If you're looking for a bag designed to help you charge your devices, this one is a great idea. The bag itself is padded to help protect your phone or battery pack. In addition, it features a cable port so you can charge while riding.
Made of 420 denier nylon /PVC
Includes charging port
Padded for extra protection
Two mesh pockets
Three adjustable straps
17.5 x 11 x 6.35 cm / 6.9" x 4.3" x 2.5" (Medium)
24 x 11 x 6.35 cm / 9.4" x 4.3" x 2.5" (Large)
120 g / 4.22 oz (Medium) 150 g / 5.28 oz (Large)
0.5 L / 30 ci (Medium) 0.75 L / 45 ci (Large)
This bag is a great choice if you want the ability to charge your devices while you're riding. It's slightly smaller and more aero than the Rockbros bag, so it won't fit quite as many snacks.
Pros:
Two sizing options give you choices on how large a bag to get
Charge-ability of devices. How cool is that?
Cons:
Bag can swing a little when pedaling hard
Lezyne Aero Energy Caddy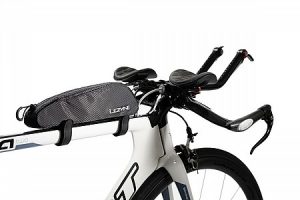 This top tube bag has mounts for your grave or TT bike and also comes with straps if your bike doesn't have top tube mounts. It's designed to be large and aerodynamic. This bag has one large center compartment and two easy-access outside pockets for your gels.
Attaches with rivets or strops
It has 2 side pockets
Made of EVA foam and durable nylon
Size: W26cm x H7.4cm x D15cm. 125g
Capacity is .7 liters
Water-resistant
This is a great bag if you're looking for the security of using rivets to mount your bag. Your bag will stay firmly in place, and the contents are well-protected by the EVA foam and water-resistant nylon. We love the side pockets, giving you compartments to separate things as you need.
Pros:
Sits very securely on your bike
Compartments and side pockets allow for various uses
Cons:
Maybe a touch small if you are doing serious endurance distances
Which Bike Bag is Best?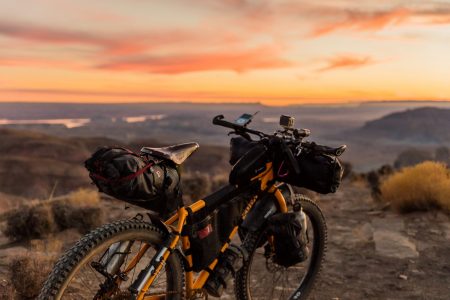 All three of these bags serve their own purpose. The Rockbros bag is perfect for the longest rides. The Topeak bag is great for the person who needs to charge their computer. And lastly, the Lezyne bag is just right if you to use the mounts on your bike.
Top Tube Bag FAQs
How does a top tube bag mount?
Most top tube bags use straps and velcro or buckles to attach to your bike. Some might use rivets or screws, but then they need to align to certain points on your bike. For make adjustability, the strapped versions are the most flexible.
Can you use a top tube bag in a race?
Typically, yes. As long as you are keeping energy or water in the bag, you are probably just fine. Most triathlons and endurance bike races encourage you to have what you need along with you on the ride. Of course, always check the race rules in case your race is unique.
Is there a better top tube bag for a gravel bike? Or an Ebike?
For gravel bikes, any of the bags listed above will do great. For Ebikes, keep in mind where the battery pack is on your specific bike. The location of the battery may well affect where you can put your bags, and you might need to opt for a seat bag.
What other types of bike bags are there?
In addition to a top tube bag, there are a couple other options.
The seat bag is the type that you often see tucked behind and under a bike seat. It is probably the most out-of-the-way bag you can get. The advantage of a seat bag is that is barely noticeable when you are riding. The disadvantage is that it is small and you can't access it on the move.
The frame bag is the type that goes inside your frame, or under the top tube. The advantage of this type of bag is that it can be huge, with lots of capacity. The downside is that it takes up valuable space that you might prefer for an extra water battle, and that if it is too full your knees might hit it while pedaling.
Amanda Whittington is an accomplished adventure cyclist, having done some of America's iconic bike races, century rides, gravel grinders, cross-country races, and is currently training for track racing.  A ride leader and organizer, Amanda is passionate about cycling and teaching others, and works with beginner riders, teaching them group riding and bike safety as well as basic bike know-how.