Running jackets are an essential piece of cold weather running gear. Skimp, and you will be sorry. Invest in a good one, and your winter runs will become some of your favorite workouts of the year. Here, we will share which running jackets to consider, and what to look for when you are buying one.
The term "running jacket" evokes an image of a very fit speedster in an outer layer that looks like it was made for an olympian. In reality, these jackets come in many shapes, sizes, and weights, but they share one characteristic: They keep you warm. The best running jacket for your run depends on many things:
What kind of running do you do?
What temperatures do you typically run in?
How wet or humid is your typical run?
How windy is your typical run?
Do you want the jacket to double for other sports, such as cross-country skiing or cycling?
The answers to the above questions will help determine the right running jacket for you.  Buying the right jacket will help you not only be comfortable, but studies have shown that running while cold or damp requires more energy, affecting your performance.
TWO JACKETS
Actually, when it comes to running jackets, we should be talking in the plural. Most avid runners should have two go-to running jackets. One will be a thermal jacket for those days when temperatures are the main concern. The other will be more of a shell, for when wind and light precip might be more of an issue than plunging temps.
You will warm up as you get your heart rate up. A good running jacket will hold this heat in, however, your running can act like wind on the body. If you don't have a windproof shell the body heat you generate will get washed away by a cold wind that you're creating with your incredible speed.
Having two jackets in your arsenal also helps you rotate the wear and prolong the life of each one. Some jackets will last longest if you allow them to air dry, for example. Having a jacket that you can use a few times, and then wash while you wear the other, is the perfect setup for this.
THE BEST RUNNING JACKETS ON THE MARKET ARE….
We profile 7 excellent running jackets below, and we would encourage to read about them so you get a good understanding of what is on the market today.  However, if you just want our direct recommendation, here are our two favorite running jackets on the market for this season:
For a full thermal running jacket, you can't go wrong with the North Face Apex. It has everything you want — comfort, wind-and-waterproof qualities, and an excellent thermal core. An incredibly versatile jacket.
In the running jacket shell category, we like the Arcteryx Trino.  More than just a windbreaker, this shell will prove to be all-purpose — great for running, cycling, even skiing.
WHAT TO LOOK FOR IN A RUNNING JACKET, OUR CRITERIA
Finding the right running jacket for winter or cold weather use is not something to do on a whip. It might be tempting to go on a website and simply click on the first thing that has high reviews. Don't do that! A little research is in order first. Make sure that you are thinking about a few things that make jackets not a "one-size-fits-all" proposition. As you work to find the best possible running jacket or shell for you, here are a few things to keep in mind, and to look for as you research the specs on each garment.
Thermal or Shell? Knowing what you are looking for in terms of thermal qualities is a first step. We actually recommend that you own both a thermal running jacket and a lightweight shell, but you need to decide what is best for your climate. A thermal jacket will have insulation properties allowing you to stay warmer in colder temps, often made with the same engineering that your best thermal running tights are made with.  In a running jacket, the insulation should be thin and fast-drying, unlike winter coats which rely on bulk and down. A shell, on the other hand, is meant to basically be a windbreaker. Its main goal is to keep wind off of you and allow the layers underneath do to the warming work. A thermal jacket will usually cost a little more than a shell, depending on the fabric and layers used. The term "thermal" can also mean a few different things — some are intended to keep you warm at 40 degrees, others at 10.  Note that both a thermal or shell-type jacket should have some basic water-resistant qualities…. which leads us to….
Water-Resistance. In the world of running jackets, you will find everything from full waterproofing to tops that make no claim for any type of water-resistance. We recommend looking for something that at least is advertised as water-resistant, and if you live in a notoriously wet part of the country, would strongly suggest you consider full-on waterproof material at a higher price. For years, Gore-Tex has been the standard for waterproof fabric, but with the patent expiring in recent years, we are seeing many useful riffs on that material.  Neoshell and other fabrics, however, are high-quality products and building a reputation of quality as well.
The fabric is only part of the equation when it comes to water-resistance. The higher-quality jackets are outfitted with seam tape on the seams and zipper stitching. Seam tape is applied during the jacket construction and ensures that water doesn't make its way to the weak spots — the seams — and work its way in.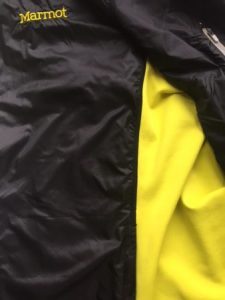 Reflectivity. We used to suggest that runners who run on roads and areas with busy intersections have some level of reflectivity on their jacket, for improved visibility. With all of the great options on the market today, and how commonplace reflective material has become, we are hard-pressed to find any reason not to just buy a jacket with some level of low-light reflectivity. When it comes to safety, why not have a jacket that can help you be seen?  Our favorites are the jackets that offer some sort of 360-degree reflective trim.
Weight. The jacket's weight will largely tie to the first bullet on this list — the thermal qualities in the garment. But there is more to weight than the amount of insulation. In general, we advise going for the lightest jacket that you can afford and that suits your particular purpose, since most runners will use other layers with their outerwear.Be prepared to pay for light gear, though. The science and technology that goes in to making garments light is very advanced, and can get quite expensive. In fact, weight is perhaps the biggest single driver of price in jackets.  When it comes to running jackets, you will see everything from shells that weigh 6 ounces to thermal jackets that excludes a pound.  Best is to set a budget, and then get the lightest jacket that gives you the features you need.
Wind-Resistance. Like water resistance, wind-resistance is a need that may vary by type of use as well as where you are located. In the shell-type jacket, wind-resistance should perhaps be the number one factor. What you are really looking for is something to keep the breeze and chill off your skin. This is accomplished by making fabric with very small pores that wind has difficulty penetrating. When it comes to wind-resistance, here is a tip: The cross-country ski world is probably ahead of the running world. Look at the brands made for XC skiing, like Craft, as some of the best examples of wind-resistant outerwear on the market.
Features. Desired features are largely unique to each individual, but there are a few that make sense for nearly anyone. Wrist cuffs that work well with your preferred running gloves are a small thing but very important in the field. Pockets are useful, but too many can make the jacket baggy. One or two nice, tight pockets are usually plenty, to give you a place to keep your phone, perhaps a protein bar for the trail, and a neck gaiter in case you get cold. One may be on the inside and one outside. An ample neck collar is important as well, as there are some temps where you need the neck protection but are not ready to run with a gator or balaclava. We also like a jacket with length to go a couple inches below the waistline. After all, you would rather have a little overlap of garments and gaps and open spots.
Breathability. You'll also want to consider breathability when selecting a running jacket. While it's good to cut down on wind wiping away all the warm body heat you're building inside your jacket, you also don't want to end up wet from sweat. Sweating in the cold is one of the fastest ways to bring on hypothermia once you stop moving. It is crucial that you ensure your outer layer is breathable, allowing moisture to evaporate as you perspire. This will keep you warm but fresh, rather than cold and sweaty.
Now that you have educated yourself on things to look for in your running jacket, and some of the cost tradeoffs, it is time to look at brands and models. Let us save a little time for you — here are our four favorite thermal running jackets, and our four favorite running shell jackets.
BEST WINTER / THERMAL RUNNING JACKETS
North Face Apex Bionic Jacket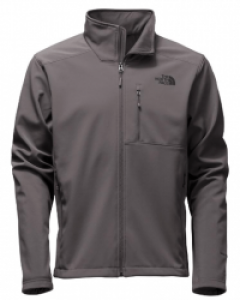 An incredible jacket.  You can't have a winter active wear roundup without including North Face on the list.  We really like this  jacket, enough to recommend it as our top choice in the thermal jacket field. To be honest, the Apex Bionic jacket earned its place on this list in a big way. Its
distinctive look, which is fashionable and trim-cut, makes it hard to believe that this jacket actually has excellent thermal qualities and very respectable water resistance. We love the long, soft collar, the perfect length and tapering of the sleeves, and the soft-but-tough fabric. This is a soft-shell jacket, meaning that the exterior fabric is not a hard shell but rather uses softer membranes to keep moisture and wind out. The only folks we might not recommend this jacket for are people who run in heavy rains or those who run a little more generous on size. It tends to fit sleek. Because this will be such a versatile jacket for you, we think it is a very good thermal jacket for the money. Find here.
Marmot Polartec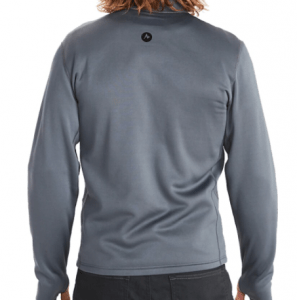 The Olden Polartec is actually billed as more of a camping jacket, but it gets rave reviews from the running community for being a lightweight running jacket with excellent fit and just enough thermal to keep people warm on those cool fall days. Probably not designed for extreme wind without a shell on top, the Polartec takes advantage of more of a softshell outer, much like the North Face Apex.  We found that it doesn't have the wind-resistance of some of the shells we write about below, but sometimes what you really need is a simple thermal layer.
We think the Polartec jacket feels good (although it runs a bit large), and we like that the sleeves run a little long, and the jacket itself is a little more than hip-length. It doesn't have a good, so you will want to pair it with a running headband or hat.. A great option if you are looking for something comfortable for those falls runs in the 40's.  Find it here.
New Balance Heat Jacket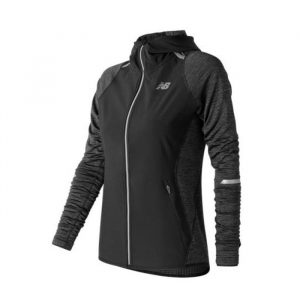 Of the jackets we reviewed, this is the one that looks the most like a winter coat, with quilted nylon that holds its insulation in place. Don't be fooled by the first impression, though, as the jacket actually fits the body relatively sleekly and allows for ease of movement throughout. We like the long neck collar, the tapered wrists that can co-exist nicely with running gloves, and the reflective trim that allows for high-visibility. The quilted nature of the jacket means that you won't want to load up on base layers underneath, but that should not be a problem given that this jacket can give you good warmth down to below freezing.
In our extensive personal use of the New Balance running jackets, they prove to be durable and long-lasting.  This one falls in the "tried and true" category – it has been in the lineup for years.  Find here on Amazon.
BEST RUNNING SHELL JACKETS
Arcteryx Trino Jacket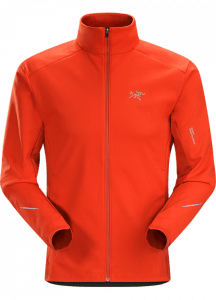 We had to include an Arcteryx on the list, even though they tend to run expensive.  While expensive, the Trino is not even the top-of-the-line from Arcteryx but we think it is an excellent jacket for many. This can double as a ski shell or mountain jacket, but we have use it as a running jacket and it performs extremely well. The Gore-Tex shell give it good water-resistance and excellent wind proofing qualities. The collar is very comfortable with a soft-brushed fabric, and we love the reliable drawstrings and zippers.  This is more of a form-fitting jacket, so if you are larger or plan to wear lots of layers underneath, consider sizing it up.
One thing that Arcteryx does better than anyone else is putting pockets on garments in a way that keeps them very sleek and form-fitting. The Trino has four pockets, but you would never know it unless you have something bulky in one of them.  It is not the cheapest shell out there, but we can tell you that it will look like brand new in 5 years and you will be happy with it. You might even find yourself skiing in this jacket on warmer ski days. Find here.
Nike Wind Runner Jacket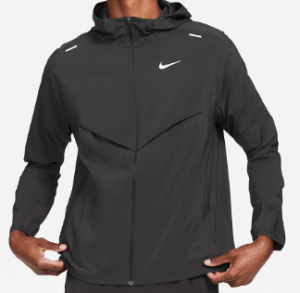 Nike built a jacket specific for those who run in the elements, and they did a good job with it. While it might not have the ultra-high-end construction or fabric of the Arcteryx, it will probably be just want the doctor ordered for most runners who need something that can break the wind and keep them shielded from the wind. Nike uses a Nylon shell along with polyester mesh to create what is basically a runner's raincoat. The seams and zipper are double-taped, meaning that there should not be a weak spot on this garment. We like the hood feature as well as the 360-degree reflective accents. We tested it in rain, and it performed very well. Note — this is not a jacket for warmth. If you need to wear this in cold temps, you will need to layer up underneath…. but it will keep you dry in a sprinkle and out of the wind, which is often half the battle. We often see this jacket on sale as well. It is not a cheap jacket but will perform well.  Best of all, it folds up into a very small package, so you can easily stow it away when the weather improves.  Find here on Amazon.
Patagonia Houdini Shell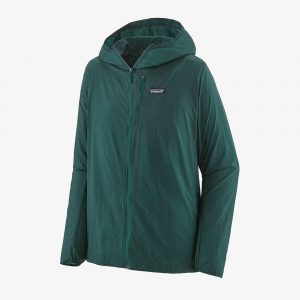 In the category of "pure windbreaker", the Patagonia Houdini does a nice job of being an ultra-lightweight garment that can keep the light rain or snow off of you, and the wind out. Patagonia has done lots of research on how to pack the best wind-and-water-resistance into a light shell, and the Houdini seems to be pretty close to nailing it. While we'd like to see pockets on this jacket, it is really meant to be a pure shell — roll it up into a tiny little ball when you aren't using it, and throw it on when the rain or wind begins. Probably meant for lite drizzle more than heavy rains. The only complaint was from some of our heavier testers, who said that the slim-form fit was a little too constricting for them, so order up in size if you are more muscular or like to bulk-up under the jacket.  It won't break the bank.  You can find it here.
Salomon Bonita Jacket
This shell from Salomon, the famous maker of downhill ski gear, is a tough shell that is all about performance. It may not have the same sleek look as some of the others on this list, but it is a very rugged jacket that we would trust in difficult conditions. Its waterproof nylon exterior is probably second only to the Rain Runner in terms of protecting you in a downpour, and the range-of-motion is probably better. Additionally, the tuck-in hook is a nice touch given the need to keep your entire torso dry.
We like the windproof qualities of the jacket, and think that Salomon did a nice job with this overall, especially for runners who need a shell that can keep potentially heavier moisture out. It is priced about right for the high quality that you get. Salomon also did a good job of building vents into the jacket so you won't overheat if it warms up during your run.  Find it here on Amazon.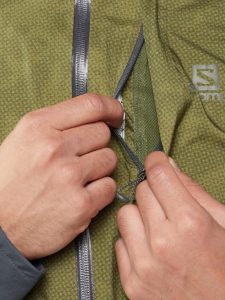 Once you have your jacket in hand, one tip: Read the care instructions! These jackets should last you for many, many years, assuming that you take care of them well. That means storing them in the right environment, and, most importantly, washing and drying them in the right way. These jackets have high price tags, but if you care for them well, they will be a great investment as well.
Are These Running Jackets Waterproof?
Some are better than others.
If having a completely waterproof running jacket is your priority, you might steer you to the "shell" section above, and specifically we would go with the Salomon Bonita.  It has very strong waterproofing and is a great option for runners who expect to be running in some rain.  The other shells listed above are going to be very good in a light drizzle or some wet snow, but if you are a serious rain runner, the Bonita might be the one for you.
Which Running Jackets are Best for Winter or Cold Weather?
If you are going to be running in cold and need your body to be insulated, and not just protected from the wind, you need one of the thermal running jackets we noted above.  This is the best plan for temps below, say, 35, or days when a stiff wind is going to chill your bones.  That means that the North Face, Marmot, and New Balance are the ones we would recommend for cold weather running.
OTHER COLD WEATHER RUNNING GEAR
A good running jacket is just one part of your fall or winter running ensemble.  Don't overlook the other basic necessities, such as a good running hat or the all-important running gloves to keep your hands warm and functional on those cold days.  In fact, the right closet of cold weather running gear will keep you active on days when many decide it is too cold to be working out, so we did an entire piece on it here.  Finally, your running sunglasses are an often-overlooked winter running item — the snow can be as blinding as a bright summer day.  Be sure to check it out and drop us a line if you have any suggestions or questions.
Von Collins is an accomplished triathlete and cyclist, and the author of four fitness and training books: Smarter Running, Your First Triathlon Guide, Fit Foods, and 30 Rut-Busting Workouts.
Von has been cited as a triathlon, cycling, and fitness expert by Healthline, CNET, Forbes, Eat This, Not That and other major outlets.
Von has done dozens of triathlons and endurance bike races, coaches, and is an avid part of the cycling and triathlon community.