Zwift has grown in its popularity by leaps and bounds, now with an estimated half a million users (maybe more) and being the talk of the town among indoor bike riders. For anyone with a smart trainer, they have no doubt heard of Zwift if they aren't already using it.
While Peloton has the huge commercial presence, with heavy marketing to prove it, Zwift has more grown consistently because of the word-of-mouth of the riding community. It differs from alternatives like Sufferfest and Trainerroad in that it is a true gaming experience, where you can interact with other riders in addition to the trainer.
One of our favorite things to do on Zwift is to climb. The climbs are something we always look forward to on our rides, and they are made even more fun by the fact that they are often timed segments where you can gauge progress against your own PRs as well as other riders. Making the leaderboard for a hard climb is a true accomplishment, given that you are riding with finely-tuned riders from all around the world.
Here are our favorite climbs on Zwift right now. Not necessarily the hardest (OK, one is) or the longest — you could easily just sort the climbs by elevation if you wanted that. But these tend to be the ones we keep coming back to, our favorite climbs to tackle.
Fox Hill. Surrey Hills course.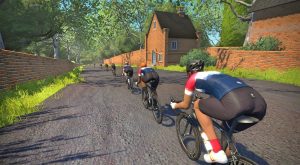 1.86 miles, 512 vertical feet. We start with Fox Hill, which to us is a great test of how good a day we are having. We love the variety of the Surrey Hills rides, and Fox Hill is a nice, short, steady hill
that will put you through a good test. Many consider this portion of the route as a nice recovery during a lovely ride. This means that you won't lose your pack, even if you're kind of taking it easy. You can very well rely on Fox Hill whenever you're in the mood for a ride that doesn't require loads and loads of effort. What's most important here is to maintain speed and position. Other details we should mention about the Fox Hill segment is that its lowest elevation is 36m, the highest elevation is 156m, so the elevation difference is 120m. While having an average grade of about 4%, keep in mind that there will be times when you'll climb at a grade of approximately 11%. Be ready for the start – this hill throws the double-digit grade at you right in the first minute and two. The only real coasting comes toward the very end of the segment. Fox Hill is a pretty popular ride, thus there are a lot of other enthusiast riders you can compare results with. Plus, you can admire some lovely sceneries along the segment, which is another bonus point for this sweet, simple climb.
Innsbruck KOM (forward), Innsbruck course.
7.43 km. Who doesn't like a great ride through the Austrian Alps? Following the UCI Worlds Lap Course from 2018, the Innsbruck KOM climb is one that packs a punch. This segment's lowest elevation is 296m, the highest elevation is 696m, thus the elevation difference is 400m. With an average grade of 5%, the Innsbruck KOM Forward will, from time to time, have you climbing at a grade of about 12% or more. While the first few minutes of this ride are flat as you leave Innsbruck, it doesn't take long to hit the incline. When you do, it will be several minutes of intense climbing with very little break. The Innsbruck KOM Forward course will gift you with charming and awe-inspiring natural sceneries all around. Besides that, as you round for the final corner, you can use timing as well as the surrounding landmarks to your very own advantage.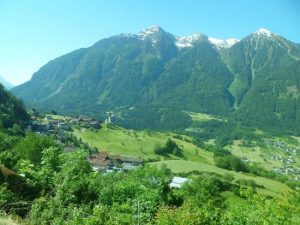 The Forward KOM segment obviously follows the Reverse KOM path. The two courses are nearly symmetrical, and meet up again at the bottom of the mountain. You can do the loop either way, but Zwift will default to having you go clockwise — the "Forward" route. When you're on this route, enjoy the sprint, conquer the climb, adapt your pace, and stay adequately hydrated. Look to your right and admire the scenic Swarovski Crystal Worlds Giant, a mammoth face that was built, piece by piece, by a talented 3D artist.
For a typical "fit-but-not-elite" cyclist, this is roughly a 30 minute segment, and it is popular so there will be plenty of other riders to compare yourself to. The last time I rode it, there were 750 people on current leaderboard. It throws a little bit of everything at you, but won't leave you as sore and spent at the Road to the Sky because it incorporates more flats for catching your breath in between uphill sprints.
It was difficult to choose just one climb from the Innsbruck course. While this tends to be our favorite, doing the reverse route is a quality climb, as are the longer rides that incorporate these routes.
Leith Hill, Surrey Hills course.
1.95km. 7% incline. It is funny how a grade averaging 7% may not seem like a terribly intense climb, but when you are in the middle of a 10-minute all-out climb like the one on Leith Hill, you will wish it was more like 4%. Truth be told, you will spend some time on this climb at more like a 10%+ grade. Fast enough to be able to keep your chainring turning, and short enough so you can go anaerobic for a bit, this climb can actually be done in the same session as the Fox Hill climb.
Since this course often keeps you off of flat ground, you'll definitely get plenty of climbing done along the way. Interestingly, the segment starts at a different spawn point compared to other courses along the British capital, bypassing the typical flat London start in order for you to get climbing in a jiffy.
Leith Hill offers you the chance to tour the beautiful English hillside and enjoy one of Zwift's most scenic climbs. This heart-pumping trek will get you climbing and cruising through the charming countryside. The lovely stretches with steep grades nicely lead up to Surrey's summit. Hence, all the heavy heart-racing parts are totally worth it.
Moreover, the Leith Hill segment makes it possible for you to ride South England's highest point right from the comfort of your home. A cool thing we should mention is that the real-life Leith Hill is actually part of the Prudential RideLondon and London-Surrey Classic.
Had we known the Surrey area just Southwest of London had so many rollers, we would have made an effort to get there sooner in-person. For now, Zwift will have to do.
Alpe du Zwift, Watopia course.
The "Road to the Sky" is the granddaddy of all Zwift climbs, introduced in 2018. Climbing a whopping 3753 feet, this climb will certainly test your meddle and might be one that you only manage to crank out a couple times a year. It is as if Zwift was getting requests for more grueling climbs, and responded with a "be careful what you wish for" ride.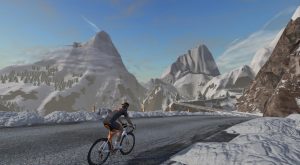 Interestingly, the Watopia segment is the shortest route including Alpe du Zwift, a mammoth climb inspired by the stunning Alp d'Huez. If you choose this course for a smooth freeride, you'll start on the picturesque pier, right near the seaplane and just before Epic KOM's start. Shortly after you take off, you'll meet and greet the first little climb right across the bridge and straight to the jungle's bottom, prior to hanging a right and starting the Alpe du Zwift ascent. This jungle section gives you a good 10 minute warmup at easy wattage. That section is NOT the time to push it — you will need the leg strength later, so don't worry about your power output yet. You will get your chance.
After roughly 10 minutes of easier riding, you will know when you enter the climb. Be ready, have water and a towel, because there aren't many flats on this climb. You will be climbing pretty much the whole time, at grades that range from about 4% to 14%, with an average grade of 8.5%. This segment ends on top of Alpe du Zwift, and then you have the option of doing a short, flat, celebratory loop up top before riding back down.
Road to the Sky is 19.5 km (12.1 miles) long, with an elevation gain of 1135 meters (3726′) and leading-in 7.7 km (4.8 miles) and 79 meters (260') from Start Pier. The climb is constant incline, so be ready to crank for around and hour, depending on your power level. Just like the rest of the Alpe routes, Watopia course is only available for Zwifters level 10 (last we checked, but that can change) and up. You can, however, access it through an official group ride before reaching higher levels.
You're going to want to do this one in a pretty well-rested state. It will test you.
Ven-Top, France Course.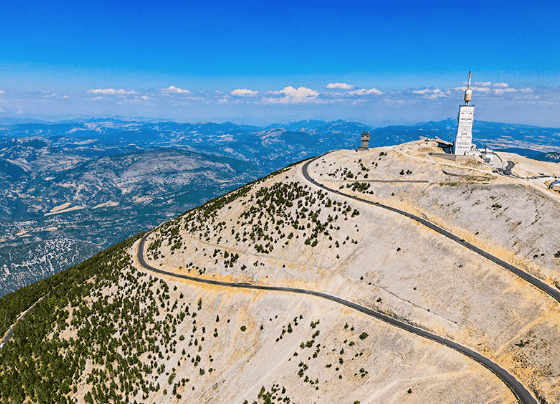 21km, 8% average grade. Very difficult. The Ven-Top climb is a more recent addition to Zwift, one that was introduced with the France course in 2020. The climb is modeled off of the real-world Mont Ventoux, a legendary climb in the Cote d'Azur region of France. Unlike the Alp d'Huez which is squarely in the Alps, the real-life Mont Ventoux is in a different part of the South of France, not far from the beautiful Mediterranean coast or Provence. But enough about the geography, let's talk about this climb.
Ven-Top is actually a longer climb than Alpe du Zwift, and throws 300-400 more vertical feet at you. However, the average grade is ever-so-slightly tamer at 8% (vs. 8.5%). You start on a long false flat, just enough grade to get your heart rate up nicely, and then the incline begins to really take off. You pass the Chalet Reynard and a memorial to Tom Simpson, before arriving at a weather station up top. A long, grueling climb, this is another one that you save for an A-day, kind of like the Road to the Sky.
While the Alpe du Zwift has a generally consistent (as in consistently hard) incline, you will notice that Ven-Top is loaded-up in the middle. The beginning, as we mentioned, is more of a false flat. The final segments, while not easy, tame down just a bit. It is really that middle 1/3 or so that is going to require you to dig the deepest, with extended sections at 9% and higher. If you can make it all the way up, though, it will be worth it.
This is a long, difficult climb. Not as many people have done it yet as have done the Alpe, we we consider the previous climb to be the more iconic Zwift climb for now. But if you want Zwift longest, hardest climb, this is it. 21km, and pretty much all uphill with no breaks.
Conclusion
These superb rides are perfect for testing your abilities, having fun, admiring some fabulous views and engaging with fellow riders. If you want to improve your performance, you can consider staying mostly seated, get a rocket plate for extra comfort, flattening your feet, and staying relaxed. This way, you'll get faster, stronger and enjoy these virtual segments even more.
So there you have them, five superb Zwift climbs. Don't forget to checkout our tips on the perfect Zwift setup, as compiled by our team.
Give them a try and let us know what you think. Better yet, share your favorite climb below!
Jim is an accomplished triathlete and endurance cyclist, and has raced in more than 3 dozen USAT-certified races.  He is also an avid trail runner and gravel bike rider.
His areas of expertise are in endurance training, cycling, triathlon technique, race direction, and training plans.  In addition to writing extensively about the endurance world, he has managed gyms and fitness centers in the US.  Jim is a longtime writer for Complete Tri, Compression Design, and his work can be found on the resource pages of many triathlon and cycling clubs in North America.