For years, the Saris Bones has been one of the most reliable bike racks on the market, and one of the best when it comes to managing the budget. Its ease of use, quick installation, wide versatility on vehicles of all sizes, and reasonable price point make it perfect for families who are itching to get on the trails.
The Saris Bones is an appealing choice because its adjustable design allows it to be mounted on most vehicles. Unlike some of the higher-end models that we profiled in our piece on best bike racks, you don't need a hitch receiver or a certain-sized vehicle to use the Bones. In addition, the bike rack doesn't require a hitch and can be easily mounted onto the back of your car.
What really makes the Saris Bones bike rack stand out against other bike carriers on the market? Read on to read the full review to see if this bike rack is right for you!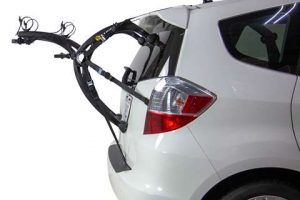 Saris Bones Trunk Rack Models
The Saris Bones comes in three different models, the Bones, Bones EX, and SUPERBones. Deciding which one to go with will depend on your vehicle, bike capacity, and budget.  You can find all of the Saris rack here.
A brief description of the lineup is:
Saris Bones
This is the original style and the most affordable bike rack with a price point ranging between $170 and $200. The Saris Bones is said to fit 70% of cars on the market, so make sure you keep your receipt just in case yours is in that 30%. Depending on your needs, it is available in a two or three bike capacity.
Saris Bones EX
If you are looking for a non-hitch rack that has more versatility, then the Saris Bones EX is worth a look. The EX has more adjustabilities making it compatible with 90% of vehicles on the market. Like the original Saris Bones, the EX comes in a two or three bike capacity but has a higher price point ranging from $210-$240.
Saris SUPERBones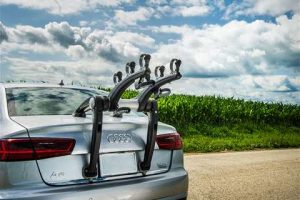 Taking a jump in price (around $400) and luxury is the Saris SUPERBones. The SUPERBones has additional features such as a retractable strap and a locking system for locking the rack to the car and the bike to the rack. This particularly handy for consumers living in city areas who don't want to dismount their rack after every use. The SUPERBones does only come in a three bike capacity and is said not to fit as many vehicles as the EX model.
What Makes the Saris Bones Stand Out?
There are several reasons to consider the Saris Bones bike racks. The first thing that is beneficial is that it comes out of the box ready to install. It is also pretty lightweight at 9 lbs, making it easy for anyone to mount on a vehicle.
Consumers may be cautious because the Saris Bones doesn't require tools and is only mounted by its mounting straps. However, the Saris Bones are durable and surprisingly strong when carrying two or three adult bikes.
As we stated above, these bike racks are adjustable and can be mounted to a wide range of vehicles. What we didn't mention is that it is also a great bike rack for a wide range of bikes. In addition, when loading your bikes, the Saris Bones doesn't require front-wheel removal.
The Saris Bones is mounted with direct contact to the vehicle, but not to worry, it won't cause any damage. It has rubber-coated feet that provides protection to your vehicle while still ensuring a reliable mount.
Who Is the Bones Rack Best For?
The Saris Bones is a basic bike rack but works great for people looking for one that is easy to use and doesn't break the bank. It is a perfect fit for smaller families who have three or fewer bikes.
Also, if you plan to take your bike rack off after each use, this is a good choice because of its lightweight and no-tool design. If convenience is high on your priority list, then the Saris Bones might be the right rack for you.
Who Is It Not Good For?
While it is a great bike rack for the minimalist on a budget, the Saris Bones isn't for everyone. The different models max out at three bikes, so it isn't a good fit for larger families.
If you are a person who would like to keep your rack on the vehicle majority of the time, these models probably aren't the best choice. This is solely because you can't access the vehicle trunk or the rear windshield wiper when it is mounted.
Lastly, the Saris Bones and Saris Bones EX don't have any security features, so people in busy areas might want to look at other options. Mountain and road bikes can be expensive, and the last thing you want is someone taking your bike as their own. If security is a must, you can upgrade to the SUPERBones, but keep in mind that you take a significant jump in price.
How It Stacks Up Against Other Bike Racks
If you aren't fully convinced the Saris Bones bike racks are right for you and your family, then no need to worry because there are several bike racks on the market to choose from. Let us take a look at how the Saris Bones compares to other no-hitch bike racks.
Thule Passage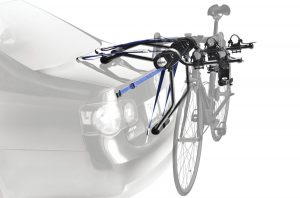 Similar to the Saris Bones, the Thule Passage has two or three bike capacities. It's said to be a stable and sturdy no-hitch bike rack thanks to the Thule Passage "Stay-Put" anti-sway cages that help keep the bike in place while driving. Consumers have noted that the bike rack does well on long road trips and doesn't come loose as other no-hitch racks do.
While this is a good bike rack, there have been some complaints reported. Some consumers have said that the Thule Passage has a tight fit causing damage to their bikes. If you have an expensive mountain or road bike, it may be wise to take caution when mounting them onto the Passage.
For this reason, the Saris Bones has a slight edge, but that's not saying the Thule Passage isn't worth looking at. Depending on where you buy it, you might be able to save yourself money verses buying the Saris Bones.
Yakima Fullback
The Yakima Fullback is similar to our two trunk mounts mentioned above but has some unique features. It is a straightforward bike mount making it easy to install. The nice thing is that its design makes it capable of fitting wider vehicles. For people who own larger SUVs and vans, this might be appealing.
One main feature that sets the Fullback apart from the Thule Passage and Saris Bones is its anti-theft security locks. The Fullback also has a bottle opener for riders who want a cold long-neck at the end of a ride. This might not be a huge selling point, but convenient on special occasions.
However, the Fullback does have some drawbacks. Consumers have reported that it is almost impossible to fit three adult bikes onto the mount. If they could get all three bikes on, they rubbed together, causing damage to their bikes.
The Yakima Fullback could also be more secure on drives. People have said that it comes loose easily and needs tightening throughout the duration of the trip. This may not be ideal for people who take long trips with their bikes or drive on rough terrain.
Overall Review of the Saris Bones
Overall, the Saris Bones is a basic but highly functional bike rack that accommodates small families. It is sturdy and effortless to install because of its lightweight and toolless design. Additionally, it stores away in a relatively small space for all of those times when it is not in use.
For someone who is planning to carry a few high-end bikes cross-country, you may want to splurge on a Thule T2 or Kuat NV.  They are just going to keep the bike a bit more secure and sit more comfortably on your vehicle.
For the occasional rider, though, the Bones is a great option.  Especially for people who just need to haul their bike in a pinch, want to manage the budget, and just need a bike carrier around, then the Saris Bones is a great bike rack to buy.  Find it here.