The shoes worn during a triathlon are essentially the same ones you would wear during a run or bike workout.  The major factors that affect your shoe choices are: 1) What are you most comfortable doing a hard bike ride or long run in, and 2) Do your bike's pedals call for specific cycling shoes.  Once those two questions are answered, you are ready to pick your triathlon shoes.
One or Two Pairs of Shoes for a Triathlon?
Most triathletes use two different sets of shoes during a triathlon.  Obviously, nothing is worn on your feet during the swim or Transition 1.  On the bike ride, wear what you have been training in.  Most triathletes use clip or SPD-type bike shoes that are compatible with their bike pedals — both on the tri bike, but also on a road bike, mountain bike and even a bike trainer. If you are a beginner triathlete, you may be using regular old pedals or ones with toe cages.  If that is the case, you can wear your running shoes on the bike ride.  For the run, wear the shoes you have been doing your run training in – normally a standard running shoe.
Triathlon Shoes Overview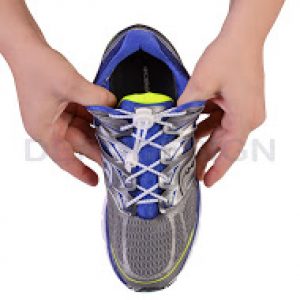 At any triathlon, the majority of racers wear the same shoes they wear while training. These shoes are usually made by brands that are instantly recognized by anyone. They range from entry-level to quite advanced.  The key traits of a good running or cycling shoe are:
They should be lightweight;
They should be comfortable enough to wear sock-less if desired
The material in these shoes should eliminate odors.
Speed laces (aka locklaces) should be used for faster on-and-off
They should have a construction that accommodates your running gait
Material should be fast-drying.  Sometimes, your foot will still be wet from the swim.  Other times, you might be cycling or running in a light rain.  This is a bad time to wear leather.
Recommendations for the Running Shoe
Nike LunarTempo 2
This is a performance trainer/racer, and it is both lightweight and quite responsive. This flyweight trainer offers an incredible mix of lightweight performance and resilient cushioning. The full-length foam and midsole/outsole chassis offer enough softness and protection for long distance runs. The upper mesh has been engineered in such a way as to offer more structure and support, while still offering maximum forefoot flex and comfort.
HOKA One One Vanquish 2
This is a neutral trainer which is known to be the best in its class. It is lightweight, smooth and very responsive, so it provides you with the value for your money.Ithas a cradle design, where the foot and inner structure of the shoe are covered on the sides and bottom by a flexible double layered foam shell. It has a thick midsole, it is very flexible and provides a pleasant combination of soft landings and energetic toe-offs, even at an average to fast pace.
Saucony Kinvara 7
This is a performance trainer/racer with extra cushion and a great amount of flexibility. This specific model of the shoe has an additional layerof Everrun foam in the heel, which helps absorb impact and adds a touch of rear foot stability. It also has a new outsole pattern aimed at a smoother forward-focused flex and a few more patches of rubber for added durability.
Biking Shoes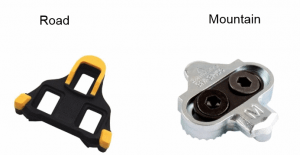 Due to the fact that there are one or two Velcro straps, triathlon biking shoes are a lot easier to slide on and off. You no longer need to worry about any buckles, shoelaces or adjustments. This can help to a large extent during your swim to bike transition; you are given a chance toclip your shoes on your bike, run without shoes through the transition and slide into your shoes once you're on the bike. However, if you do not feel comfortable using this method and would rather wear your shoes before starting the bike leg, there is nothing wrong with that at all and is probably the more common approach. Just be sure that if you are using bike shoes with cleats, trying not to clog the cleats up with dirt or mud if the transition area is soft or wet.
Recommendations for the Cycling Shoe
If you find yourself lost about what kinds of triathlon running shoes would be the best fit for you, worry no more as we have a few recommendations that you might be interested to look at:
Pearl Izumi Tri Fly V Carbon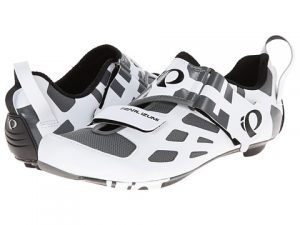 This pair of biking shoes is secure, and it has a very comfortable upper. The foot-hugging upper has the most comfortable fit because the top strap also connects to the middle section of the upper part of the shoe to make the fit cozy or loose according to your preference and your foot's size. The carbon sole is vented to let air in and take water out, thus controlling moisture exposure as well. It has built-in arch support and a dual-density insole that absorbs road vibration. The heel loop is large and offsets to the outside of the shoe, making it easier to hold. The width is average, but these shoes are usually smaller than normal, so we would recommend that you go with half a size than normal when buying them.
Lake TX222
With a stiff sole, TX222 provides maximum power transfer. Your foot will be in an optimal position to transfer power to the pedals, and the ultra-rigid carbon sole ensures that none of that power is lost. The mesh over the toe and on the tongue makes this shoe breathable, while the padded heel cradles the back of the foot to prevent any slippage during an upstroke. This also has an antimicrobial liner, so you can go sockless without the fear of getting dirty feet or smelly shoes.
Specialized Trivent Expert
This is by far the best all-around performer. It has been perfectly designed with triathlete-specific detailing (including the arch-mounted rubber band mount clip). The carbon outsole does not allow for heat from the road to enter, while the tongue-less part of the shoe keeps air flowing. The shoe fits true to size and has an above average volume in the toe area. This shoe is both efficient and supportive due to the arch support, which positions your foot in a biomechanically correct way to transfer more power to the pedals.