Salsa has been making high-quality bikes since the early 80s. The Minnesota-based brand has always focused on making a solid variety of bikes, and today makes some top-notch road, gravel, and fat tire bikes. For the money, we consider it a very good brand. When it comes to Salsa's road bike lineup, we are big fans of the Journeyer line.
Today, the Salsa brand rolls up to the company QBP, who also owns the Surly, All-City and Civia brands. The brand is still managed out of its offices in Bloomington, MN.  The Twin Cities don't get the fanfare of other bike meccas, but they are cranking out some great bikes and components from many different makers.
Especially when you consider price versus value, you definitely get your money's worth from the Journeyman line.  If you are in the market for a good, solid all-road bike at the low-to-midpoint of the price range, we would suggest giving the Journeyer lineup a serious look. While the Salsa name is not as ubiquitous as Trek, Giant, or Cannondale, we think the experience of actually riding a Journeyer puts it in the top of its class.
Salsa Journeyman vs. Journeyer
In 2022, Salsa redesigned and renamed its popular "built-for-the masses" bike the Journeyer.  While the name partially reflects the effort put in to the new and improved model, we have to think it was also important for the name to be a bit more gender-neutral.  Regardless, this is a continuation of the same beloved entry-level lineup, but with some enhancements in the Journeyer model.
Why We Like the Salsa Journeyer
We've ridden lots of bikes over the past couple years, and there are some key reasons we adore the Salsa Journeyer line. Some of the advantages of this awesome bike line include:
Affordability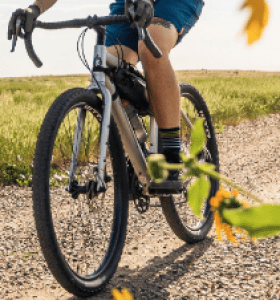 One of the best parts of the Salsa Journeyer is the amazing price point. The bikes are very affordable relative to what you get, allowing most people to take advantage of a really good bike without breaking the bank. Depending on the year and model, you can get on a Journeyman or Journeyer for less than $1,000.  If you are looking for the current year's standard model, it will run you more like $1,500, but that is still a steal compared to lots of bikes on the market today. If you are in the market for a new bike, you have an excellent chance of adding a Salsa Journeyer to your shopping list.
Range
In terms of performance, these bikes have a huge range of values. Salsa describes them as an "all-road" which means they can handle the open road, pavement, gravel, and even some trail riding if you are using appropriate tires.  Salsa made the Journeyer knowing that they wanted people to be able to modify the bike for the riding they want to do. this goes from the high-quality manufacturing to good rims and aluminum frame, to giving you the edge you need to travel far while maintaining the bikes in good conditions. There is nothing worse than having a new bike break down on you quickly…. but you don't have to worry about that with the Journeyer.
Ultimately, though, unless you are on an e-bike, the "real" range is determined by your legs, heart, and lungs!
Gravel Compatible
One of the biggest upgrades to the Journeyer is its ability to handle really wide gravel tires – a quantum leap from what the Journeyman of just a couple years ago could do.

The fastest-growing non-ebike segment in the bike market today is the gravel bike. The Journeyer can check that box, but if you want to ride slim road tires, then it becomes a road bike. On gravel, we like to use a slightly wide and heavier (but not overly aggressive) tire, and the Journeyer's geometry and standard disc-brake setup enables you to get into the 50mm's on your tire width (that's really wide).
But if you want to ride this bike as a pure road bike, you can do that too.
Made in USA/North America
Not only does localized manufacturing add value, it reduces the overall environmental cost of the bike. Basically, if your parts don't have to travel across an ocean before they reach you, the price point is lower and so is the rigamarole involved with getting everything built. Luckily, the Salsa Journeyer is made on American soil, so you get the best of local manufacturing quality at a great price point.
Sold at REI
Listen — we LOVE the local bike shops, and encourage you to patronize them at every turn if you can. Sometimes, though, you want to hit "click" and have the bike show up.  Or perhaps you live in a major metro area, and your local bike shop is actually the REI just down the road.
Buying a bike online is only as good as the retailer. Setting the tone for the whole purchase experience, the bike shop either makes or breaks the deal. The good news about the Salsa Journeyer is that it is available from an established retailer, REI. This provides you with an online ordering option, combined with an exceptional customer service team, constant inventory, and overall reliability with your purchase. You can always reach out to REI (or go to a store) if you have any problems with your purchase.  You can look at REI's current stock of Journeyer bikes here.
Low Maintenance
Of course, you are going to need to take good care of your bike, but at the same time, you want something that requires minimal maintenance. The Salsa Journeyer has a structurally sound build by using quality materials, and we find aluminum bikes to be more bulletproof than the more expensive carbon-fiber. As we wrote in our piece on road bikes, for the sub-$2,000 price point, you are actually going to get a better all-around bike in aluminum than carbon fiber, because with carbon fiber, manufacturers have to figure out where to save money.  With aluminum, they can simply use the materials they want to use. Better materials allow you to save time maintaining the bike, especially compared to other brands. As long as you keep an eye on the chains and tires, ride it responsibly and don't overdo it, you will have an awesome bike for the long haul.
Salsa Journeyer Lineup
The Journeyman lineup changes a bit each year, but right now you can primarily find three models.  All are quality for the price point.  They might not be the bike you trick-out with tons of expensive upgrades like you would a $3,500 carbon fiber frame, but for a bike you can trust and take on lots of terrain, the Journeyman is a strong contender.
Salsa Journeyer Sora Bike
Great for Long Rides: If you're trying to improve your stamina or simply go for a long ride, you need a bike that can keep up with you for the longest of treks. The Sora is a great option for long distance riding. This aluminum provides smooth riding and high performance for as long as you need.
16 Gear Option: Getting multiple speed options lets you embrace the true versatility of bikes. It lets you handle all types of incline and different terrains. If you think you will mainly be doing open road riding on paved trails and streets, you can go with a the higher, faster gearing. If you will be sticking to hills and gravel, you can stick with the lower, slower gearing.  We like this versatility.
Quality Aluminum:  With the Sora line, you will be riding the same aluminum tubes found in aluminum version of the Warbird line, a more expensive bike.
Salsa Journeyer Claris Bike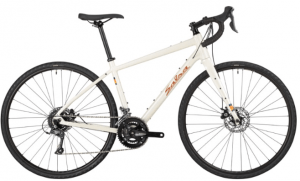 Ergonomically Sound: Repetitive strain injuries is a real risk while biking. To avoid this and to prevent exacerbating existing injuries like knee issues, you'll want a bike that is ergonomically sound, especially on your joints. We like the angles on the Journeyer Claris, which are comfortable but not too relaxed to slow you down. Enabling you to get the ideal posture while riding, the unique design limits the risk of injury and keeps you comfortable.
Ideal for Urban Settings: Working on the pavement and gravel alike, the Claris is ideal for bike lanes. Offering a sleek appearance and easy use, you can maneuver smoothly onto paved surfaces with this bike.
Terrific Price Point: Great for all budgets, the Claris is affordable and easy to use. It provides great value for its price, the cost to value ratio on this bike makes it highly desirable.  It is one of the lower-priced good all-road bikes, even in the entry-level category.
Quality Manufacturing: Made with care every step of the way, all aspects of this bike is top-tier. From design to materials, build to distribution, you know that you are getting the best when you choose a Claris. The aluminum frame allows for a sturdy and reliable ride.
Salsa Journeyer Apex Bike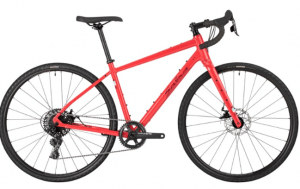 Off-Roading Ease: If you are after routes that might take you off of the pavement, then the Apex Salsa should not disappoint.  We have seen a number of nice bikes come out lately in the gravel category, and with the right setup the Journeyman Apex can fall in that category. Offering a ton of great features, this bike is ideal for limestone trail and gravel road enthusiasts.  The bike has two of the features you want on any gravel bike, disc brakes and lower gearing.  While the chainring might feel a little limiting at the top-end for people trying to hit 30mph on the open road, the other 95% of avid cyclists will probably do just fine with this setup.
Smooth Pedaling: Enabling you to ride with ease, the drive chain on this bike is smooth and efficient. Improving your long-distance biking substantially, the design takes the pressure out of shifting and powering the bike so you can focus on where you are going.
Durability: As always, you want a bike that can stand the test of time. These models are an ideal choice thanks to quality manufacturing and the intricate design. Meant to weather extensive riding, as long as you maintain them reasonably, these bikes are guaranteed to last for the long haul.
Single Chainring:  We like the single front chainring for gravel bikes.  Sure, you may lose just a bit in terms of ultra-steep climbing ability, but you gain a ton in terms of simplicity and one less part to need to adjust or replace.
Gentle Ride: Ultimately, perhaps the biggest virtue of this bike is the ability to give you a smooth ride on any surface. When you ride over gravel and bumps, you don't want to feel the rickets and shakes. This is attributable, at least in part, to riding on high-quality aluminum versus the lower-end carbon which is common at this price point, as well as the carbon fork. With these units, you can travel smoothly at a number of speeds without having to worry about the quality of the path on which you travel.
Alternatives to the Salsa Journeyer Line
As noted above, two of the things we love about the Journeyer lineup are its versatility (gravel, road, straight or curved bars) and its relatively accessible price point. While smaller boutique bike makers have several options that might be in the same segment, the larger manufacturers don't have that many that can compete directly with the Journeyer.
Perhaps the best mass-produced lineup that can go head-to-head with the Journeyer is by Cannondale, the Topstone lineup.  Topstones have a very wide range, and while the carbon models can get quite pricey, the aluminum models have a low entry price point and are suitable for gravel riding with the right tire modifications.  You can take a look at the prices on the Topstone lineup here.
Some Final Thoughts on the Journeyer Bike Line
The biggest factor in choosing the right bike is finding the best fit for your personal needs. This goes for any bike you might be looking at, not just the Salsa Journeyman. Do you plan to ride in the city? Are you interested in setting PRs on Strava more of a bike commuter?  Do you see gravel roads in your future, or are you sticking to pavement? Depending on what you want, there is a very good chance that the Journeyer line make a strong case, especially if you are on a budget.
Jim is an accomplished triathlete and endurance cyclist, and has raced in more than 3 dozen USAT-certified races.  He is also an avid trail runner and gravel bike rider.
His areas of expertise are in endurance training, cycling, triathlon technique, race direction, and training plans.  In addition to writing extensively about the endurance world, he has managed gyms and fitness centers in the US.  Jim is a longtime writer for Complete Tri, Compression Design, and his work can be found on the resource pages of many triathlon and cycling clubs in North America.