There are two types of bike stands — those built for storing your bike, and those built for working on your bike. 
Storing your bike is often best-done up off the floor, allowing for you to make the most of your space, whether it is a garage, storage unit, or closet. Working on your bike is always best if the bike is raised.  80% of the components you are trying to adjust, oil, or replace are near ground-level, making a stand the only way for you to work at a comfortable posture.
A true biker wants to take the best care of their gear and repairing your own bike gives you peace of mind that the job is not only done right but done the way you like it.
There are many bikes stands on the market today but what about the best bike stands?  We are not talking here about the bike trainer stands that are intended for active spinning while you workout; rather, what we are profiling here are the stands that you will want for either doing mike maintenance or storing your bike.
We have done some research for you and found a few quality bikes stands on the market today that really stand out at the best. If you are after a more efficient way to store your bike in the off season, simply save space in your garage or save money doing your own repairs, then stick around.
Here are our favorite bike stands of both types — storage and mechanic / repair.
Best Bike Stands
Feedback Sports Velo Cache 2
This is the best bike stand for storage.
While it may have a fancy name the Feedback Velo is a simple yet stable bike rack. Capable of holding two bicycles the Velo measures at 83 inches and weighs a mere 22 pounds. This lightweight rack stands on three widely spaced legs for plenty of stability considering how tall the center column is. The arms can be adjusted individually to accommodate bicycles of all configurations from mountain to electric. Use the optional cradle arm and extending legs to add up to four bikes on the Velo Cache. This heavy-duty stand can also hold bikes up to 160 pounds.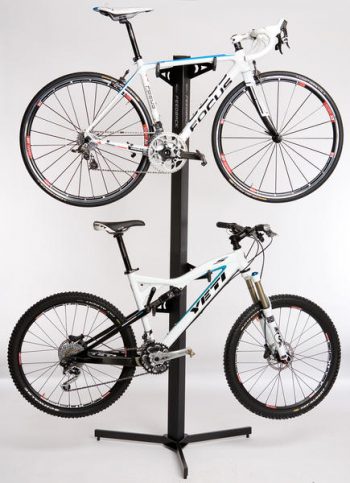 The stand comes in a matte black finish with rubber guards to protect your bike and the paint on the stand. The rack is constructed from anodized aluminum making it a durable stand to last you for years to come. We also love the addition of baskets on the rack for storing your biking accessories and keeping your gear all in one place. The vertical orientation of the free standing Velo is perfect for saving space in your packed garage or in your fifth-floor apartment. The Velo Cache is a great bike rack for storage but is not ideal for bike repairs, if you need both out of your stand consider the Feedback Sports Pro Ultralight.  Find here on Amazon.
Pros
Durable and long-lasting construction and finish.

Adjustable arms and optional extenders.

Accessory baskets optional. 

Lightweight.

Stable.

Sleek design.
Cons
Feedback Sports Pro Ultralight Repair Stand
Best bike stand for repairs.
The next stand from Feedback is the Sports Pro Ultralight, an adjustable repair stand that collapses down on itself for the most efficient of storage. This durable bike stand is great for repairing your bicycle from the comfort of your own workspace. Setup is easy thanks to the premium rachet and dial mechanism that features a speed release to open the clamp, the same dial is used for rotation. The stand itself is made from lightweight aluminum and can hold bikes up to 60 pounds. The triangular base offers extreme stability even on unlevel ground with rubber feet to keep it in place. The clamps on the stand can support tubes up to 48mm. When it's time to pack up and put the repair stand away simply release the clamp and break it down on itself.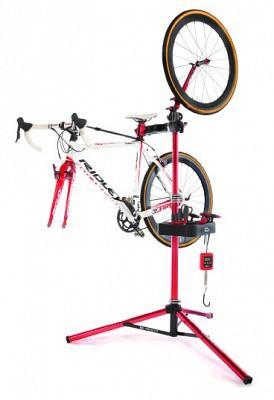 The Ultralight is just as the name suggests, ultralight, weighing only 10 pounds making it a convenient travel repair stand. When folded down the Ultralight Pro stands at 37 inches so you can slide it under a table or in the corner on its own.   Find it here.
Pros
Stable platform for working on any type of bike.

Lightweight.

Compact.

Easy to use.

Easy to transport and store. 

Minimal design.
Cons
Pricey

Might be overkill for the casual user
Park Tool Deluxe Home Mechanic Bike Stand
Best repair bike stand for simple, home use.
Park Tool is synonymous with doing quality bike repairs.  They make some of the best bike repair and maintenance tools in the world, with the distinctive blue branding that you see in almost every local bike shop.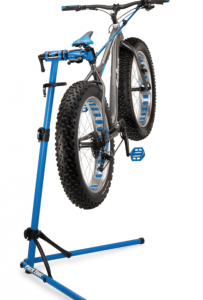 We gave the Park Tool PCS 10-3 a review after testing it, so be sure to check it out.
The Park Tool home mechanic repair stand series (currently in the 4, 9, and 10 series) is a quality bike stand, with super-easy attachment of the bike.  The bike hangs by the seat stem for full access to all parts of the bike, a small enough clamp so we have yet to find a bike that it won't work on.  A simple two-leg design is much more stable than you would expect by looking at it.
We gave this stand a real-world field-test, and loved it.  Our experience is that it combines two things that are big deals — simplicity and durability. It is heavy enough so even a heavier fat tire bike can hang without making the mechanic stand wobble.  We love the fact that our bike hung securely, and it was super quick to mount, making it nice for hanging your bike up for a couple minutes while we applied some chain lube.  You can mount your bike from any number of spots – the top tube, seat tube, or frame.  Many other stands don't allow that.
The stand has nearly 20 inches of adjustability which is important in order to give you the right angle and posture when working on your bike.  The product is made of all steel, which we found adds some useful weight.  You are going to be cranking on bikes after all, you want the stand to provide a good, solid base.
It folds for easy storage. Sometimes with a foldable design, we feel it makes the product more flimsy and less stable.  Not so with the Park Tool stand.  The design of this stand provides excellent durability and stability for the money.   Find it here.
Pros:
Sturdy and solid
Simple design that works on virtually all bikes
Very quick process to mount your bike on the stand
Foldable and highly adjustable
Durable
Trusted Brand
Cons:
Pricey
Complicated assembly instructions
Topeak PrepStand X
The Top Peak Prep Stand is a one of the toughest and most lightweight compact bicycle repair stands. The sleek design and premium quality make this our favorite stand on the list today. The Prep Stand X is an excellent choice for Euro-style bikes and rotates a complete 360 degrees. The stand is made for front and rear quick releases and features a single knob adjustment. Setup is a tool less breeze as the stand comes pre-assembled, all you need to do is attach the bracket pad and proper mounting adapters.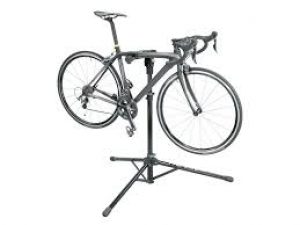 The Prep Stand X is made from lightweight aluminum as many bike stands are, and features rubber feet for a stable grip on any ground. The entire stand is adjustable to match the height of your bike and to save your back. The Prep Stand features a mounting system rather than a clamp which not only protects your paint job but keeps your tubes safe as a clamp can damage your bike if too much pressure is applied. The Prep Stand weighs only 10 pounds and can hold up to 40 pounds at one time. This is an excellent travel repair stand for any bike enthusiast.  Find here on Amazon.
Pros
Lightweight.

Durable.

Compact.

Premium material.
Cons
Why Buy a Bike Stand?
Repairing your own bicycle, or just about anything, is a rewarding feeling not only for the accomplishment but also for the fact that you saved a bunch of money. Whether you're in a small apartment, need a little extra space in your garage or just want to learn the mechanics of your bicycle, a repair stand is a handy rig to have. When you are in control of your repairs you can ensure no extra damage is caused to your gear and that everything is adjusted just the way you like it.
Perhaps the most basic piece of equipment you need as a new cyclist is a good, floor bike tire pump. Then, make sure you have a few good bike wrenches and tools.  After that, getting a bike stand is the next logical step in your bike maintenance evolution!
What to Look for in a Bike Stand
The most important feature to consider in a bike stand is stability, you want something that won't just topple over the second you clamp your bike into place. The best way to ensure you have a stable stand is to look for one with three legs that provide extra support and even better if you find one with rubber feet.
Also consider weight and ease of use when choosing a repair stand. If you plan on travelling it is best to choose a stand that will break down and is light enough to easily transport. Be sure to choose a stand that matches the style of your bike and can hold enough weight. Consider the type of mounting method as well, a clamp will provide less wobble but can also damage some tubes, a mounting system takes longer to setup but is better for some bike configurations. Some stands also double as storage and can hold up to four bikes at one time. Lastly consider durability and quality of materials, you want something with mechanics that are easy to use and won't damage your bike. 
Conclusion 
Using a bike repair stand not only saves you space and money but time, without all of those extra trips to the store you can spend more time fine tuning your bike and more time out on the road, trails or wherever you ride.