If you love road bikes, you're no doubt going to want want to consider Fezzari. Fezzari ranks among the best of them — its class, features, and the experience it offers to the riders are a class apart. In this article, you'll get to know more about Fezzari road bike models, their features, and why they're a stand-out option. We'll also talk about some other bikes that deserve your consideration.
Overview of Fezzari
"Fezzari" means "be in the moment." Their team is made up of experts who have a passion for cycling, innovative cycling products, and the latest tech in the industry. They also have the experience to back it up — Fezzari's experts have worked with many other top notch bicycle companies around the globe.
Fezzari works to provide a custom, ideal bicycle buying experience with a love it or return it guarantee. Customize it at checkout, take it for a test ride and if it's not for you, you can return it within the first 30 days. Based out of Lindon, Utah in the United States, where their road bikes are assembled, the body frames come out of Taiwan, where a majority of high-end bikes are assembled. The multiple bike components are sourced from different areas, including Japan (Shimano), the USA (Fox), and Taiwan (SRAM).
They focus on delivering
 A perfectly designed and assembled bike made to highest standards
The best quality road bikes with a focus on high-class
Great customer value
Personalized support
On the expectations of cyclists
Guaranteed satisfaction
An unforgettable riding experience
At checkout, they ask for information for their "32-point custom setup" to ensure your brand new road bike fits you. Some things they'll ask for include your height, weight, age, gender, measurements, and riding position. You can also opt for certain upgrades like tubeless installs, protection, pedals, and other accessories. They will then create your custom bike designed to your specs.  We are seeing this kind of customized, fitted, "site-unseen" biking purchasing process within gravel and mountain bikes as well, and nobody we know has regretted getting the wrong sizing or fit.
You will be talking to an actual person at Fezzari, not simply filling-out boxes on a website.
Fezzari has been catching our eye lately, and we felt they were worth a deeper dive.  We liked what we saw.  Later on, we will spend a minute talking about how they compare to some of our favorite road bikes on the market today.
Fezzari Road Bike Lineup
Fezzari offers stand-out bikes that are definitely worth a look if you're heading out on a road biking journey. Their lineup includes the Empire, Catania, and Murdock Apex 1X.
Empire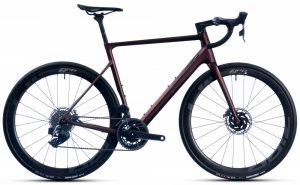 Called "The King of the Road," Fezzari's Empire was designed to be their fastest, most comfortable, and most lightweight bike they have. It features unique Monoform™ CleanCast™ carbon construction — a 1 piece mold rather than tube-to-tube or monocoque. This means there's no bonding or frame alignment issues. Available in a variety of different setups and colors, you can choose the one that fits your needs on the road as well as your budget. Each one offers a different combination of drivetrain, cockpit, wheels, and more. It's the one you want to select if you're looking for performance and endurance above all else.
If comparing to Trek, you would probably put the Empire side-by-side with the Madone.
The different build options include
SL Team Edition
SL Pro Race
SL Pro
Elite Race Rival AXS
Elite Rival AXS
Elite
Comp
Sport
Some other noteworthy features available on some of the Empire bikes are
Fully internal cable routing
32mm tire clearance
Dropped seatstays
Sloping top tube
Road-disc tuned frame
FrameDefense Tech derailleur hanger
The Fezzari starts at a multi-thousand dollar price point, but you have to compare it to other bikes in the same range for a true apples-to-apples comparison.  Given the lightweight monoform construction, we think the pricing is more than justified if that is the range you are going after.
Catania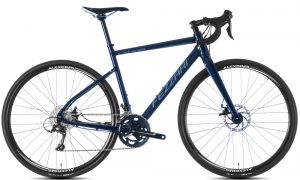 A good value bike.  If you need a road bike that can do it all and is designed for endurance, the Catania may just be for you. High performing, tough, and comfortable, it's a stand-out choice that makes slopes a breeze. The Catania features alloy tech, Fezzari Intensive Stretch Testing (FIST), and Full Bike System (FBS) Analytics, which make the most of the newest technologies and efficient systems.
Designed to give you strength and control when you're out and about, some features you'll want to note on the Catania:
Powerful braking in all conditions
Internal cable routing
Increased strength thanks to smooth welding
A Fezzari FD2 carbon fiber fork for road vibrations
Durable wall rims
Road dampening seat
Shimano Sora 9-speed shifters and deraillers
A great all-around road bike, we would be considering the Catania to be in the same general category as the Cannondale Synapse, if comparing to more mass-produced units.  If your plan is to get a good quality frame, with disc brakes, and then adding bike upgrades to it over time, this could be an affordable way to start.
Murdock Apex 1X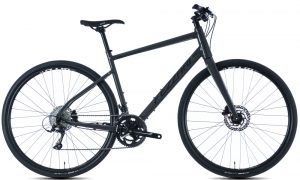 A hybrid, the Murdock Apex 1X is a road bike that is great for city roads and bike paths. No matter where your commute, fitness routine, or casual ride takes you, the Murdock can handle it. Like the Catalina, it also features alloy tech, FIST, and FBS analytics. It's a lightweight, comfortable choice with clearance for 40c tires, tubeless options, and a Shimano drivetrain.
Not a road bike, we included it on this list just to give a more complete picture of the lineup.
The Murdock also comes with
Rear rack mounts
Two water bottle mounts
Fezzari F2 carbon fiber fork
Sram Apex 1x drivetrain
Sram Hydraulic disc brakes
A focus on ergonomics
Fezzari Alternatives
There is absolutely charm, style, and comfort that comes with Fezzari bikes, as well as the savings you will probably be able to get.  Fezzari offers very good value.  It is always helpful to us, though, to compare bikes and not just look at them in a silo. Two brands that deserve a look are Trek and Cannondale, commonly-found bikes which offer anchor points that we can use to compare.
Trek Bikes
Based in Waterloo, Wisconsin, Trek Bikes got their start in 1976. They focus on craftsmanship, adventure, community, and sustainability when it comes to their road bikes.  For each Fezzari model, there is a Trek comparable model. Trek may cost a few bucks more, but the upside is you get to inspect the bike at a bike shop (in most cases) before buying.

They have a number of different road models to fit your needs and cover a wide budget range. Their models include
Madone

An "Aero road bike," it's focused on speed and performance.  (Compare to the Fezzari Empire)

Émonda

Lightweight, the Émonda could also be called an "all-around road bike" and is perfect for climbs. Pricing ranges widely based on the options you choose.

Domane

These are more focused on endurance and are great for new and experienced riders.

Domane+

If you want to go electric, the Domane+ may be the right option for you.

Checkpoint

Made for the non-paved roads, the Checkpoint can handle dirt and gravel riding while being able to hold your gear.
Cannondale Bikes
Cannondale is another leading option in the road bike company that has award winning designs. A part of Dorel Industries in Canada, the Cannondale Bicycle Corporation is located in Wilton, Connecticut and got their start in 1971. Like Fezzari and Trek, they offer bikes for different needs ranging from speed to gravel.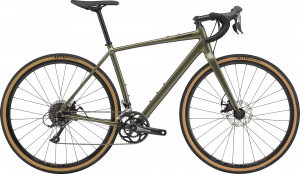 For racing, you'll want to consider their lightweight options including CAAD Optimo, CAAD13, SuperSix EVO, and SystemSix.
If you're after endurance, the Synapse or Synapse Carbon may be right for you.  The Synapse Hi-MOD GRX Di2 in particular is their lightest option. (Compare to the Catania)
For those gravel roads, the Topstone Alloy or Topstone Carbon should be on the top of your list. The Topstone Carbon Lefty 1 in particular is an award winning bike.
Their Cyclocross bikes are the SuperX, an award winning carbon race bike, and the CAADX 1, an alloy cross bike with a carbon fork.
And if you're thinking about electric road bikes, you can choose from the SuperSix EVO Neo, Synapse Neo, and Topstone Neo.
Final Thoughts
Whichever road bike you choose from, you'll definitely want to do your research. They all have their pros and cons. Fezzari in particular can be an excellent choice thanks to their customizable options and satisfaction guarantee. Give thought to which bike would fit your goals and start customizing!