We've been huge fans of Xterra every since we started doing triathlon back in the early 2000's.
Xterra is a different kind of triathlon wetsuit company.  While most wetsuit brands are sold through a dealer network, Xterra wetsuits are only sold direct through the company's website or at Xterra's single retail outlet in San Diego, so there's really no need to price shop for the best deal since the price is always going to be the same.  They offer quality products, and then sell them at a fair price.  We like that.
We believe that Xterra's unique direct-to-consumer model helps the company pass along some real value to triathletes and swimmers.
Xterra is also a prolific marketer, sponsoring many events and groups.  Because of that, Xterra's name is recognized by most triathletes.  We appreciate their continual support of the multisport world, and Xterra is one of the names in triathlon that has really become ubiquitous with the sport.
In addition to wetsuits, Xterra makes a line of high-end speedsuits as well as other gear such as swim goggles.  In the end, though it is perhaps best known for its line of wetsuits that are generally recognized as very competitive and good quality — here is the lowdown, as well as some great discounts on Xterra wetsuits using our code (EBOOK).
Xterra's High End Wetsuit: The Vengeance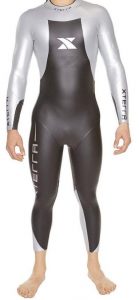 The top wetsuit in the Xterra lineup is the Vengeance wetsuit, a suit that is decidedly high-end with excellent quality and paneling.  We consider it one of the best wetsuits on the market for long races.  The biggest difference is in design, where the Vengeance is much more focused on giving swimmers a "downhill" swim feel.  The legs have thicker 5mm neoprene, while the chest and upper is a thinner 3mm thickness (to compare, some of the other high-end wetsuits on the market give you 5mm thickness the entire way through).  That will make your legs more buoyant than your upper, providing more of a balanced distribution of flotation.  Because your legs are more dense, they require more support than your air-filled top.
In short, the Vengeance will help you compensate for what might be less-than-perfect form in the water.  This benefit is not just for beginners or intermediates — even advanced swimmers might lose ideal body positioning in the water when fatigued or when dealing with a particularly rough body of open water.  The Vengeance will help correct the positioning.
The feeling of swimming in the Vengeance may take some getting used to, but after a couple uses we loved it and are hooked.  We like both the sleeved and sleeveless versions of the Vengeance.  It feels great during the swim and provides a smooth transition in the upper chest from covered to uncovered, without cutting in like some other suits do.
Xterra's Mid/High-Range Wetsuit:  The Vector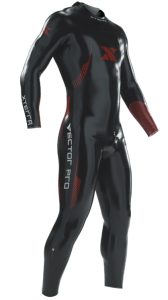 The Vector is Xterra's proven high-end suit, and the one to get if you just want a comfortable, sleek, lightning-fast wetsuit when you don't need the body-positioning assistance of the Vengeance.  It has thicker 5mm paneling straight through the front of the suit, which will help swimmers with buoyancy and those who are doing colder lake swims as part of their workout or race.  Then they mix in many strategic panes of 3mm neoprene, and our experience is that Xterra does a great job with this.
The Vector is my personal go-to suit as of late, and it is hard to find a flaw with it.  As long as you use the store the suit with care, it should be the one that you can grab for years and years.
The Vector might have a slightly increased drag coefficient, but also a slightly reduced sticker price when compared to the Vengeance.  It is important to note that the Vector is only made as a full-sleeved model.  If you need sleeveless, we recommend moving up to the Vengeance as it will be affordable given the typical price drop involved in going from sleeved to sleeveless .  The Vector's technology and performance puts it in a class with such solid wetsuits as the Blue Seventy Helix, another great, versatile wetsuit but one whose retail price is a bit more than the Vector.  You can get up to 50% off a new Vector by using our code, 'EBOOK', when checking out at Xterra's online store at www.xterrawetsuits.com.  That means a $700 full-sleeve Vector Pro can be yours for as low as $350.  A no-brainer.
Xterra True Mid-Range: The Vortex
The Vortex  is a more budget friendly mid-range suit.  While it still maintains the same 5mm front and 3mm back panel thicknesses as Xterra's higher end offerings, it uses a generic brand of neoprene instead of premium #39 neoprene.  Also, a simpler, 2-panel arm is used instead of the anatomical 6 panel arm found on the Vendetta and Vector suits.  As with the Vector, it can be purchased in either full sleeve or sleeveless models.  The Vortex embodies what Xterra is known for by many in the sport — good, mid level wetsuits.  It has stiff competition at this price point from offerings such as the Sonar by Orca, a very good all-around suit that can be had for under $300 when discounted.  While most large wetsuit makers have quality offerings at this price point, suits like the Vortex should be considered if you are weighing all the options.  You can get up to 50% off a new Vortex by using our code, 'EBOOK', when checking out at Xterra's online store at www.xterrawetsuits.com.  That kind of discount will make this a $250 wetsuit, very comparable with entry-level wetsuit pricing even though the Vortex is a decided step up.  We did an Orca Sonar review in the event you wanted to compare it to the Vortex.
Xterra's Entry-Level Wetsuit: Volt and Vivid
At the entry level for newbie triathletes is the Volt along with the Vivid.  It is much more affordable and a quality entry-level suit.  Instead of maximum thickness 5mm neoprene, the Volt and Vivd both use just 3mm in the front and 2mm in the back, so it doesn't have anywhere near the buoyancy that the other Xterra suits provide.  However, to most beginner triathletes, you probably won't notice difference unless you happen to start racing at the HIM or IM levels.   Additionally, it is only available in a sleeveless version.   However, considering that it doesn't cost much more than the price for a season of event rentals, it can be a compelling choice to beginning triathletes.   If you plan to race in several triathlons, however, we would recommend spending up on something that you will be happy with for a few years, as your skills improve and you seek to turn in faster times.  Moving up into a Mid Range wetsuit will likely allow you to improve with the wetsuit, and the suit will likely be more durable.  Not to mention, if you are going to be swimming in cold open water — which we define as below 68 degrees or so — you may want to go with something a bit thicker.
Conclusion
We recommend the entire Xterra wetsuit lineup — it is really just a matter of figuring out which model is right for you.
We have had very good experiences with our Xterra gear, having used a few of their suits over the years.  In fact, the Vector is still a main go-to suit for many of our die-hard staff.  We would not hesitate to put our readers in any of the models, and our experience is that Xterra is good about making sure you are happy with your product and its fit.  This is what they do — they make triathlon gear with an emphasis on wetsuits.  It shows, and we love how committed Xterra is to the worldwide triathlon industry as well.  Note that they are not sold in stores, so all transactions are done directly through their website.