When it comes to triathlon swims, so much attention is given to the expensive gear.  Tri wetsuits, short and suits dominate the reviews, and rightly so as a poorly-fitting or uncomfortable garment can make or break a strong triathlon swim.  But after making all that investment in wetsuits and suits there is an inexpensive, $10 piece of gear that, if not operating correctly, can make a swim downright unbearable:  Your goggles.
So what are the best triathlon swim goggles, and what should you be looking for in your goggles?  Fortunately, we have tested literally dozens of goggles over the years, both in pools as well as lakes and salt water.
What To Look for in Triathlon Swim Goggles
First, what should you look for in a good pair of goggles?  As with all things triathlon, fit is extremely important.  If a goggle doesn't fit your face, you will be uncomfortable.  And it isn't as simple as just picking a size – each face is different in width, length, structure, even size of the eye sockets, so you have to go through some trial and error before settling on the right ones for you.
Durability is also important.  A goggle doesn't have to break in two to be deemed ineffective.  Any swimmer will tell you that all it takes is a tiny, hairline tear around the eyes and your goggles will let in water.  If that water is highly chlorinated or salty sea water, that can be painful in addition to being inconvenient.  Some inexpensive, low-quality goggles don't give you many swims before they begin to show their wear, usually in the form of small leaks that become big leaks, or broken straps.
Clarity and anti-fogging are key as well.  Many swimmers choose tinted goggles, as you may often find yourself swimming into the sun when out in the open water.  Additionally, just like running shoes, goggles have a useful life that generally ends before the goggles appear to be defective.  When they have lost the ability to reduce glare or fogging, it is time to toss them out and get new ones.
Best Swim Goggles for Triathletes
With that, here are the goggles that we have tended to like best in our triathlon pursuits, starting with our favorite.
Aqua Sphere Kayenne (here).
A goggle that combines comfort and performance, the Cayenne goggles from Aqua Sphere generally get rave reviews from triathletes.  They have much winder lenses than what you may find in cheaper goggles, and offer nearly a 180-degree view.  The larger lenses can be great in open water when you need to quickly sight while trying not to pull your head completely out of the water.  In our test, we have never had leakage with these goggles and they also tend to do a great job of keeping glare away and not fogging.  Excellent suction to the face, overall.  They also don't slip when on your head, something we tend to see in some other high-end goggles. That is thanks to a strong, sturdy strap with some of the more substantial locking mechanisms we have seen.  These goggles will stay in one place.  Find them here.
The Kayennes are probably the one goggle with the biggest "buzz" factor right now in our circle of triathletes.  What's more is that Aqua Sphere has been in the swim business for a while and has a reputable lineup from top to bottom.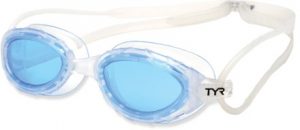 These goggles are from TYR, one of our favorite triathlon apparel makers and a good swim gear producer as well.  The Nest Pros give a very comfortable overall fit, as their construction has gaskets around the eyes that are a little gentler on your face than older types of goggles.  They also have a wide fit, although not quite as wide as the Kayennes, and we've had good success with them not leaking.  Overall, a good overall goggle that will likely fit many different face types.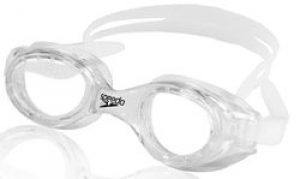 Hydrospex are a classic swim goggle but with advanced-enough features to make them a standard for many triathletes.  They especially excel in pool swimming, where they tend to have a good fit and great sealing capabilities.  We have been able to get lots of mileage out of Hydrospex, as they tend to be some of the more durable goggles on the market.  While some folks don't like that the nose bridge is not adjustable, that should only be an issue with those for a very narrow or wide face.  Hydrospex are the most affordable goggle of our favorites, but we're only talking a $5 to $10 difference.  You won't go wrong buying these goggles.
ROKA R1 Swim Goggles (find here).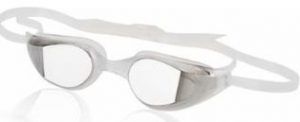 Another unibody model with a wide lens, similar to the Kayenne, the R1 from ROKA is a nice goggle provide complete coverage.  We like that many of ROKA's goggles come in a few different sizes, increasing the odds that you can find something that works with your head and face shape.  The wide range of visibility is a hit with many long-distance open water swimmers, and the anti-fog technology seems to be a cut above some of others out there.  Most of the companies we feature in this goggles article make only swim wear, but ROKA is a bit more versatile.  We commend them for coming up with a very nice swim goggle for open water and hope to see more of their stuff in the future.