The Bontrager DuoTrap is an intriguing device for cyclists, especially those who use Trek bikes.  We needed to take a look at one close-up, and share with you our thoughts.  Overall, the DuoTrap is a good, smart device to add precision to your training, as long as you are using a bike that is compatible with it.
How we Got Here
From the days of wooden rims to the modern aero age, the beauty of cycling on the road has always been its relatively few ingredients: a rider and their bike to start, company and destination optional. That simple formula contains a surprising amount of work behind the scenes, with bicycle technology and rider training the key to longer distances and higher speeds. But while even the most stealth bomber-inspired aero machines are still unmistakably bikes, technology has transformed rider training almost beyond recognition. Data collection, and the devices that enable it, have unlocked increased efficiency and gains, giving any serious rider professional-level training insights – or sometimes better.  That is where Bontrager's DuoTrap comes in.
Speed is an obvious and critical measurement for most cyclists – for many, it's also the ultimate objective of their training. Cadence, meaning the rate of pedaling, is another core measurement of a cyclist's performance and riding style. Most cadence and speed sensors operate on the same principle, detecting each time a crank or wheel magnet rotates past an electronic pickup point. Early examples were clumsy, wired affairs, but still a welcome improvement in convenience over a chase car. Modern cadence sensors not only lose the wires in favor of wireless communication, they also integrate with other sensors at a single computer and screen head unit. This integration allows the simultaneous collection of data like cadence, power, heart rate and more.  The DuoTrap attempts to take it to the next level in a small, elegant piece of bolt-on gear.
The Bontrager DuoTrap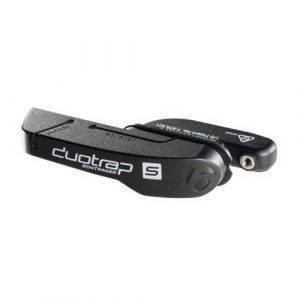 Trek takes integration a step further, throwing out the zip ties and rubber bands of old with the Bontrager DuoTrap, which recesses neatly into a special compartment in the bike frame. The original DuoTrap placed a sensor compartment on the outside of the bike frame, while the newest DuoTrap S model fits neatly between the frame and rear wheel. As the name suggests, DuoTrap is a two-in-one sensor for both speed and cadence. Transmitting both Bluetooth and ANT+ data, the DuoTrap can interface with common ANT+ head units such as Garmin and Wahoo devices, as well as Trek's own Bontrager line. If Bluetooth sounds like a cell phone accessory, that's no coincidence – with the right app, a smartphone can interface with DuoTrap just like a cycling-specific head unit.
Owners of non-Trek bikes are left in the cold by the DuoTrap system, which is the single most important thing for a window shopper to know about this unit.  Don't despair, non-Trek owners can still enjoy ample choice of head unit and sensor systems. Those universal options can also be used even on Trek models with DuoTrap provisions.
If other sensors can be used on a Trek anyway, it raises an important question: Should Trek owners always take advantage of DuoTrap compatibility over competitors?  The short answer is yes. Bontrager's DuoTrap sits at the higher end of the sensor price range, and while integration alone justifies a price premium, the DuoTrap's features are best in class.  Integration is an important factor when you start adding in precision bike parts like power meters or sensers.
Our First-Hand Experience Using the DuoTrap
We gave the DuoTrap a test for a couple weeks, in a number of different conditions.  We used it on a road bike that was ridden several times a week.  We liked what it gave us.
The first thing we appreciated about the DuoTrap was its seamless connectivity with bike computers and other devices — in our case, our preferred Garmin watch picked up the DuoTrap with no issues, and once paired, never had to be reminded to look for it.  Note that older watches might struggle to pick the DuoTrap signal up — not because of the DuoTrap, but because some of those older watches just were not built with the expectation that they would track things like bike cadence.  If you have not upgraded your fitness tracker in the last 3 years, you may want to consider an upgrade.  The use cases on the typical Garmin has exploded in the past 36 months and that pace doesn't appear to be slowing down.
We found that installing the DuoTrap was a breeze, and can definitely be done at home with the help of a Bontrager video or two.  Assuming you are putting the device on a compatible Trek bike, it shouldn't take you more than 20 minutes to do the install slowly and carefully.  It certainly helps to have a bike stand so you can be working at counter-level rather than crouching way down.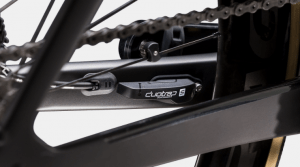 The hardest part of us, quite honestly, was finding a Trek-compatible bike to use the DuoTrap on.  We have been riding bikes made by a lot of diffeent manufacturers, and to give this device a good test, we had to track down a Trek that we had had given to someone else.  This is probably the biggest downside of the DuoTrap.  Additionally, based on our riding, we would be hesitant to use it in a high-wear environment, such as on a mountain bike that is kicking up lots of rocks, or a fat bike that might be churning through deep snow and ice.
DuoTrap Alternatives
Inexpensive alternatives for speed and cadence sensors may be tempting, but can suffer a variety of shortcomings: For instance, the attractively priced Magene S3+ claims ANT+ and Bluetooth connectivity, but can only measure either speed or cadence at any given time. CatEye and Pioneer's ANT+ speed and cadence sensors each undercut DuoTrap significantly but lack Bluetooth connectivity.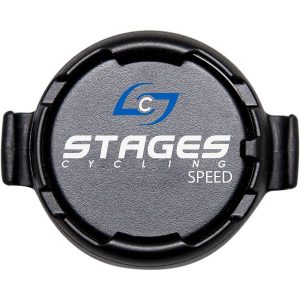 Stages or Garmin sensors seem a compelling value at first glance, comparing favorably in features to DuoTrap, but note that speed and cadence each require an individual sensor.  We have always liked the Stages sensors, as they stand-up well to wear and rough conditions, and have a simple design that is easy to install.  Once installed, you kind of forget about them which is exactly what you want.  If you don't ride a Trek bike, we recommend the Stages sensors.  You can see the Stages speed sensor here, and the Stages cadence sensor here.
Even the comparatively high end Wahoo RPM or Blue SC sensors only match the DuoTrap on features without achieving the same integration. However, some users claim the Wahoo options are easier to reliably connect with third-party apps such as Zwift.  See the Wahoo RPM here on Amazon.
Conclusion
Overall, the Bontrager DuoTrap is well worth its price for owners of compatible bikes, with best-in-class connectivity and features even before factoring in its tidy frame integration. With the incredible refinement and performance of modern bikes, DuoTrap compatibility and other onboard technologies could even provide Trek an edge over competitors to attract new bike shoppers. With ANT+ and Bluetooth sensors now available from most every head unit and computer brand, more innovations like DuoTrap could be on the horizon. For now, Trek is an undeniable leader in cycling technology integration.  
Von Collins is an accomplished triathlete and cyclist, and the author of four fitness and training books: Smarter Running, Your First Triathlon Guide, Fit Foods, and 30 Rut-Busting Workouts.
Von has been cited as a triathlon, cycling, and fitness expert by Healthline, CNET, Forbes, Eat This, Not That and other major outlets.
Von has done dozens of triathlons and endurance bike races, coaches, and is an avid part of the cycling and triathlon community.