Kids' triathlons are gaining in popularity, with many races occurring in locations that may warrant a wetsuit for the child racer. As a general rule of thumb, water temperatures dictate if a wetsuit is needed, and wetsuits can be useful all the way up to water temps of 78 degrees. That means that races occurring in the early summer, fall, or in northern climates may well warrant a triathlon wetsuit. So how do you select the right kids' wetsuit, and what you do need to know about using one? We'll try to answer those questions.
Do You (or does your child) Need a Wetsuit?
The general rules of water temperatures apply to kids and adults alike: Below 70 degrees (surface water temperature) and a wetsuit would be very useful. 70-78, and it is a judgment call. Above 78 degrees, and a wetsuit could actually make the swimmer too warm, so they are highly discouraged. In addition to the comfort created by wetsuit warmth in cold water, though, there are two other major benefits. First, a wetsuit provides added buoyancy, so the child will have the benefit of feeling more secure in the water – something that may help those who may be nervous about swimming. Second, a wetsuit provides for SPF protection from the sun. While most races occur in the mornings before intensive UV rays are an issue, more sun protection is always a good thing.
Ultimately, though it really depends on the distance of the swim, and if your child is a good swimmer.  If it is a short — 100 m or less — swim, a wetsuit is probably overkill.  If it is longer, and especially if your child is not completely comfortable in the water, you may want to consider a wetsuit.  Race officials may have an opinion on the matter as well.
Where Do You Find a Wetsuit?
There are two options for finding a kids' triathlon wetsuit if you don't already own one: Buying or renting. Buying can be beneficial if you think you'll use it more than once, or if you want to buy the exact best suit for the child. Renting can be a good option if you think that this might be the only time the child will use it, and can also reduce the investment for something a kid may outgrow quickly.
If buying, do your homework by reading triathlon wetsuit reviews, price shop and try some different suits on, and don't be tempted to "buy-up" to a larger size to account for growth spurts. Wetsuits need to fit perfectly – too big, and the mechanics of the suit might be compromised. Remember, the aftermarket on Ebay and Craigslist is relatively healthy, so you can always get your money back from the wetsuit when the season is over.
If renting, many local sporting goods shops will carry kids wetsuits for rental. They may not be the brand of choice, but will usually be plenty good for a one-race event. There are also some online resources to rent them mail order.
What to Look For In a Kids Triathlon Wetsuit
Kids' triathlon wetsuits should have the same features as the adult versions. First, you'll need to choose on the amount of body coverage. "Shortys" that cover only the torso may be good for many kids, given that the races will be of manageable distance and they are easier to get on and off. They are not as warm as the full-length suits, but the full suits are much more difficult to get on and off, especially for a child. Beyond the coverage, look for a suit that has no scratches or tears (they tear easily), and one that fits snugly but allows the child to move and breath adequately. Fit is more important than features or brand, so be sure to get the sizing just right.
Which Kids' Wetsuits Do we Recommend?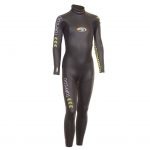 There are lots of wetsuits on the market today for kids, and they all will probably serve the most basic purpose of keeping your child warm and aiding in the buoyancy during the swim.  As triathlon purists, though, we tend to lean toward the models that are made by the tried-and-true triathlon gear makers.  Two models stand out to us that we would be willing to put our names behind.
Blueseventy Torpedo.  Found here for $150.  Blueseventy is very good at making wetsuits, and some of our favorite wetsuits for the most advanced triathletes are made by them.  For kids, they make a Torpedo which uses the same neoprene that goes into some of the more expensive suits, and we have had good luck with the flexibility and seam construction of Blueseventy's gear.  It comes in a full-sleeved and full-legged version, and is designed for kids ages 8-12.  Knowing that children come in all different sizes, we would consider the torpedo for kids as young as 6 and as old as 14… but above 12 they are likely getting close to being able to use an adult small size.  The Torpedo goes for $150.
Xterra Volt.  The Volt goes for $250, but use our promo code "EBOOK" at checkout and save 50%!  Xterra makes a kids' version of its popular Volt wetsuit.  The Volt is normally an adult, entry-level suit, but Xterra has sized it down for kids.  They use impressively varied panelling in the neoprene, which basically means that the kids will feel more flexible range of motion on the swim stroke.  Xterra sells three sizes of the wetsuit, and offers a 30-day exchange policy.
There are others on the market, but those are probably the two we would consider for our own children, if they were racing.
Use and Care of a Kids Triathlon Wetsuit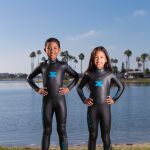 Using a wetsuit can be a different experience for first-timers. The two most common issues with a newbie using a wetsuit are getting the wetsuit on and off, and making sure movement is comfortable.
To put the wetsuit on, be sure to be gentle as the neoprene fabric and rip easily. Put in on over the swimsuit and do it while dry. Being wet makes it much more difficult. Slip it on over the feet (carefully), and pull it up as you as you can, then insert the arms and zip it up. Zipper goes in the back. The whole process can take a few minutes, so try it out before race day to get the process down.
Taking the wetsuit off is a bit easier, but is often done in a fatigued and rush state as you transition to the bike. Unzip the zipper from the back being sure that you have the zipper all the way down to the bottom, peel your arms out and remove the suit down to your waist, and then carefully remove each leg.
After the race, rinse the wetsuit out with fresh water, allow it to dry in the air, and keep it in a safe place without risk of tearing for the next use.