The Blue Seventy (branded as "blueseventy") brand of wetsuits and swimwear began life in New Zealand in 1993, and quickly rose to become a preferred wetsuit for Ironman competitors and other triathletes before expanding in the early 2000's to include race swimwear and goggles.  At its core, BlueSeventy remains a focused "swimmer's" brand and a leader in fabric technology.
The Blueseventy name, in case you are wondering, is a moniker that acknowledges about 70% of the earth's surface is water.  Blue water.  Blue 70%.
The company is known for putting a premium on fit, with special emphasis on gender-specific suits.  Its femme-fit fitting style is made specifically for a female's build and figure — something that they introduced nearly 10 years ago and were the first in the industry to do.  We like that blueseventy also offers a broad range of sized, especially in its entry level offerings.  For 2016-17, the BlueSeventy line includes a number of distinct wetsuits, all of high quality and made specifically for triathlon racing.  In short, we think the Blue Seventy brand should be on any triathlete's shortlist if they are looking for a quality suit from a proven maker.
One thing we have liked about Blueseventy over the years is that they do not constantly change their lineup, making it hard for consumers to keep up.  They have had a stable, constantly evolving-lineup of 3-4 key models for years  We like that.
You really can't go wrong with this brand, as we can attest from having worn Blueseventy gear in many triathlons.
Top End: Helix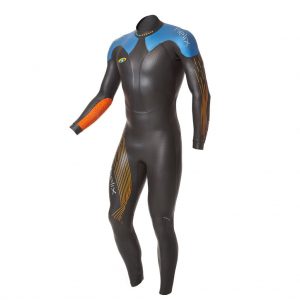 The Helix is BlueSeventy's top-of-the-line Neutral Buoyancy suit (here).  Blue Seventy has been featuring the Helix at the top of its lineup for more than five years, and they keep advancing the engineering to keep it at or near the top of its pack of competitors.  We consider it one of the very best higher-end wetsuits on the market today.
The Neutral Buoyancy concept is designed to provide equal buoyancy throughout the length of the suit that augments the naturally horizontal body position that strong swimmers have in the water.   In addition, the Helix has incorporated low grade compression in the legs.  This increases blood flow to the legs during the swim, with the idea being that more blood flow leads to fresher biking legs once you get out of the water.
The Helix also features several unique time-saving transition features.  Flexible kneel panels improve your ability to run in the suit, while a Reverse Zipper design makes it easy to get out of the suit in a hurry.  For an additional $50 on the price tag, you can get the Helix Thermal suit, which gives you all the advantages of the Helix but in a package that is meant for frigid temperatures.  Think Great Lakes or Northern Ocean temps — and you get the picture.  While it is not a trivial spend ($850 list price) the Helix Thermal gets rave reviews from all of our contacts who test it.
In years past, Blue Seventy also offered a high-end, positive buoyancy suit called the Axis.  While you can perhaps find the Axis used, Blue Seventy no longer carries it new.  We can only surmise that the manufacturer was not selling two high-end wetsuits in the same lineup.  We are fine with their decision, as we have grown to love the Helix so much that it more than satisfies the need for a top wetsuit in the lineup.  In fact, one thing we really like about what Blue Seventy has done in recent years is that they have slimmed down their lineup.  This creates more simplicity for buyers and we think allows the company to pour more effort into just a few suits.
The Helix goes for $800 list, and the Thermal goes for $850.  The sleeveless version prices are considerably less (about $500), but then again you get less warmth and buoyancy in a sleeveless too.  While those are not low prices, we can tell you that they are worth the money if you are going to use a wetsuit often.
Mid Range: Reaction and Fusion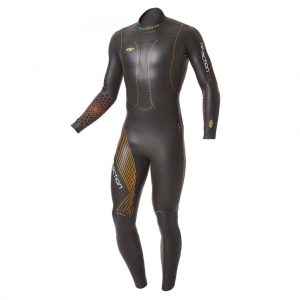 The stability of Blue Seventy's core offerings is something we really like, and we have been reviewing the Reaction for years.  The Reaction is the mid-range neutral buoyancy option from BlueSeventy.  Like the brand's top-of-the-line suits, the Reaction features a low friction coating.  We like the paneling around the chest which provides for easier breathing, something that is important when you are breathing heavily during a race.  We are also big fans of the neck collar, which is made a little lower so it doesn't give the sensation of being tight around the throat.  The Reaction is available in both a full-sleeve and sleeveless design, and we hear it has been the company's best seller for years.
Just a slight notch down in price, the Fusion is BlueSeventy's mid-range Positive Buoyancy wetsuit, and is also available in the same coating and style options.  We like the Fusion for many racers, at is provides some great technology at a really nice price point.  In many respects, it takes the place of the old Axis suit, but at a more affordable price point.  Both suits, the Reaction and the Fusion are suitable for many racers and we feel they can be had at a fair price.  Find the Reaction for $475 and the Fusion for $325.  A sleeveless version can be had for a healthy discount — the Reaction sleeveless is about $295, or $180 less than the sleeved version.
Entry Level: Sprint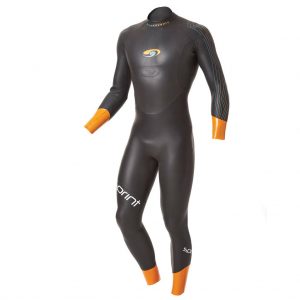 The Sprint is targeted towards novice triathletes, with great Blue Seventy engineering but at an entry level price point.  You will be hard-pressed to find a better value on the market today.  Our analysis of entry-level wetsuits suggests that the suits made by higher-end makers are far superior to those imported ones that you may find selling for less on Amazon.  While the Sprint doesn't offer as much of the buoyancy features or variance in paneling, for someone who is simply wanting to compete in a triathlon or two, the Sprint can be a great choice.  Our testing indicated that this model ran a bit small, so when it doubt get the next size up.  The entry-level price point runs from about $199 to $250, and this suit is right in the sweet spot at $225.
Youth
For those youth triathletes, one of the better kids models is made by this maker.  BlueSeventy also makes the Torpedo, which is a youth-sized wetsuit for junior triathletes.  It is meant mainly for 8 to 12 year olds, and is a great way to provide confidence and a little extra safety (because of the buoyancy) to your aspiring triathlete who is trying the sport at a younger age.  The Torpedo runs $150, which we think is a fair price for a kids wetsuit from such a well-known maker.
Conclusion
Like we said at the outset, you can't go wrong with Blueseventy.  If you can afford the Helix, go for it.  It has proven to be a high-performing and comfortable suit for many years.  If you can't swing the price tag, we would have no problems recommending the Reaction as well.  It is a great mid-range suit that will be more than enough for most triathletes.  While we love Blueseventy, we also think that it is worth taking a peek at Xterra, purely for comparison purposes.  Both lineups are among the best on the market today.
About the Author
Von Collins is an avid triathlete, cyclists, runner, and fitness enthusiast.  He is the author of the popular Your First Triathlon Guide, and several other fitness-related books.  Perpetually in training mode, he is constantly testing new gear and talking with other athletes about their observations.