Which cycling shoe is right for you?  Two top brands are Nike and Pearl Izumi.  Between the two, it's not an easy choice to make when you're in the market for new cycling shoes. We'll take a look at each of these brands and compare a few of their most popular cycling shoes so that you can decide which one's best for you.
Nike
Before we take a look at some of Nike's top shoes, let's discuss their history. The more you get to know Nike, or Pearl Izumi for that matter, the more you can connect with the brands. Nike is the largest sporting goods company in the world and has been around for over 50 years. Originally known as Blue Ribbon Sports, it was founded in 1964 by Phil Knight and Bill Bowerman. They wanted to build the perfect running shoe, and it started with the Nike Cortez.
Nike would get its current moniker in 1970 and, to begin with, they only dealt with running shoes, equipment, and some apparel. It wasn't until later (around 1987) that they decided to branch out and expand their production. Today, they focus on a broad range of sports and fitness activities, including cycling shoes.
Best Nike Cycling Cycling Shoes
Nike SuperRep Cycling Shoes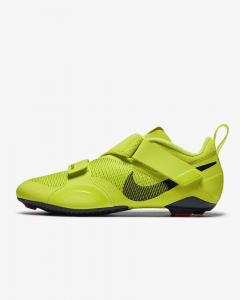 When it comes to Nike and bike shoes, there is really only one line — The SuperRep.  Nike has put all of its cycling focus on making one really good pair of bike shoes.  These are decidedly designed for indoor riding — spin classes or Peloton-style riding inside.  They are not the shoes you get for long tours outside.
Nike's SuperRep cycling shoes are a crowd favorite! They're a great option for beginner cyclists or even seasoned riders who plan to do much of their riding indoors. They can be a great option to just keep in the gym bag.
Affordable, the shoes are made with synthetic materials and have a lace-up closure. This type of lacing keeps your feet strapped down as much as possible so that you can focus all your energy on pedaling.
The SuperRep's are also extremely lightweight, weighing around half a pound, which is ideal if you're looking for a fast and responsive cycling shoe. They have a stiff carbon fiber plate in the sole, ensuring that all your power goes straight to the pedals to give you more speed and better performance.
These shoes very consistently end up feeling a bit snug and small. That is easily solved by ordering a size up. You probably want to order 1/2 size higher than normal right away, or there is a pretty good chance you will find yourself returning for a larger pair.
The shoes are compatible with both 2-bolt and 3-bolt bike cleats, so you should be able to use them with any setup that your home bike or your gym uses.  They do NOT come with cleats – you need to install those yourself.  If this makes your head spin, read our comprehensive bike cleat guide.
Find the Nike SuperRep Here on Amazon
Pearl Izumi
Pearl Izumi has been around for even longer than Nike, founded in 1950! They started as a small retail shop in Boulder, Colorado, and began selling cycling apparel. Pearl Izumi's founder, John Gremer, was an avid cyclist, and he wanted to design cycling apparel that worked. The company later focused on other sports, such as triathlon clothing, because of the popularity of active endeavors at that time. Pearl Izumi's cycling shoes have become a perennial consideration for the top bike shoe of many types.
They have always been a company that cares about the environment, too. They were one of the first companies to create recycled cycling clothing and work with organic materials. This is something that Nike has started to do more of in recent years, but Pearl Izumi was one of the pioneers in this area. They now have several locations and subsidiaries all over the world.
Best Pearl Izumi Cycling Shoes
Pearl Izumi X-Alp Biking Shoes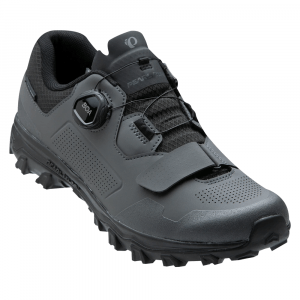 Pearl Izumi's X-Alp shoes are some of the most popular biking shoes on the market. They're versatile and can be used for a variety of activities, including cross-country cycling, trail riding, and even commuting. They're made with tough synthetic leather and have laces for a more secure fit. The soles are made with injection-molded rubber, which is great for gripping on all sorts of surfaces.
The "Summit" model is intended for mountain biking, the non-Summit models are outstanding for gravel biking.
Pearl Izumi designed the shoes to focus on comfort on top of performance. The mesh lining on the inside is very breathable, which will keep your feet from getting too hot and sweaty. They also have more arch support than other Pearl Izumi models, making them ideal for cyclists with flat feet. The heels are also reinforced so that you can wear them all day without worrying about blisters. The only thing to look out for is the shoes being too wide if you have Crank Brother pedals.
These are shoes that you can easily where while walking around for extended periods of time, so they are great if you need shoes that you can use in spin class and then while doing strength work, or if you want a shoe that you can ride somewhere and then get off and walk around and explore.  We personally like this type of shoe for using on our home bike trainer, because it is easy to jump off and tend to things (like a screaming child) without removing the shoes first.
Find the X-Alp Here on Amazon.
Pearl Izumi Men's Tour Road Cycling Shoes
Pearl Izumi's Men's Tour road cycling shoes are another great pick for cyclists, especially outdoor riders. You can wear these shoes for racing or everyday riding. They have a sleek and simple design that you'll love. The laces provide a snug fit, while the soles are made with carbon rubber, which is fantastic for gripping and staying connected to your pedals. The shoes are also made with mesh, which will keep your feet nice and cool.
In terms of performance, the Tour Roads are top tier. They have a stiff carbon fiber plate in the soles, which gives you more power when pedaling. They're also pretty lightweight, weighing less than a pound. The shoes are breathable and comfortable, which is why they have a lot of mesh. This will keep your feet from getting too sweaty and overheated. The only downside is that they don't have as much arch support as some of the other Pearl Izumi shoes.
Find the PI Tour Shoes Here on Amazon
Pearl Izumi Attack Road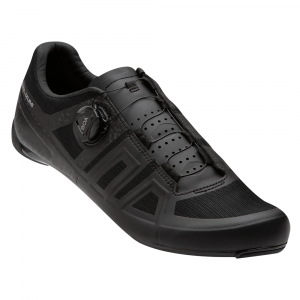 Lastly, Pearl Izumi's Attack Roads are another excellent option for outdoor and indoor cycling. They weigh under a pound, so they're very lightweight. The soles have a seamless carbon-insert plate that will give you more power when pedaling. The Attack Road has a foam and rubber heel and uses a Boa closure to provide extra stability and comfort, especially when walking or riding on rough terrain. The heel is slightly taller than the average shoe, and it also grips well against your feet, giving you more control and support.
The shoes are very breathable and comfortable, which will make them great for long rides or races. The bonded mesh uppers on the shoes add to the shoe's comfortability, all to provide better ventilation and reduce sweating while riding. The shoe may also feel a little stiff, but not all the way through. You should get used to it rather quickly.
To be clear, these shoes are a little more aggressive. They are not for someone who just wants a casual bike shoe that they can use with cleats. Rather, these are geared more to folks who plan to go fast or do longer touring rides.
Find the Attack Road Shoes Here on Amazon