Live in an apartment? You're likely short on space. So where on earth are you going to store your bike? We've collected 8 ideas for you to store your bike in an apartment!
1. Hang the Bike on a Clug (Wall Hook)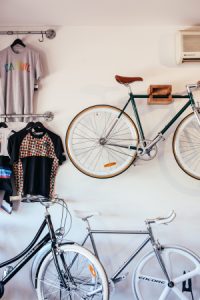 A simple solution to storing your bike in an apartment is to use a wall hanging solution. For example, the Clug is a small u-shaped bracket that attaches to your wall with the included template, screws, and anchors. You can use it to store your bike either horizontally or vertically. It is a very small, efficient, and easy to use bracket.
Pros
Inexpensive at around $21
Easy to use
Doesn't look cluttered or detract from your bike
Cons
You have to install it into your wall – you'll need to find out if your landlord will allow you to do so
You must get the correct size for your tires, so if you change tires often, this might not be the right system for you
If not installed correctly, the Clug could easily pull out of the wall
The Clug is best for lightweight bikes and anywhere you need a clean, clutter-free solution.
2. On a Bike Stand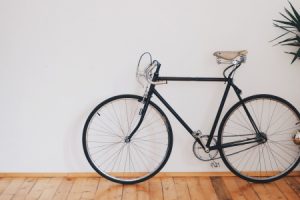 If you do your own bike work, you might already have a bike stand on hand. You can use your bike stand to store your bike up off the floor.
Pros
Your bike stand serves two purposes, saving money.
It keeps your bike up off the floor and on display.
Cons
Not all bike stands are equally sturdy.
Some bike stands have a wide footprint, so you'll have to be careful not to trip on the feet.
This option is best for someone who does their own bike work.
3. On Your Bike Trainer
If you ride a trainer inside, a great place to store your bike is right on the indoor bike trainer! It doesn't matter if it is a wheel-on or a direct-drive trainer. If the trainer is sturdy enough to hold you while you ride, it's also sturdy enough to hold your bike safely when you aren't.
Granted, it can bit a bit of a hassle to keep re-installing your wheel if you use a direct-drive trainer. However, once you get good at it it only takes a minute.
Pros
A free solution if you already have a trainer
Will keep your bike sturdy and safe
Cons
Trainers can take up a lot of space
It may be difficult to take your bike on and off the trainer every time you want to ride.
This is best for someone who rides both indoors and outdoors, and keeps their trainer setup all the time — perhaps in an out-of-the-way location with a bike mat underneath.
4. With Ceiling Hooks
If you are short on floor space, you might consider storing your bike with ceiling hooks. Choose a sturdy beam to screw your two large C or S hooks, space them to line up with the middle of each wheel, and pre-drill the holes. You'll want to make sure the hooks are sturdy enough to hold your bike and that they are coated so they don't scratch up your frame.
Alternatively, you can hang your bike on a wall using one hook as long as your put your hook into a stud.
Pros
Uses inexpensive and easy-to-find hooks
Won't take up precious floor space
Cons
You may not be permitted to drill into the wall or ceiling
You'll be storing the bike upside down – which can cause air bubbles in hydraulic brake bikes
It may not be possible to lift a heavy bike – like an e-bike – up to the ceiling
This option is best for someone with a lightweight bike.
5. Disassembled and in a Closet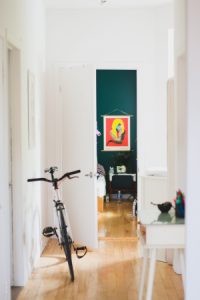 If your landlord won't permit you to drill hooks or attach brackets, you might need to resort to storing your bike in a closet. If your closet doesn't have the space, you can disassemble it by removing the front and back wheels.
Just loosen the skewer or maxle and remove the wheel. Replace the skewer. Unless you have rim brakes, be very careful not to squeeze the brake levers or you could dislodge the piston.
Pros
This storage solution doesn't cost a thing
You won't waste floorspace if your apartment is small
Cons
It takes time to remove (and replace) the wheels
You could damage your brake system if you aren't careful
You could get grease on your clothes if you store your bike alongside them
Best for: A mechanically inclined cyclist.
6. On Your Balcony
If you have a tiny apartment but you have a balcony, you could store your bike there. You should consider, however, covering it with a tarp or bike tent. Rain, snow, frigid temperatures, and the sun can all do a number of your bike's paint, battery, and overall function.
Pros
Can be a cheap solution to living in a tiny space
If your balcony is high up, your bike is less likely to get stolen
Cons
Your bike may be subjected to bad weather which can cause it to wear out sooner
You may need to lock your bike to the balcony just to be safe
Best for: someone who has no other options for bike storage.
7. Behind a Piece of Furniture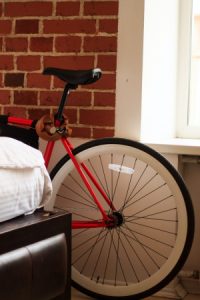 If you have a large living room, you may want to simply store your bike behind the sofa. Pull the sofa away from the wall a few feet and slide your bike behind it. Your bike will be out of the flow of traffic and safely protected.
Pros
This is a free storage solution.
You won't need to hang your bike or drill holes into the walls or ceiling to protect it.
Cons
This won't work in a small living space – you might not have enough room to move your sofa.
You may get grease on your sofa if it's too close to your bike.
This choice is best for someone with a larger living space.
8. Use Your Bike as Art
If you truly love your bike, you might want to display it as art. The Brook Bike Shelf is a popular option to display your bike, helmet, and shoes as if they were art. It keeps everything neat and tidy and up off the floor.
Pros
You get a new art piece
Helps to organize your cycling essentials.
Cons
Can be expensive to purchase
You need to drill into the studs of your wall to securely anchor the bike shelf
This is best for someone who treats their bike as a true masterpiece.
There are many different ways to store your bike and most of them are inexpensive. With a little creativity and just a tiny bit of DIY, you can find a great solution that works for you – and keeps your bike safe, secure, and out of harm's way.
Amanda Whittington is an accomplished adventure cyclist, having done some of America's iconic bike races, century rides, gravel grinders, cross-country races, and is currently training for track racing.  A ride leader and organizer, Amanda is passionate about cycling and teaching others, and works with beginner riders, teaching them group riding and bike safety as well as basic bike know-how.