Stationary bikes, or spinning bikes, can be an excellent alternative to road or trail riding for exercise enthusiasts or competitive athletes.  While there is no substitute for going for a hard, heart rate-raising ride outside, there are times when a more controlled ride indoors is called for.  For those of us in Northern climates, winter weather can push you indoors for weeks or months at a time, as you move to more of a cold weather cycling routine.  Sometimes a few days of thunderstorms can cause even the most well-intentioned road ride plan to be postponed.  And there are times when road construction or traffic patterns make it unsafe enough to ride outside that an indoor ride is best.
Riding on a spinning or stationary bike also has a benefit that many athletes value:  It gives you complete control over the intensity, duration, and environment surrounding your ride.  No stoplights, no wind, no hills.  No need to carry a computer, fiddle with a bike lock, you aren't going to have to have a bike tire pump nearby before each ride, and you don't even need to wear a helmet!  Just a completely controlled environment for you to do precise interval work or to work at your desired heart rate.
What to Look For in your Stationary Bike
Buying a stationary bike can be a large investment, so be sure you are looking at the features that will actually help you.  A few things to look for include:
Positioning.  Perhaps the first choice to make is if you want a recumbent or upright bike.  Recumbent bikes are lower and have you seated with your legs and feet in front of you.  Upright bikes are just that – upright – and resemble an actual bike posture.  Unless you ride a recumbent-style bike when outside, we suggest you train on an upright.

The incumbent bike (left) is lower and in a different position than the upright (right) which resembles most bikes.

Technology.  You can get some incredible technology on bikes today, it is actually mind-boggling.  The most basic options include pacing and heart rate monitoring.  Spend more, and you can actually link your workout to the screen in front of you, and do full downloads of your training versus your training plan.  If you want to get precise about your training, consider higher tech.  If you just want to ride in front of a TV, don't spend as much.  Nowadays, you should also expect to be able to run your phone or Ipod on your bike.
Seat Comfort.  As we say with road bikes and triathlon bikes, the seat is the primary point of contact with your body when cycling, so choose wisely.  Some seats are more firm and stiff, others are quite soft and meant for longer-term comfort.  The key is to match the seat with what you are used to, and how you want to train — for high-intensity performance, or longer-term distance and fat-burning.
Accessories.  From cup holders to phone clips to ventilated seatbacks (on the recumbents), you can get quite an array of accessories.  Just figure out what you will actually use, and don't spend money on things you don't need.
If you want to add stationary or spin workouts into your repertoire, here are a few of the more popular gear choices to help you do that.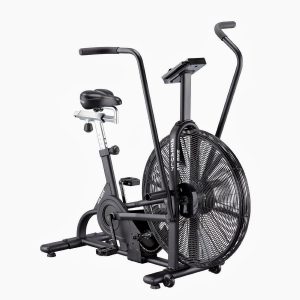 LifeCore Stationary Bikes.  Lifecore has been making good upright and recumbent stationary bikes for years.  Their current lineup includes three recumbents and two upright bikes.  The recumbent bikes, the 850RBs, 950RBs, and 1050RBs, are similar in style and frame but with each step up in cost, you will get more adjustability and console features.  Testing tells us that these bikes are highly comfortable – featuring a mesh seat back for air flow – and provide many workout options whether you are looking for a preset program or simply want to do a good, manual workout.  Only one Livestrong model offers the same type of mesh, which is often cited as a key comfort factor for those preferring a recumbent.  For hardcore cyclist and triathletes, the upright spinner bikes might be more your style.  The 1050UBs is a good bike that shares many of the features of the recumbent bikes, but puts the rider in more of a traditional cycling position.  It can handle riders up to 300 lbs.  They also offer an upright air bike, the LS-XT, which is very compact but not geared for hardcore cycling workouts.  It is a better fit for those who are doing rehab.  Our Favorite: The Fitness Assult is a good all-around bike that gets good reviews from users.
Sole Spin Bikes.  Sole produces a line of high-quality spin bikes that will rival what you use at the health club.  While the Lifecore might be geared more toward general fitness enthusiasts and recreational riders, Sole tends to take their bikes to the next level and make spinner bikes that are higher performance.  What does that mean?  Better adjustability and a smoother (and if you want it, more challenging) ride.  While the LifeCore upright bikes will weigh around 80 lbs, the Sole will be nearly double that at about 150 lbs.  That tells you a little about the difference in build of the bikes, but it also makes the Sole a bit of a bear if you have it in a space that needs to be moved around a lot.  The Sole lineup includes both recumbent and upright bikes.  The uprights are the SB700, B94, and LCB Commercial.  The recumbent bike lineup features the R92 and LCR Commercial.  The LCD display is good, and the programs are adequate but very much on par with the other brands.  What you get when you buy the Sole is a high-quality, heavy construction capable of hard workouts.  Our Favorite:  If you can afford the Commercial lineup, do that.  Otherwise, the B94 upright bike is a great all-around bike that will fit well with your training plans.
Livestrong Spinner Bikes.  If the purpose of your bike will be to train and train hard, you might be swayed to go with the Livestrong.  Livestrong bikes have all the features that a hard-core cyclist or triathlete would want:  Belt drive, heavy flywheel, upgraded components, and high adjustability.  We are particularly fans of the LS9.9IC, perhaps the best spinner bike on the market today.  We love that the saddle shape and positioning is the closest to that of an actual road or tri bike, so the training on the Livestrongs will likely transfer much more directly to the road or race than the others featured here.  Our testing also found that the bike is incredibly quiet.  That is often a key selling point for people who may want to watch a spin video or tv while riding the bike.  The lineup includes the upright LS9.9IC and LS 5.0U models (the latter being more in line with your typical stationary bike), as well as the recumbent LS5.0R and LS6.0R models.  The 6.0 has the mesh seat similar to the LifeCore.  Our Favorite:  The LS9.9IC is probably the best spinner bike on the market today, and the one on this entire list (all brands) that we would choose for an avid cyclist or triathlete.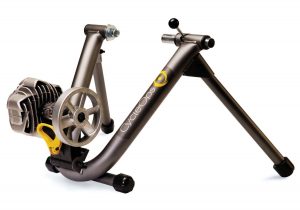 Alternative to Stationary or Spinner Bikes.  For those who don't have the space for a spinner bike or prefer to stay on their road or tri bike, a trainer can be a great alternative.  Trainers take of little space when they are folded up, and allow a cyclist to practice on the exact bike, using the exact posture and form, of riding outside.  This means that the training you do inside will transfer directly to the same bike when you head outdoors.  Trainers are often favorites of triathletes or road cyclists who have invested a few thousand dollars in a bike and want to get every last bit of value from it.  One note – when you put your bike in a trainer, you will want to change to a strong, inexpensive skewer and a trainer tire on the back.  Given the heat and contact your bike will have with the trainer, these two simple steps will preserve your higher-end componentry for the outdoor rides.  Other than those two steps, you can use your bike as-is on a good trainer.  The one we like is the CycleOps Fluid 2, a long-lasting trainer that offers excellent, smooth resistance.