A good bike computer can be a great way to get more out of cycling. There are lots of bike computers made by lots of different brands, but we wanted to evaluate the best cycling computers on the market today.
Competitive cyclists, triathletes, touring cyclists, weekend athletes, and bike commuters alike are continuously looking for getting more out of their rides, adding to the training quality and precision and finding great routes. There are a few ways of tracking your cycling, ranging from a multipurpose cycling or tri watch to using an app like May my Ride. If you really want to go all-out in terms of workout precision, you can invest in a cycling power meter, but then you are talking a significant cash outlay — usually $600 or more.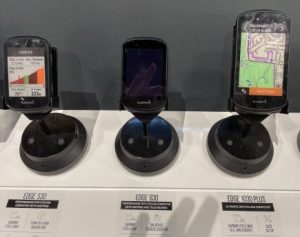 For most cyclists, tracking speed, routing, mileage, and other measurable is key, especially with all of the precision training apps and products available today. The bottom line is that a high-end fitness or multisport watch will do a great job of tracking your rides and key stats, but they fall down if you need navigation. The biggest benefit of a bike computer, far and away, is its ability to help you navigate — whether that be determining where you are, or giving you turn-by-turn directions just like on a car GPS.
Because bike computers are purpose-built for cycling, they really hit the mark for someone who wants to be more informed about their ride routing and stats. They are more waterproof (and have better battery life) than trying to mount a phone, and the safety factor of not fiddling with you watch is significant.
The good news is that you can find a good bike computer at an affordable price, and there are numerous nice cycling computers to choose from. Expect to pay anywhere from $350 for a fully-functioning, wireless computer that is compatible with apps and smart trainers, to $35 for something incredibly basic. To help you with deciding which product to get, we're presenting you the best items that offer you plenty of awesome functions and come with useful features.
Our 5 favorite bike computers right now
| Computer | | Why We Like It | Best For | Where to Find |
| --- | --- | --- | --- | --- |
| Wahoo Elemnt Bolt | | Reliable readout, strong GPS. Good bluetooth connectivity to phone. | People who want a proven, mid-range computer | Check Price |
| Lezyne Mini | | Small. Compact, takes up little valuable space. Provides basic stats. | Bikes where smaller is better | Check Price |
| Garmin Edge 830 | | Compatible with other Garmin devices, which is becoming a standard. All the data you need. Less expensive than the 1030. | Garmin groupies, or people who have enough budget to get a well-appointed computer. | Check Price |
| Hammerhead Karoo | | Beautiful graphics, advanced mapping options. Best Overall. | People with a healthy budget, bike explorers and commuters, and gear junkies. | Check Price |
Karoo 2 Cycling Computer
Best High-End Bike Computer. In our opinion, the best overall.
Raising the bar on bike computers, and Karoo products have been intriguing since they were first unveiled (and quickly sold out) a couple years ago. The Karoo, made by Hammerhead, is upping the game on bike computers in many ways. It is exciting to see an exciting product in market that had previously been improving in increments.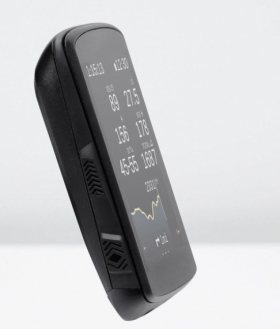 We like that Hammerhead does one thing, and does it well. They literally have one product in their entire lineup, the Karoo 2 bike computer.
The Karoo boasts some incredible and practical functionality: A higher-resolution screen than had previously been available on bike computers, vivid screen color, more robust internal mapping capabilities, which can work offline as well, and snappy GPS re-routing that picks up your new bearing in just 5 seconds. The touchscreen navigation is something that had made its way to other technology, but until now had been lacking in bike computers.
In addition to bells and whistles, what perhaps impresses us most is the pure functionality of the device. The map doesn't just show routes, but shoes things like water stops and restrooms — those things that it is actually helpful to know about on our long rides. What we are perhaps most enamored with is the way the map shows different types of roads — comparing good cycling routes such as bike lanes with bad ones, such as heavily-traveled highways. Above all else, we are all about bike safety, and that is a gamechanger. It is a little like Waze for bikes.
While the Karoo is not cheap ($399 as of this writing), it has enough advanced features and practical breakthrough functionality that we think it is worth the investment for those whose budget it fits. One thing we respect about Hammerhead is that they are not trying to roll out a head-spinning lineup of product variations. Rather, they have just one, and it is the Karoo. We are very excited to see the future advancements and are watching it closely. So far, the Karoo has been steadily checking-off that mental "wish list" we have had for our bike computers.
Pros
Like having Waze on your bike; fast-rerouting when you get off-course
Suggests optimal routing based on traffic, weather
Full touch screen
Quick location calibration
Cons
Expensive
Not part of a product "family" (e.g. Garmin, Wahoo0 if that is important to you
The Karoo 2 — Hammerhead's only computer product at the moment — runs a cool $400 but might be worth it if you have the budget. Find the Karoo Here.
Wahoo Elemnt Bolt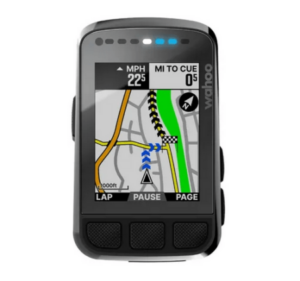 Best for people who want a tried-and-true, functional computer
Wahoo has been making excellent bike computers for a long time, and the Elemnt Bolt is a mainstay in the lineup. It the current mainstay of the Wahoo computer lineup, a product that you can tell is made by cyclists and for cyclists.
The Elemnt Bolt has a nice, sleek body and flawlessly integrates with a special smartphone app. It's a very user-friendly product with screens can be set up through your phone. By syncing with your phone, you'll be always up to date with your speed, time, distance, and elevation without having to constantly remove the computer from your bike — which is easily done with unit's bluetooth functionality. One thing we love about the Wahoo brand is that it is also the maker of one of our favorite smart trainers, creating a fully-compatible system for indoor training as well. This helps them be really dial-in when it comes to understanding the precision behind smart bike training, and establishes Wahoo's reputation as a trusted maker of advanced bike technology and components.
With a pressure-based altimeter, you can get good elevation readouts — although that functionality is now just as good by using GPS. The 15 hours of battery life is pretty good among the units we looked at in this review. Our experience is that setup is a breeze in terms of mounting and starting to use it. You will probably spend the most time customizing it so your in-ride feed is exactly how you want it. This might mean setting up an app like Strava, which it integrates well with, or focusing on being able to very quickly see your pace and mileage. It also has nice integration when you move indoors on the trainer and a Zwift app or other similar app.
The bundle that comes with the optional Elemnt Bolt package is an impressive one, and includes a cadence sensor, hub speed sensor, and heart rate monitor. For people looking for training precision, that gives you pretty much everything you need.
Pros
Great for people who are brand-loyal to Wahoo and have other Wahoo gear
Proven – The Elemnt line was first introduced in 2015
Compact
Wahoo app has good cycling features
Cons
Requires some customization for ideal UI
The Bluetooth communication for getting call & text alerts, as well as the turn by turn navigation are also integrated, which is extremely useful as long as you are careful with it on the road. Find it here on Amazon.
Lezyne Mini GPS
Best if you are really trying to save space, and don't need or want as many features
For some cyclists, having advanced functionality and a trove of data is overkill. If you want something small and simple, the Lezyne Mini might be a great choice might be a great choice for you. With a compact, neat design, this lovely cycling computer is perfect for those of you searching for a device that's easy peasy to use and covers off the majority of the basic functions. It's small, thin, lightweight, and features a customizable display. We are talking small…. the screen size is a mere inch by an inch, approximately.
In terms of metrics, The Lezyne can display the time of the day, temperature, speed, distance, time, and everything you'd want from a basic, yet very handy product. The display, being as small as it is, is best used if set to just one key piece of data. This is not the choice for people who want to glance down at their computer and see a multi-variable readout on everything from their VO2 max to Strava segment status, but is ideal if you just want simplicity with reliable GPS.
Battery life has been reported to be shorter-than-expected in some cases (unverified by us). The company advertises that the battery can do over 20 hours, but it conks out for some after about 10. You can recharge it using a USB cable.
The only other mini bike computer that we would consider is the Wahoo Elemnt Mini (here on Amazon), another space-saver. We like Lezyne just a bit more because it gives a slightly more complete readout on the screen, and we prefer its more tactile buttons for when you are on the move.
The Lezyne Mini is an easy, small and simple computer if you are on a budget but still want good smart, wireless features. Find here on Amazon.
Pros
Very small. Smallest quality computer on the market
Cons
Screen might be too small for some users
Battery life has been spotty
CatEye Velo Padrone Cyclocomputer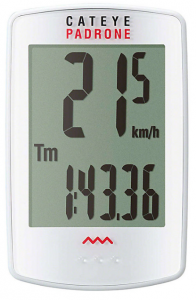 For bare-bones computer for those on a tight budget. Lacking some of the features and wireless technology, we know that some people just want a basic computer that won't break the bank. The CatEye Velo Padrone Cyclocomputer amazes the "simplify" crowd with its battery that lasts up to three years. Moreover, it features a wired speed sensor and displays all the stats you need: clock, current, maximum & average speed, pace arrow, total & trip distance, as well as elapsed time. This device knows exactly when you stopped, thus it will automatically stop averaging speed and counting time whenever you're caught at a red light or take a coffee break.
We don't want to create any kind of illusion that you are going to get a product that rivals the Elemnt or Karoo at this price point, though. It is not in a the same category.
If you can spend more for wireless, do it. If you need to save money, this is a great choice if your budget is under $75. Find here on Amazon.
Pros
Inexpensive
Basic functionality and a simple user interface
Cons
Lacking if you are looking for any more than basic readouts
Not compatible with the popular Garmin or Wahoo apps
Garmin Edge 840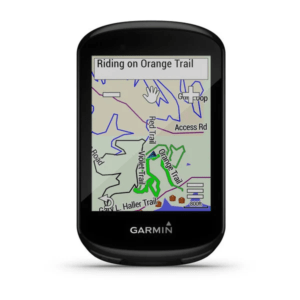 For the Garmin loyalist. Garmin has definitely won cyclists' admiration with its Edge lineup, and we like the Garmin 840 and Garmin 1040 models right now. Both models are touchscreen, which is why we don't include other Garmin models. The 840 is a little less expensive, so let's profile that one. For people who like to keep it all in the Garmin family, we like the 1040 or the slightly older Edge 1030 Plus just a bit more, with its slightly larger screen and excellent battery life, but it costs a couple hundred more than the 830 and 840.
The big difference between the 1040/1030 and 840/830 models is the screen size. The 1040-series gives you a full extra inch of screen diameter.
The Garmin Edge 830 and newer 840 are both able to track your ride through GPS, send messages to people if you have a problem, receive text, and through the Garmin Connect app even estimate your recovery by indicating when you're ready to go back training. How cool is that? One of the best features, though it that it is highly-compatible with Strava. You can easily see Strava segments and the computer can basically turn into a navigation system as you are following a specific ride. It will alert you when you are on various segments, too. While the evolution of Garmin is more incremental than some of the others, we respect the company for never sitting still and constantly improving its products.
When we have used the 840 or the 1040, our impression is that it takes just a little time to get used to navigating through the various options, especially when on the fly during a bike ride. You will need to play around with it a bit, preferably when not immediately needing the navigation for your next trun.
The 840 features a bunch of data screen segments, and offers a rich metrics choice. You can sync it to your smartphone, as well. As an added bonus, we love the ability to sync with weather apps and tell you when the rain is going to start! This is a good all-around computer from a maker we have trusted for years, and depending on where you find it, it may be a little less expensive than other options. We would not hesitate to get one, but think you should also check out the Elemnt and Karoo and then decide. Find here direct from Garmin and save.
Pros
Great for people who like the Garmin family — Garmin connect, watches, power meter pedals, etc.
Good functionality for the price
Navigation very easy to follow
Full touch screens
Cons
Nav reroutes can take a little time, while riding
Bike Computer FAQs
So Is a Bike Computer Worth It?
We sure think so, especially for the navigation value.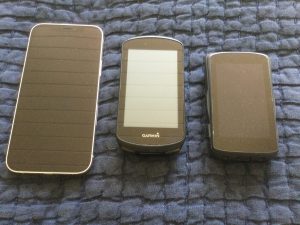 Here is the bottom line: You want to add precision to your training, but there are multiple ways to do that. Some will say that you should simply go out and ride, and enjoy the day. We get it. But for people who would like to get faster, science has shown that you need to be able to track your effort and dial-in your workouts with some level of precision.
In our mind, there are only four ways to measure your ride and speed on the bike, and a computer is one of the best and most economical.
You could always opt for a multisport watch such as one from Garmin or Polar. These have the advantage of being used in the run and swim too, but the downside is that it is less safe and convenient to glance as your wrist than to peek down at a well-placed computer. The layout of a bike computer is designed to give you everything you need, at-a-glance, without fiddling with anything. You don't need to even take your hand off the handlebar. A watch has a limited at-a-glance readout, and when you are cruising along at 20 mph it is not exactly safe to look down at your wrist. Still, if you have just spend $450 on a watch, we can understand the desire to use it as your primary device.
Another option is to simply use your phone with the right app, but there are some downsides there too. A phone isn't very waterproof in the rain, and the battery life of a phone just isn't what it is with a good computer. We also prefer products that are built-for-purpose. Your phone is your communication device, music and podcast machine, GPS, and so much else. We like the simplicity of having a separate device that is just a bike computer, but that's just us.
Finally, you an always go the route of a power meter, but a power meter only provides the hardware for measuring your power, you still need to have a readout somewhere. There is where the combination of a computer and power meter can be really potent. It should be noted that a power meter and bike computer is not an either/or decision. They can actually be incredibly complementary devices, and if you think you will want to get real precise with your training and take your cycling to the next level, it is a combination you should definitely consider.
The real value of a bike computer is in being able to navigate. Is that gravel road you are supposed to turn on to this one, or the one you see a little further on? It is sure nice to have accurate turn-by-turn navigation when you are in the middle of a 60-mile ride on new roads. That is where a computer really excels.
Can you Use Your iPhone or Android as a Bike Computer?
Sure, you can. But there are reasons why bike computers have such a large fan base. A phone works fine in some conditions, but is not ideal.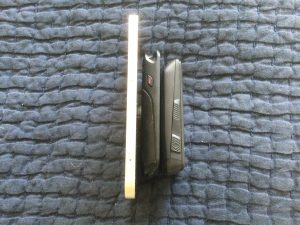 First, a phone can't get wet. A bike computer is made for all weather. For those who are worried about ruining your phone (and voiding its warranty) by getting it wet in an unexpected rain storm, a bike computer is going to be much more functional.
Second, a bike computer is built-for-purpose. Its entire existence, design, and interface is made for cycling. A phone, obviously, is made for about 100 other things before cycling, so you are going to have a device that is a bit clunky while riding.
Finally, a phone is quite a bit larger than today's compact bike computers. Even if you have a proper mount, it is not going to be as elegant on your bike as a good bike computer, and the odds of it falling off while going over a washboard road or a rut are much higher than with a computer.
How do you mount a bike computer on your bike?

Mounting the computer on to your bike ultimately varies by product. We will provide some steps here, just so you know what you might be getting in to, but ultimately you should refer to the manufacturer's instructions on how to mount and use the computer.
Most computers will come with a mount, or can be direct-mounted to the bike with a set of rugged rubber bands. Most who use their device often prefer to use the mount. The bands are fine on smooth roads, but the computer can really move around or even fall off when on a bumpy trail if using the bands.
Mounting Wireless Bike Computers
Most bike computers today, and all that we recommended above, are wireless, so we'll focus on that first.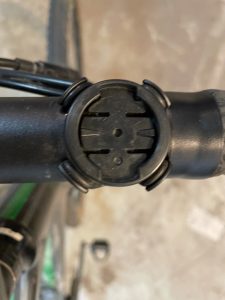 Once you've taken your computer out of its packaging and installed the batteries, you'll have some components to work with, such as the computer itself, the handlebar mount, the transmitter, the magnet, and the zip (cable) ties.
If you do not already have one, install the mount to your handlebars. This is pretty simple and intuitive, and can be done with an allen wrench or bike wrench. Be careful not to crack your handlebars, and use a torque wrench if you have one with the recommended level of torque! Once the mount is on your handlebars, you are ready to attach the computer to it. Note that with a little elbow grease, computers often work with mounts made by other manufacturers.
It's highly recommended that you train yourself on and program the computer prior to installation. It is just easier to work with this way, and it is good to get a feel for the different features of the computer before it is fixed somewhere on your bike. After you've done that, the first part you need to install on your bike is the computer mount on the handlebar.
Start by getting it oriented the right way. Take the bottom clip and face it towards you. Grab the ties, feed them through the mount's bottom slots, and then attach it to the handlebar. Don't attach it very tightly; slide it up and down the bar until you figure out exactly where you want to place your computer. Once you're satisfied with the position, tighten the ties.
Next, grab your computer and slide it into place.
The next steps only apply for computers with wheel transmitters, which are less valuable if you have a GPS-based computer (as you should).
Continue by placing the transmitter onto the fork. Mount it on the front part of the fork rather than the back. This way, if the transmitter gets knocked into the spokes, the wheel will push it away, not suck it into the spokes. Put the ties through the holes and attach the transmitter to the fork. Let it a bit loose until you make some final adjustments.
Loosen the magnet up until there's enough space to fit the spoke into its smallest gap. Slide it onto the spoke, line it up with the transmitter, and tighten it back down onto the spoke.
Make the final adjustments to the transmitter; make sure it's even with the magnet, spin the wheel to see if you're getting a speed reading and if everything's fine, tighten the ties down.
Cut all the excess ties and you're ready to go.
Mounting Wired Bike Computers
Wired bike computers are quickly becoming a thing of the past, but you still see them once-in-a-while. So, for completeness we will include some information on mountain them as well. If you want our suggestion, though, get a wireless bike computer!
For wired computers, wrap the wire around either the brake or the derailleur cable in order to take up any kind of excess. You want to be sure that when you have the transmitter connected, there'll be no slack in the cable anywhere near the wheel. Wrap it tight enough around the cable to get rid of any slack, yet don't limit your ability to turn the handlebars.
Test it in a few different postures, and make sure you absolutely have full range-of-motion in your steering. If the cable is too tight, loosen it.
After you've got it all mounted up, spin the wheel to make sure you have an accurate reading on your cycling computer screen and tighten everything down.
Note that every wired bike computer is a little different, so follow the manufacturer's instructions carefully.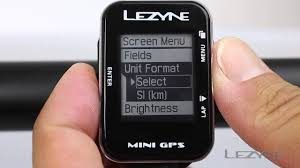 These days, cycling computers have become a big part of the cycling landscape. And, with so many wonderful products to choose from, all you need to do is pick the one that best suits your needs and enjoy your rides. We think that wireless is definitely the way to go, but understand that there are still some who prefer the wired versions for budget or other reasons.
Don't miss our other pieces on cycling gear, including our road and tri bike pedal overview, and for you parents out there, our updated piece on the best bike trailers and what to look for in them.
Which Bike Computer is Best?
"Which bike computer is the best" is a tough question, and really depends on what you need the computer to be able to do. One person's ideal bike computer might be different than another person's, so it can be a hard one to answer.
Every cycling computer we listed above is one that we would recommend for various situations. We don't list bike computers that we don't think have what it takes. But we know that you want us to stick our neck out, so this is what we would say:
Best Budget Bike Computer
When it comes to the budget category, we gotta go with the Cateye Padrone (here on Amazon). Yes, it is basic, and no, it won't give you mapping. But for someone who wants to track their ride states, it will give you the functionality that you need, without breaking the bank. As of this writing, it can be had for under $75.
Best Bike Computer for Touring
If you will be doing long rides through new territory, the Karoo is absolutely your best bet. Its mapping and navigation technology is a cut above. The Wahoo (here on Amazon) is a very competent runner-up that is more widely available.
Best Garmin Bike Computer
We know that some people are Garmin loyalists. Perhaps you like the compatibility of the data between your bike computer, Garmin watch, and the Garmin Connect app. In that case, we really like the Edge 830 (here on Amazon). It is a great all-around bike computer with the quality you expect from Garmin. For a little more, if you want sharper graphics, you can upgrade to the 1030.
About the Author
Von Collins is an avid triathlete, cyclist, runner, and fitness enthusiast. He is the author of the popular Your First Triathlon Guide, and several other fitness-related books. Perpetually in training mode, he is constantly testing new gear and talking with other athletes about their observations.
Von Collins is an accomplished triathlete and cyclist, and the author of four fitness and training books: Smarter Running, Your First Triathlon Guide, Fit Foods, and 30 Rut-Busting Workouts.
Von has been cited as a triathlon, cycling, and fitness expert by Healthline, CNET, Forbes, Eat This, Not That and other major outlets.
Von has done dozens of triathlons and endurance bike races, coaches, and is an avid part of the cycling and triathlon community.