The Garmin Edge 830 was released in May 2019 and it's still going strong, although having recently been replaced in the lineup by the 840. It is a strong contender on our annual list of the best bike computers. If you're looking to add a new bike computer to your bicycle, you'll definitely want to give this one a good bit of consideration. So what makes this bike computer tick? Is it worth the purchase? And how does it stand up against other Garmin bike computer products?
The Garmin Edge 830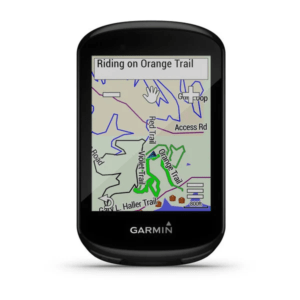 The Garmin Edge 830 came after the 820, an already impressive device which had been around since mid-July 2016. Giving you much needed directions when you're out on a ride, it also has the capability to monitor your performance and give you the insights you need to keep pushing forward. At sub-$400 in most outlets, the 830 has an impressive list of features.
Price Check the Garmin 830 Here.
Some of the more notable ones, in our view, are:
Touchscreen functionality, something you don't get on the 500 series of Garmin bike computers. You get it on the 830 and 1030.
GPS directions and route calculation — important if you are doing longer rides or tackling new routes. We especially like this feature for our gravel biking — where you often find yourself on country roads without metro-area landmarks, no signage, and the area might be new to you.
Preloaded maps with details on elevation, addresses, and points of interest.
Treadline routing which allows you to choose to ride the most popular roads and trails in your area. Similar to the heat map on Strava.
Incident detection, so if you have an accident, it automatically sends your location to any emergency contacts you entered
Varia compatibility, able to work with Varia view lights and radar
Capability to receive texts, alerts, and emails when paired with a smartphone. Note that smartphone pairing can be a bit finicky at times.
Group messaging in case you get separated
LiveTrack, where you can let others know your real-time location
Compatibility with Shimano Steps eBike system
Mountain biking metrics, such as jump count, trail distance, and other data customized for mountain biking
TrainingPeaks® connectivity which allow for advanced workouts. Note that Training Peaks requires a subscription that is separate from your Garmin 830 investment.
Climbpro features to track ascent and grade
Grit and Flow which delivers ratings for difficulty for elevation and descent. We didn't think we would care about this feature, but found it really, really useful.
Connect IQ with custom data fields, apps, and widgets
Good battery life overall, but see our section below on how it stacks up versus advertised
Some of these above features were already available on the 820, so here are some things that were added or changed that makes the 830 different from the 820, in addition to an updated user interface:
Larger display size — the 830 has a 2.6" touchscreen. The 820 was 2.3".
Faster processing speed, a notable improvement from the 820 when you compare them side-by-side
Accurate mapping – shows you exactly where you are when you come to a fork in the road
Trailforks maps

Shows trail conditions and Garmin Heatmaps

Heat and Altitude Acclimation to track your progress in different environments
Hydration/Nutrition Smart Alerts and Tracking
Bluetooth Smart sensors, pairing, and support
Bike Alarm

Pin protected
Get an alert if your bike is moved

Find my Edge
Weather and gear advice
Ability to sync with Garmin Connect and join the community to share your achievements
Those who use the Garmin 830 Edge can also take advantage of courses, Smart Trainer Control, workout planning tools, virtual partners, calorie tracking, and other impressive features.
Compared to a fitness watch or tracker, the 830 (and all bike computers for that matter) will excel when it comes to navigation, but won't give you a heart rate monitor.
GARMIN 830 EDGE FUNCTIONALITY
The Garmin 830 Edge is relatively easy to set up for basic use, although we always find the first outing with a Garmin to require some tinkering and learning. Much of the setup can be done straight through the Garmin Connect smartphone app (iPhone or Android). Power it on, fill in some personal details, and your GPS is ready to go. The bike computer can work with Bluetooth, USB, and Wi-Fi. When no Wi-fi is available, the device can connect to the internet using your smartphone via Bluetooth.
You can upload and store many rides on the device, which can be useful to pull-up past routes that you have enjoyed riding when you are out on the road or trail. Loading a route through the Garmin app is a little clunky, but we think they will improve the interface over time. Once you get the route on your device, it's on.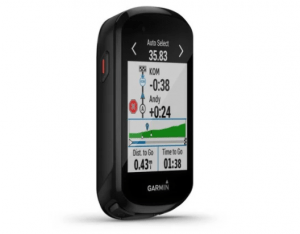 But for tracking and analyzing your rides and workouts, we still prefer just using Strava. Note that when you upload a road (perhaps on that you mapped on an app or received in a file from someone else) you will just need to then upload the GPX file to your Garmin connect, and then sync it with your 830. That whole process is perhaps a bit clunkier than we would like to see, but once you get the hang of it you will find the upload process a bit smoother.
When it comes to GPS, you can opt for normal GPS, GPS + GLONASS, or GPS + GALILEO. You can save up to 100 courses, 200 waypoints or favorite locations, and a history of up to 200 hours. Coming with a barometric altimeter, accelerometer, and ambient light sensor, it has a water rating of IPX7.
The 830 is compatible with Garmin's Rally bike power meter pedals. Important, because not all Garmin devices are.
Garmin 830 Battery Life and Performance
Garmin claims a 15 hour battery life (up from the 820 model) while using GPS. However, our testing suggests that 15 hours might be pushing it. Perhaps we were testing in areas with a higher-effort connection to the GPS signal. GPS is know to cut out around trees or tall buildings.
We would be comfortable banking on 8 hours of riding per charge, but as a general rule of thumb suggest you give it a good charge before every long ride. Still, it is better than an 820, and as with most electronics, the battery will be best when the unit is on the newer side.
As with any electronic, brutal cold may impact the battery life. If you are a cold-weather rider, you may want to err on the side of charging the device a little more often. Generally speaking, though, the battery life of Garmins — from running watches to bike computers — is pretty darn good compared to the market.
Mounting the Garmin 830
Mounting the 830 is pretty much like mounting the other Garmin devices. The unit comes with a mounting kit, which does not rely on any hardware or screws. Instead, you simply secure the mounting pad with heavy-duty, built-for-purpose rubber bands (all come with the Garmin) on the stem or the handlebar. Then, the device sets in to the pad and with just a quarter-turn it is secured. This process works for the 530, 820, 830, 1030, whatever you are using.
We like this system for two main reasons:
It is easy to transfer between bikes. Most serious cyclists have more than one bike. You can swap the computer from one bike to another in the time that it takes to give your bike tires a quick pump.
We think this setup is safer in the event of an accident. We have never liked the idea of having metal or hard plastic hardware protruding from your handlebar. In a wipeout, that could become somewhat lethal. This Garmin setup minimizes the number of extra parts being fastened to your bike.
Garmin 830 vs. Garmin 840
Garmin did a thing recently and unveiled its Garmin 840 bike computer. The 840 is similar to the Garmin 830, but it has Garmin's new solar charging capability. That's right, the computer charges as you ride in the sun.
The Garmin 840 looks a lot like the 830 in other respects – the touchscreen capability, the clear navigation, and compatibility with Garmin accessories. Overall, we are big fans of both, although we have not yet given the 840 our customary "Century Test" over a 100 mile ride. When we do, we suspect the solar-charging will be a nice feature as you won't have to be paranoid about having your device fully-charged at the outset.
How Does the 830 Compare to the Garmin Edge 530?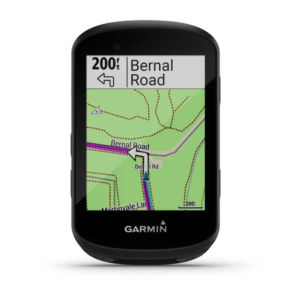 We will get right to the point: We think the 830 is worth the extra $100, compared to the 530.
The Garmin Edge 530 was announced at the same time as the 830, replacing the previous model (520), so how do they compare against one another? They are actually almost identical and have a majority of the same features. The only major difference? The 530 does not have a touchscreen. It instead only comes with buttons for navigation through the bike computer.
A few other differences to note:
The 830 allows you to input specific addresses.
The 830 shows you points of interests, including restaurants or museums. The 530 only shows subsets.
The touchscreen on the 830 makes it much easier to swipe and browse through maps, saving you quite a bit of time.
The Garmin Edge 530 is about $100 cheaper in most outlets.
How Does It Rate Against the Garmin Edge 1030?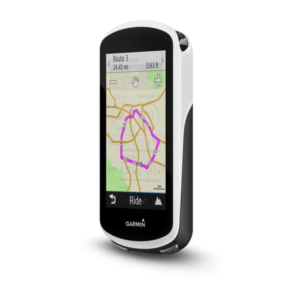 Another bike computer we should look at from Garmin is the Edge 1030. Released in August 2017, it is older than the 830, but it is kept up to date with regular firmware updates and features.
We did an entire Garmin Edge 1030 Plus Review. We also took a good look at the newer Garmin Edge 1040. Check them out if you are seriously comparing the two computers.
The two bike computers are very similar: touchscreen, 20 hour battery life with GPS, mapping and route creation, same features and apps, and same connectivity capabilities. The major differences between the 1030 and the 830 are:
The 1030 is larger.

The screen size of the 1030 is 3.5 inches.
The 1030 is longer and heavier.

The 830 is faster.

With the release of the Edge 830 came a more powerful processor. This is most noticeable during route calculation.

The 1030 is more expensive.
Is the Touch Screen Worth it on the Garmin 830?
Yes. In fact, once you use a touch-screen bike computer, we don't think you will want to ever go back. Think about it – when you are riding your bike on a road or trail, you need responsiveness and easy navigation of the screen. The last thing you want is to have to look away from your path for even a second. Fiddling with buttons and riding a bike is a bad combination.
The touch screen is available on the 830 and 1030, and we don't see any reason you would not invest the roughly $100 of additional price it takes to go all touchscreen.
What Comes in the Garmin 830 "Bundle"?
You might have noticed that you can buy the computer itself, or you can buy a bundle that includes the 830. It is a pretty simple comparison of a bundle vs. non-bundle option.
If you get the bundle, you receive: The computer, a mounting bracket, and a flush-mount bracket (so you have two options for mounting to your bike). You also get a cadence sensor for your wheel, a heart rate monitor, a speed sensor, and and a USB cable.
If you get just the computer, you will only have the computer and the 2 mounting methods, along with the USB cable.
It is really up to you if you think you will use the cadence sensor and heart rate monitor — and many cyclists already have those items from past purchases (note that Garmin heart rate monitor straps – even older ones – are highly interchangeable and usually work with any Garmin device).
Pros:
The 830 has good overall functionality, navigation, and battery life
We found that the touchscreen is real easy to use. You won't find touchscreens at a much lower price point.
Cons:
Garmin software can be clunky during the first setup…. but having a touchscreen certainly helps
Garmin products iterate so much that they are not all compatible. If important, be sure the computer is compatible with other Garmin gear (e.g. pedals) that you want it to connect to
Conclusion
There's no doubt that the Garmin Edge 830 is a contender for best all-around bike computer, and it needs to be on your list of considerations if you're in the market for a new bike computer. We think you would be crazy to not get the touchscreen, versus the non-touch 530.
Find the Garmin Edge 830 Here.
It has all the features you could need while you're cycling, whether on the trail or on the road, for safety, performance, and training. If you want to save a little cash though and aren't absolutely in need of a touchscreen, the 530 could be the better option for you and your wallet. And while a larger screen could come in handy, the price difference between the 830 and 1030 may be something that gives you pause. We are sure that the Garmin Edge 830 is a top choice.
Von Collins is an accomplished triathlete and cyclist, and the author of four fitness and training books: Smarter Running, Your First Triathlon Guide, Fit Foods, and 30 Rut-Busting Workouts.
Von has been cited as a triathlon, cycling, and fitness expert by Healthline, CNET, Forbes, Eat This, Not That and other major outlets.
Von has done dozens of triathlons and endurance bike races, coaches, and is an avid part of the cycling and triathlon community.