We often get asked about offseason training ideas. While we address the topic of offseason training in our triathlon and training ebooks, we wanted to provide you with two of our favorite, quick, easy offseason workouts that you can use right now.
Each winter, triathletes around the world try to figure out how to stay in training shape while bearing the elements and the shorter days of sunlight. In some parts, winter means more rain and cooler temps, at a minimum requiring some layers like a good running jacket. In other parts, it means several feet of snow and a fundamentally different way of training. Regardless of where you are, winter is probably spent recovering from a good triathlon season, and beginning to base for the next one. Smart offseason triathlon training involves knowing when your body needs to recover and heal, and when it is time to start gradually turning the training dial back up.
While our winter swim workouts usually consist of shorter, slower workouts that are focused on regaining and improving form, we have two favorite "in-a-pinch" indoor tri workouts that we think you would benefit from throwing in to your rotation.
2 Great Indoor Workouts, Under 35 Minutes in Duration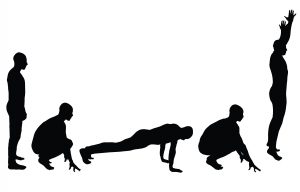 1st workout: 20 + 100 — run and burpee.
The first workout we will outline is very simple (actually, they all are).  A great workout if you are relegated to a treadmill on a cold or rainy day.
This workout is a 20-minute treadmill run followed by 100 burpees. The treadmill run can easily be replaced by an outdoor run if conditions are good, but the whole point here is doing something that doesn't take a lot of prep time or extra gear, and that can allow you to not have to navigate the elements of icy, snowy running trails. 20 minutes is enough of a run to get the heart rate up without stressing your joints, and the burpees help give you a quick core / upper body / fast-twitch session that is hard to get elsewhere.   20 minutes also strikes that balance of getting enough work to get warm and the heart pumping, without losing any focus.
The treadmill portion can easily be replaced by using a bike on a spin trainer.  Just be sure you keep your intensity up.  Here is the routine:
1. On the treadmill, warmup for 2-3 minutes at your normal warmup pace. Then, run for 17-20 minutes at a steady LSD (long slow distance) pace, which for me is typically about 9:30 / mile, but for one of my faster training partners tends to be sub-8:00.  It is all about where you can get into a nice groove. This pace should be a good minute or two slower than your faster summer training pace.
2. After the treadmill, move to a yoga mat or firmly carpeted area. Start a stopwatch, timer on your phone, or run your Fitbit – anything that you can easily see while standing (I just use the clock function on my Ipad). Do 10 burpees as fast as you can, and then rest. The goal here is to begin a new round of 10 burpees at the top of every minute. Do whichever burpees fit for you. We generally mix the basic plank burpee (starting in a pushup position, but with the arms straight and not doing the pushup) with the pushup burpees (doing a pushup with each burpee, many times more difficult). With each burpee, move to your feet and jump up as high in the air as you can, reaching upward. With the plank burpee, we can usually do 10 in about 30 seconds, leaving 30 seconds for rest. With the pushup burpee, we are lucky to knock them out in 40 seconds, leaving just 20 seconds for rest.  Both the plank and pushup burpees give you a nice core exercise as part of the motion.
Because you start a new round at the top of every minute, the faster you can knock out each set of 10, the more rest you are rewarded with!
3.  Cool down.  At the end of 100 burpees, you should be pretty winded and ready for a nice break.
2nd Workout: 35 min Spinner HIIT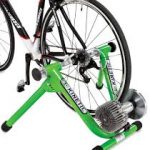 A quick, but very effective, spinner workout that we do 1-2 times each week is a very quick ride on the spinner, but one that incorporates high intensity interval training (HIIT). It is a myth that you have to get on your indoor bike trainer for 90 minutes every time you want a decent winter bike ride. Even if you only have an hour, you can knock out this workout and be showered in that time.
1. Start by warming up in an easy gear on your bike, either a stationary spinner bike or your regular bike on a trainer.  We prefer a bike trainer, because you get the feel for using your own bike, complete with your regular saddle and your typical bike positioning and angles.  This will help translate your workouts to the road in the spring and summer.
2. Have a clock or stopwatch (or again, an Ipad clock) within view, running.
3. Warmup for 5-7 minutes.
4. Begin 8 sets that will start on every 3rd minute. The first 90 seconds of the set, shift to a harder gear – big chainring in the front and any of the harder 5 gears in the back. The second 90 seconds, shift to the small chainring and an easier gear, but keep spinning.
5. Repeat the 3-minute set 8 times, varying the gearing you choose on the hard part.
6. Cool down for 3-5 minutes.
With both workouts, keep one thing in mind:  The goal is to get some very good High Intensity Interval Training in, but not necessarily giving you the type of long, steady ride you would get outside in the summer.  The key is to give yourself short spurts of high intensity, followed by some real rest where your heart rate can come down.  The key is to not ever let your heart rate settle in to resting mode — the rest should always feel like it was just a bit too short.  That way, by the end of the workout, you will be spent.
Speaking of HIIT, this can be a great time to add some HIIT to your calendar.  HIIT workouts are good for triathletes because they help strengthen your core, add flexibility, and reduce overuse injuries.
If you have access to a power meter, by all means use it.  And if you are one of the lucky ones to have a smart bike trainer, then this type of workout can become exponentially more accurate and fun.
Both of these intense workouts will give you a good sweat, burn calories, and help to keep your muscles conditioned for when your base period begins in earnest.  You can get pretty warm, so make sure you have a fan around and wear a top and shorts that won't heat you up.  These workouts will also will help you work multiple muscle and cardio systems.  Best of all, both workouts can be easily done in 30-35 minutes and will not require you to go outside into sub-zero temperatures.