Superteam Bike Wheels have recently made their way on the carbon clincher scene as budget-friendly items. They feature a regular, decent design and a 3k matte rim finish.  As your rims are perhaps one of the most important safety features on your bike (failure at top speed could be catastrophic) we wanted to take a good look at the Superteam lineup and give you our perspective.
The rim depth is 50 mm, and the height 23 mm. If you are looking for an aero rim, 50 mm is not the best depth that you can get, but it's not the worst one, either. The models sport 20 front holes and 24 rear holes.
As they're on the affordable end for carbon clinchers, they are heavier than other similar products and a tad more flexed for this category. Also, the Superteam bike wheels' aerodynamics don't seem enough to make a considerable wind resistance difference.
A good thing about the rim is that it's made out of carbon fiber, which gives it a sturdy feel without adding lots of weight. In addition, the rim comes with a 6-layer carbon on rim body and a 12-layer carbon on brake track, which can mean an improved level of braking performance.
Superteam Bike Wheels Road Test
While they may seem like a good value compared to the competition, the road tests over time of the Superteam bike wheels have proven to be a bit disappointing. When you look at the geometry, it's tough to tell much difference between these and the pricier competition. However, once you start using them, the problems may show up with a bit of wear. For example, when tested in the rain, the bearings started making high-pitched noises, which is an indicator of poor construction quality.  We don't think the wheels will fall apart after 100 miles, but compared to some of the European and US-made brands, we are not yet convinced on their durability.
Several riders on various forums reported to have cracks (or crack during the first uses), which is again leading many riders to conclude that the manufacturing process is rather sloppy.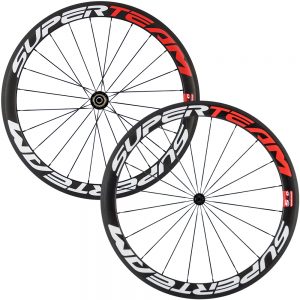 In previous Superteam wheels, brakes make contact directly with the carbon instead of a metal brace. This can result in an unpleasant surprise – and a potentially dangerous one — because carbon tends to heat up and become unstable. This is obviously a serious safety issue, especially if you're into pumping the brakes when you need to slow down while you're going downhill.  We are seeing that more recent models of Superteams have an aluminium breaking surface.  If you want to go with these wheels, we highly recommend spending the money on a model with the metal braking surface.
Coupled with a quality tube and tire, you might be able to mitigate any issues happening inside the rim of the material pinching the tube, especially at the base of the valve stem.  However, we did get a couple reports of that happening, primarily in some of the early models of the wheel.
Superteam Wheel Pricing
Like many other Chinese brands, the Superteam bike wheels are in the less-expensive price range.  In fact, that is why they are on the radar for so many riders.  Upon last check, we found it in the $300 price range (give or take).  You can find them here on Amazon.
Alternatives to Superteam Wheelsets

There are plenty of bike wheels brands that have proven to be extremely reliable over the last decades. While some of them are a tad more expensive than what Superteams are sold for, millions of cycling fellows swear by a flawless quality and a great value over time.  Plus, many of these stellar wheels are coming down in price from where they were just 3 years ago.  Here are some alternatives:
Zipp: Bike wheels manufactured by Zipp are renowned for their stiffness, sturdiness, durability, and low weight. You can take them for hill hikes, or for speedy road rides. There are plenty of top-notch models to choose from in different price ranges, to match each and every price range that a cyclist might be in.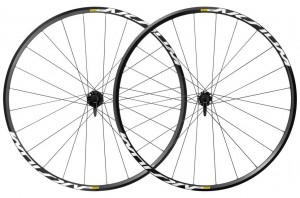 Mavic: The French engineering in the Mavic bike wheels is highly appreciated around the world. These products feature a fantastic balance between weight and strength, which makes them an amazing and wise upgrade for your beloved bike.  In particular, we are seeing the price on some of the Aksium wheelsets come down in to a range that is pretty comparable with the Superteams.  If you see these wheels on a discount, they are usually a great find.
Shimano: The high quality of the Shimano bike wheels is certainly something you will notice right away. With a wonderful performance level, each model of the brand comes with great features. There are a plethora of Shimano wheels to choose from, so don't worry about not finding something to suit your specific needs.   The WH-500 or 501 is a great example of an all-around wheelset that won't break the bank.
Summary
While the price may seem attractive, our recommendation is to wait a little longer to see if the Superteams hold up over time.  You can also save some extra bucks, and invest in a trustworthy brand like Mavic or Shimano.  Even a few reports of poor quality of these wheels poses a red flag given the importance of wheelsets, the risk of purchasing from this Chinese retailer seems to be a bit on the high side. At the end of the day, even if you can't afford a set of premium wheels, there are hundreds of competitive and reliable options out there. However, if you're only looking for something to use once in a blue moon, you can give them a try. The specifications of these products make them suitable for cruising down the road at pretty high speed from time to time.  We would love to hear from riders who have been on these wheels for 500 or more miles to hear how they are holding up.
Bikes and bike components are expensive, and sometimes you get what you pay for.
Given how the prices of good wheels like the Mavic Aksium have become more reasonable in recent years, we would suggest going in that direction instead.