Regardless of skill, triathletes are often faced with questions regarding what gear to invest in. As any triathlete knows, gear can range from entry-level to pro-level, with everything and every price point in between. For the vast majority of triathletes, a base level of gear will be sufficient to train for and compete in races, and step-up gear can be acquired as interest, skill, and competitiveness in the sport progresses.
Here are a few tips to keep in mind when comparing and buying triathlon gear, to make sure you end up with good equipment and don't overspend to do it.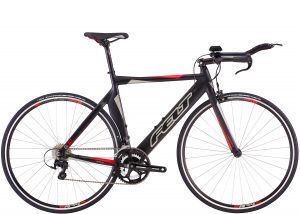 Be sure your gear is specific to triathlon.
In many cases, gear that doubles across multiple sports may be fine for basic training, but on longer training days or in races you will want tri-specific gear. Triathlon shorts, for example, look like bike shorts or compression shorts but are quite different in construction and purpose. Likewise, many wetsuits on the market are built for surfing or scuba. While those wetsuits can provide the warmth benefits, they are not built to provide range-of-motion required for a triathlon. Triathlon wetsuits are made with increased flexibility in the shoulders, chest, and arms, and often have features that make is easier to get in and out of during transition. Bikes are one area where you often can fudge a bit – triathlon bikes are great for straight-line mileage and for keeping your legs fresh for the run, but in reality a road bike can easily get you through many triathlon distances. Some even use mountain bikes, but they definitely give up time and comfort when doing so.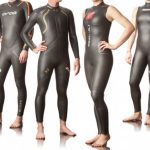 Fit is critical.
When you are training or racing, having the right fit will impact your performance as well as your comfort. When it comes to a bike, fit can make the difference between comfortably cranking at 20 mph or laboriously moving at 18 mph. When it comes to wetsuits, a good fit will make you calmer in the swim. A good tri wetsuit should be snug but not tight, covering your body securely but not being restrictive in your breathing or range-of-motion. It is a fine line, as a wetsuit that is just a little too loose and actually cause you to drag in the water and reduce the warming qualities of the suit. Other gear, such as your triathlon shorts or tri suit, should fit so you have a good, tight form without any drag, but also so there is no chafing caused by the garment. Most triathletes find that over time, one brand suits them better than others. That is largely personal, and often times depends on that brand's construction relative to your body type.
You get what you pay for.
You can spend a nearly unlimited budget on triathlon gear, but be sure that you will actually get value out of the gear you choose and that it fits our skill and interest level. Most triathletes find a sweet spot of spending on entry-or-mid quality gear from quality triathlon gear makers, but spending so much that the sport becomes a burden on their finances. When it comes to a triathlon suit, you can spend $200 for a state-of-the art suit, or you can race the same race in a pair of $55 tri shorts and a technical workout shirt that you use for running. Triathlon bikes can be an outrageous $5,000 for something that will maximize every ounce of your performance, or you can get by with a $1,200 road bike ( a fraction of that if you buy used) and compete nicely.  When it comes to triathlon wetsuits, where the cost can range from $150 to $600, the more you spend, the better range-of-motion you will get during your swim stroke along with improved balance and flotation.  It might be tempting to save money on an off-brand that you find at a mass retailer site, but if you plan to do multiple races or are attempting to maximize your potential and finish with a good time, you will want something with a little more engineering.  Triathlon-specific wetsuits, from trusted makers like Blue Seventy or Xterra, are worth the extra money because those suits are designed specifically for the motion and intensity involved with open water triathlon swims.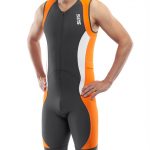 Think About Your Goals. 
While we recommend that people invest in triathlon-specific gear,  and invest in high-quality brands, you also need to evaluate your long-term triathlon goals.  Are you planning to become an avid triathlete for the next 10 years?  Work up to an Ironman race someday?  If so, don't skimp on any of this equipment — your gear checklist for an Ironman will be its own, unique animal.  On the other hand, maybe your goal is to try one or maybe two triathlons, see if you like it, and then perhaps move along to something else.  If this is more your style, then we would be hard-pressed to say you need to spend big money right now.  Borrow a friend's unused road bike, rent or buy an entry-level wetsuit, and don't work about all of the gadgets that the die-hards use.  You can always ante up later when you decide that triathlon is your new main hobby.  The same goes for technology — there is no shortage of wearable options aimed at triathletes and runners.  A Fitbit or Garmin might be nice to have, and can really help with your training.  However, if you are simply dabbling in the sport, spending $100 on a device is plenty.  No need to go for the high-end $600 wearables.
The great thing about triathlon is that you can complete a triathlon in just about any gear and with just about any equipment.  We actually did a piece on the minimum equipment needed for a triathlon.  We have seen people swimming in nothing but swim trunks, riding their neighborhood cruiser bike, and running in the same outfit that they might mow the lawn in.  And you know what?  They finished the race like everyone else and enjoyed the experience.  The triathlon race-day checklist is very different based on your goals and your experience level.  If you plan to make triathlon an avid hobby or want to be more competitive, investing a bit more in quality gear can make for a more comfortable and successful experience.
The important thing is that you get into the sport and start to learn what gear you like and need.  Like anything else, your gut will tell you when it is time to spend more money and get a little serious.