Trainers could be exactly what you need to keep your cycling game on point without heading outside, especially in inclement weather.  When the weather turns cold, wet, or snowy, getting off of the roads or trails can be a relief.  Snowy riding is challenging unless you have a fat tire bike, and riding a bike in the rain poses some unique dangers and requires some special gear.
Are you looking for a smart trainer that gets the job done and helps your training, but doesn't break the bank? The Tacx Flow smart trainer from Garmin could be exactly what you're looking for, and we thought we would give it a through review. It's a good option for newer riders, those on a budget, and those who want to see exactly what a smart trainer can do for their cycling abilities.  Garmin acquired Tacx back in 2019.
Here's a rundown of what you need to know about this wheel-on trainer when it comes to the riding experience, connectivity, safety, durability, and more. We'll also explore some other options that are worth your consideration that are around the same price point as the Tacx Flow smart trainer.
The Tacx Flow Smart: A Wheel-On, Budget Smart Trainer
The Tacx Flow gives you a wheel-on option for riding in smart trainer mode, saving you lots of money versus other smart trainers out there. In fact, you might save yourself more than $500.
We highly recommend going the smart trainer route (versus a regular bike trainer) because it delivers a riding experience that can up your game, especially early on in your training.  The Flow is a great option if you're trying to decide if a "smart" trainer is right for you and are not ready to plunk down four-figures to do so.
Tacx Flow Riding Experience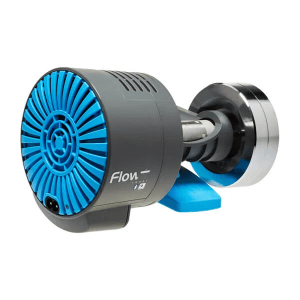 The Tacx Flow is a high-quality trainer for the money. It won't be quite as seamless as a wheel-off trainer, but in return you will save hundreds of dollars.
The Tacx Flow has a maximum wattage of 800W at 40 KPH, max break force of 45N, and max incline of 6%. It has a mass inertia of 26 pounds (11.8 kg).  This is one of the areas where it can't compare to the more full-service smart trainers, which often have a maximum wattage of 2,000 watts or so.  But for many cyclists, 800 watts is more than enough.  Many cyclists only exceed that kind of power for a few seconds during an exceptionally hard sprint.
The Flow also claims to be "virtually silent" which is a hallmark of the entire Tacx lineup of trainers.  For years, they have prided themselves in making the quietest trainers on the market, at each price point. It's a compact option and has a roll core that will absorb vibrations. However, some users have complained that it is, in fact, extremely loud, especially when compared to the competition, and may not be as quiet as the company claims. It's recommended to use a training mat to reduce the noise further.
Connectivity and Compatibility
The Tacx Flow Smart Trainer can work with the popular training apps including Zwift, Strava, TrainerRoad, and Tacx indoor training software, among others. It can be controlled by smart devices, like a phone or tablet, or through ANT+ bike computers and computer connection. It also has Bluetooth wireless technology. However, it will only connect to one Bluetooth connection at a time.
The apps will give you details on everything from power to resistance to overall mileage. The data really comes from the apps versus the trainer itself, so you want to take care to choose the app that gives you the experience you need. Generally speaking, Strava is probably the most popular, but the others mentioned above are very good apps that each excel in their own way.
Mounting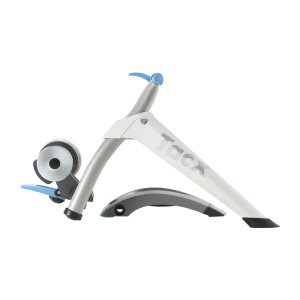 This smart trainer from Garmin comes with a simple to follow manual for set up and it IS extremely easy to mount – it actually only takes a few clicks! It does need to be plugged in at all times. New owners will also have to install any updates and calibrate their Tacx Flow. This can be difficult to do due to the knob design, so it may take you a few tries to calibrate it correctly.
The bike mounts with the wheel on — different than the direct-drive that many prefer and the honestly we would recommend if you can afford it.  This allows you to eliminate the bike's rear wheel and tire from the power equation. The Tacx Flux is a good example of an entry-level direct-drive model from Tacx, one that we highly recommend.
To use a wheel-on trainer, we highly recommend putting a trainer tire on your bike. Using your expensive road bike tire is a bad idea, because the heat generated from the friction of riding will wear it out very quickly.
The entire trainer weighs 20.7 pounds (9.4 kg) and stands 16.1" tall (410 mm).
Accuracy
There could be some issues though when it comes to accuracy. If you're looking for a smart trainer that is always on target, the Tacx Flow Smart Trainer may not be for you. But, the accuracy is in line with what is stated on their website – <5%. Other users have found this to be an accurate assessment of accuracy for the Tacx Flow Smart Trainer!
Safety and Proper Use
Garmin, of course, includes a safety booklet and parts manual with your purchase along with the instruction manual for mounting. It warns users:
Don't use the smart trainer in wet conditions.

Riders should take care to avoid getting their trainer wet, even from sweat and condensation. It should be stored in a dry area at room temperature.

The trainer should not be disassembled or manipulated.

The Flow folds for compact storage

The Tacx Flow will need to be cleaned with a dry cloth after every use.

It needs to be clean of debris at all times.

Even after installation, the rider should regularly ensure their trainer is properly installed and mounted.

Any nuts and bolts should be tightened often.

Never touch the trainer while it's in use.
It should be unplugged when not in use, being cleaned, or before maintenance.
Tacx Flow smart trainers should only be repaired with Garmin parts.
The area around the brake and flywheel disc can become very hot during extreme or prolonged use and care should be taken.
Children should not be allowed to use the trainer unsupervised.
Also, keep in mind that for correct performance on this type of wheel-on trainer, the rear wheel needs to be pumped to an air pressure similar to what you might do on an outdoor road ride.  That is one downside of a wheel-on trainer, the PSI can create some variability in resistance, and you will need to keep your bike tire pump handy.
Durability
Garmin claims their Tacx Flow trainer is "built to last." It comes with a single hardened steel sleeve to help prevent wear and tear. The smart trainer also folds up quickly and can easily be stored in a closet, workout room, or under the bed.
Price Point
As of writing, the Tacx Flow Smart Trainer comes in at $369.99 USD, meaning it is one of the least expensive smart trainers on the market. This makes it a great option for those who aren't completely sure if a smart trainer will fit their needs or are looking for a basic option when it comes to "smart." It's also perfect if you're on a budget.
How Does it Stack Up to the Competition?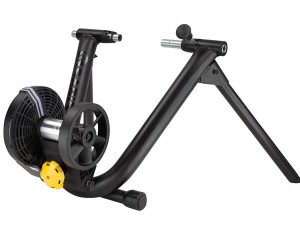 Most competitor items when it comes to smart trainers and the Tacx Flow trainer are more expensive, so how does it stack up? Two competitors we'll look at here are the CycleOps Saris M2 and the Wahoo KICKR Snap.
Power
The Tacx Flow trainer comes in with 800W at 24.85 MPH (40KPH) of maximum wattage. The Saris 2 can reach up to 1,500W at 20 MPH (32.19 KPH) and the Wahoo KICKR Snap is 1,500W at 24.85 MPH (40 KPH). All three need to be plugged in.
Incline
6% is the maximum hill incline possible on the Tacx Flow smart trainer, with a total range of 1% – 6%. However, the Wahoo KICKR Snap can reach up to 12% while the Saris M2 can hit 15%. If you're looking for a steeper incline, the Garmin option may not be the best choice for you.
Compatibility
All three options come with 3rd party app compatibility and connectivity with ANT+ and Bluetooth. While Tacx Flow and Saris M2 offers cadence data, the Wahoo KICKR Snap does not.
Accuracy
As explained above, the Tacx Flow's accuracy may not be enough for some riders. With some on the market capable of being 1% off, such as the 4iiii Fliiiight, 5% could be a little much. But, it's important to note, that the Saris M2 also comes in at +/-5% and the Wahoo KICKR Snap is +/-3%. All three come with temperature compensation.
Weight
The flywheel weight comes in at a very light weight of 3.53 pounds (1.6 kg). The Saris M2's flywheel weight is slightly lighter at 2.6 pounds (1.2 kg), but the Wahoo KICKR Snap comes in at the heaviest: 10.5 pounds (4.8 kg).
Price Point
The Tacx Flow is definitely the cheaper of the three at $369.99. The Wahoo KICKR Snap and Saris M2 come in at only a little bit more expensive – they're both currently at $499.99.
Other Options
If you're not sold on any of these three, you may want to look at other smart trainer options. The can start getting expensive though. The gap in price climbs quickly, too. Some other choices include:
• Wahoo KICKR 
• Tacx Neo 2T Smart 
• CycleOps Saris H3
If you're just getting started out in the world of trainers or want to go smart, the Tacx Flow smart trainer makes an amazing entry option. It's also a great choice if you're looking to save a bit of cash and don't want or need too steep of an incline. However, it may be worth your time to carefully compare your different options before you settle to be sure it will help you achieve your individual goals when it comes to cycling. Which one of the three will you be going with? Or will you choose one of the more expensive options?
Von Collins is an accomplished triathlete and cyclist, and the author of four fitness and training books: Smarter Running, Your First Triathlon Guide, Fit Foods, and 30 Rut-Busting Workouts.
Von has been cited as a triathlon, cycling, and fitness expert by Healthline, CNET, Forbes, Eat This, Not That and other major outlets.
Von has done dozens of triathlons and endurance bike races, coaches, and is an avid part of the cycling and triathlon community.