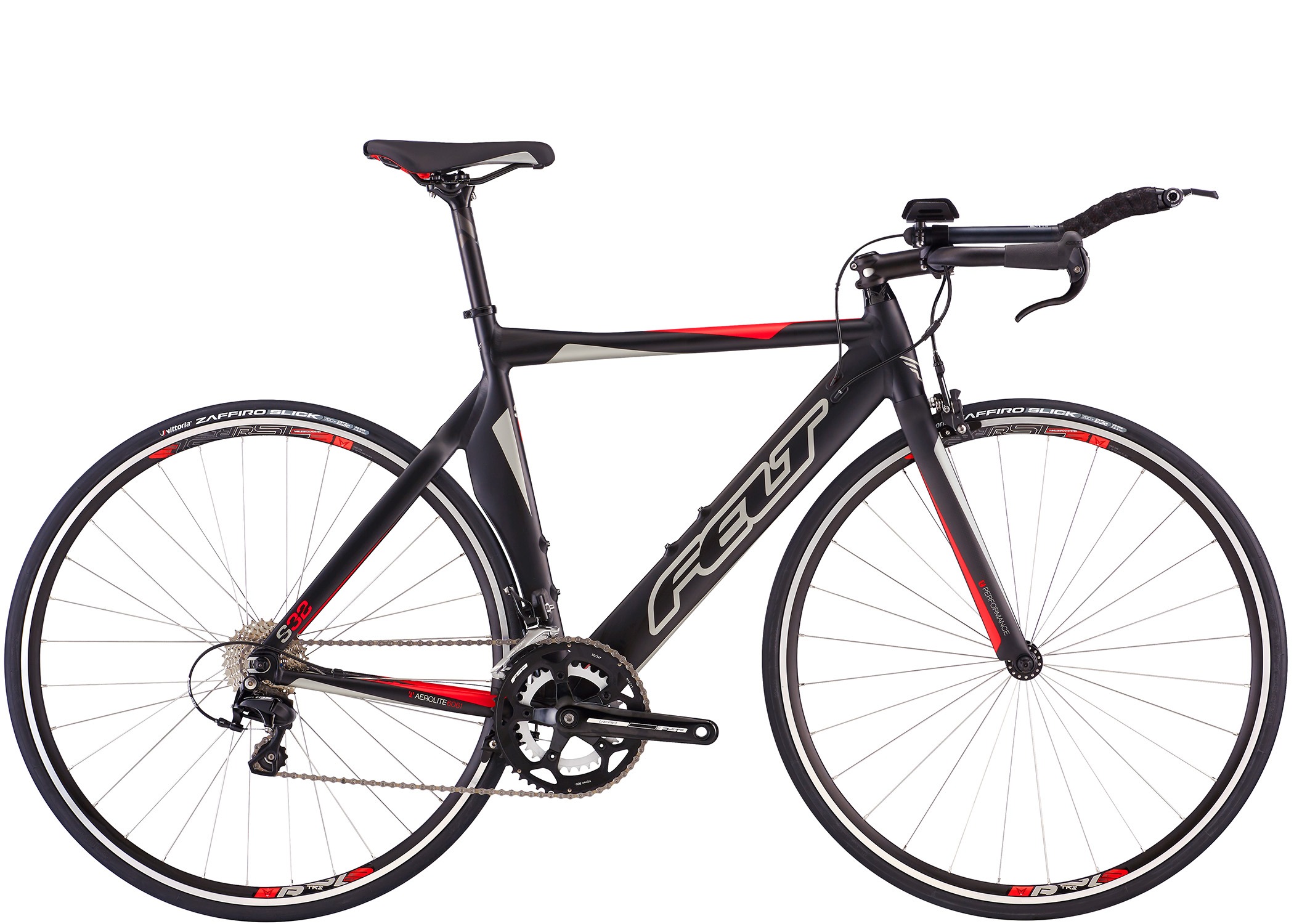 Buying your first entry level triathlon bike can be a daunting task. Of all the investments you will make in the sport of triathlon, no single one has the potential to carry the cost of your tri bike. While any given race will see its share of $3,000, $4,000, and higher-priced top-end cycles, the right bike for a beginner triathlete doesn't have to be that expensive even though the triathlon bike entry-level pricing has gone up dramatically in recent years.  Still, it is pretty easy to spend $900 to $2,000 on a quality starter triathlon bike and end up with a very good ride. Here are a few things to look for in your entry-level tri bike, along with a few recommendations.
Tri Bike or Road Bike?
Perhaps the most common question from new triathletes is if they should even buy a triathlon bike at all, or if it is smarter to just go with a road bike. The answer seems obvious, but it is worth articulating: It depends on the type of riding that you plan to do. If triathlon might be a once-every-few-years type of thing for you, but you have paved trails in your area, you might opt for a road bike. We won't go into road bike recommendations, because they exist all over the web. If you think, however, that you might want to do a triathlon each summer, or maybe train for a Half or an Ironman, then investing in a triathlon bike can be a great idea. Triathlon bikes are built with specific geometry to give you a posture allowing for a more direct transfer of power to the cranks, and puts you in a position that will leave you with a little more gas in the tank for the run. You will most notice the power difference of a tri bike when cycling hard down a straightaway. The power transfer to your cranks can be pretty exhilarating.
We do recommend investing in one or the other — a triathlon bike or a nice road bike — instead of splitting the difference on two mediocre bikes.  Having a go-to bike that you can get to really well, become comfortable with, and gradually upgrade the componentry on will make you a better cyclist over time.  We even like putting that bike on an indoor bike trainer in the winter.  Riding the same bike year-round will give you a great feel for the bike and make it very responsive for you over time.
What to Look for in a Triathlon Bike
Triathlon bikes come in all shapes and sizes, and all price points. At the entry level, here are a few things we suggest you focus on to make sure you are getting the most value for your money.
Fit. Every good bike advisor will tell you that getting the right fit is the single most important factor in if you will enjoy your bike. The fit should be one that feels comfortable, but also allows you to transfer max power to the pedals. A high-end bike that stretches you out a bit too much, for example, will not ride nearly as well as a lesser bike that fits you. Note that different brands have different angles and builds, so a 56cm bike in one brand is not always identical to the same size in another brand.
Frame. One of the biggest determinants of triathlon bike pricing is the frame materials. Carbon Fiber costs more than Aluminum, which costs more than Steel. You really won't see many

steel bikes on the triathlon market, save for some very old used models. In general, try to get the highest-end frame that you can afford, because you can always update components over the years. Why? Because the better the frame, the a) lighter it will be, and b) the more your effort will go directly to powering the bike versus "fighting the bike." At the entry-level tri bike price point, you are probably going to be looking mainly at aluminum frames, as well as aluminum frames with some (but not many) carbon fiber pieces.

Components. What are components? Simply put, all the small pieces that allow you to shift and pedal your bike. Getting the best components you can is a nice bonus, but at the entry-level you are probably going to be dealing with midrange components. This is fine, because components are easy to upgrade when you have the need and/or budget. Shimano has a pretty good lock on many components, but you will see other good ones such as SRAM, Campagnalo, Bontrager as well. As of this writing in 2016, the Shimano hierarchy, from highest-end to lowest, is Dura-Ace, Ultegra, 105, Tiagra, Sora, and Claris. New tri bikes are typically going to be using 105 and up.
Condition.  A moot point if you are buying new, but important if you are buying a used bike.  There are a few "never events" you need in a bike, the biggest one being frame issues.  Do not buy anything that has a bent, corroded, or cracked frame.  After that, make sure that the components are in good working condition, such as the brakes, shifters, rims, and cables.  Finally, know that you can easily replace tires and seat, so if those are not in perfect shape, don't sweat it, especially if it means you are getting a deal on the bike.
The Best Entry Level Triathlon Bikes
There are lots of great triathlon bikes on the market, and it is hard to narrow it down to just a few. The fact is that one person will sit on a bike and love it, and another person won't quite feel right on the exact same bike. While there is no substitute for riding the bike and making sure it feels great, here are three entry-level triathlon bikes that we have personally used and would recommend.
Felt S32. We love the Felt triathlon bike lineup, and the S32 has long been their best entry-level option. You are going to get a relatively light aluminum bike that has some carbon fiber components such as the fork blades. Felt puts Shimano 105 components on the bike, so you will be a step up from the Ultegra components that you often find on entry-level options. While the list price on this bike has gone up in recent years to $1,399, you can often find it on sale at your local bike shop.
Quintana Roo Kilo. We like the QR brand because it has been focused exclusively on triathlon since its inception. The Kilo, while not its absolute lowest-price bike, has been a mainstay in its lineup for years. The pricing on the Kilo can be a little confusing, since they vary the componentry and that can swing the price on any particular bike up or down. Generally, you will find it in the $1,100 to $1,400 range. The QR Kilo will get you into a carbon fiber frame (on the newest models – check this if you are buying used) with a Shimano 105 drivetrain. That is a combination you will be happy riding for years.

Felt B16. We hesitated to put two Felts on the same list, but we commend the company for keeping some of their bikes at the entry-level price range in an era where everyone seems to be

moving to the above-$2,000 range. The B16 might be the best value in a carbon fiber bike on the market. Combining a very nice UHC carbon fiber frame (all internal cabling, as well) with a 105 drivetrain, the Felt TTR4 rims are a nice add-on – a wheel we personally use on some of our higher-end bikes.  Felt's Aero time trial base bars are a great option for aerobats, and have 3 positions they can be set on, making sure they will work for nearly any triathlete. While the B16 lists for close to $1,800, look for deals. If you can get this for under $1,500, it is a great investment.

Orbea Ordu M30.  Orbea is a legendary Spanish bike maker, a company who has been making cycles since the 1930s.  They got into the triathlon bike market with the rest of the wave, and have been cranking out good bikes ever since.  Several world champions from the past decade have ridden Orcas.  The M30 is a good triathlon frame with plenty of carbon fiber components, a full carbon frame, and 105 components like the Felts.  Features like a wider bottom bracket and aero forks give it the touches of a high-end bike.  At a price tag of about $2,300, it eclipses what we would like to have as our $2,000 cutoff for entry-level, but those are becoming harder and harder to come by.  We had no problem including the M30 on a list of bikes any triathlete should consider.
Giant Trinity Advanced.  Giant is a large-scale bike maker, unlike the more focused production of Felt, Orbea, and Quintana Roo.  Their bikes are generally high quality but not necessarily built for the gear-junkie crowd.  But we really like their Trinity Advanced model for the money.  This full-fledged tri bike gives you a composite frame and fork, Shimano 105 components, and good tires and rims for the money.  If you need something in the $1,900 to $2,000 range, this is worth considering.

Other brands, such as Cervelo and Cannondale, have been making solid tri bikes for years, but their price point is a little higher than what we wanted to recommend in a piece on entry-level bikes.  However, if you have the budget for it, definitely include those two brands in your search.  Trek is another mainstay that could be considered if you have more to spend, although in recent years they have focused their energy on road bikes, and much less on the tri market.

Should you Buy New or Used?

An age-old question for entry-level traithletes is if they should buy new or used. Unlike buying a wetsuit, where a used one will most likely be scratched, scuffed, and dated, a used bicycle can still be a really, really good bike. Craigslist and Ebay can be places to get what was a $1,200 bike for half that, or less. We would advise considering a used bike if it gets to you a better frame – in other words, if, say, $600 gets you a 3-year old carbon fiber instead of a new aluminum. We would be hesitant to buy a bike more than five years old, just because you would be forgoing recently technology and materials advances. Just inspect the bike closely, and on a carbon fiber frame look for cracks. Cracks on carbon fiber are the one thing that is very difficult to repair well. Most cracks will be around places where bolts and joints exist – because most carbon fiber cracks come from someone cranking a bolt on too tight.

If you are spending a bunch of money on a used bike, there is nothing wrong with taking it to a bike shop before you close the deal.  Some wear on the components will be normal, but you just want to be sure you don't end up with a defective frame.  If you buy on Ebay, make sure you have a chance to reject the deal if you receive the bike and aren't happy with it.  Also, always ask the seller to have the bike professional dis-assembled, boxed, and shipped (in a bike box).  Once received, paying a little extra to bring the box right in to a bike shop and have it professionally assembled is a small price to pay to get it done right.

Watch from Felt Bikes: Carbon Fiber Explained


If you liked this article and are an entry-level triathlete, check out our other work on beginner triathlon wetsuits or our triathlon clothing guide.

Other Triathlon Bike Equipment

Getting the right bike is not the only thing to think about picking up for the bike leg of your racing.  There are a few other things we highly recommend:

Make sure to get some good bike training videos or dvds, to help maximize your bike power even in the winter months before you can ride outside
A bike trainer or spinner will allow you to cycle indoors on the actual bike frame you plan to use.  Do this a couple times each week, and you will consistently gain power and speed