There's nothing quite like the feeling of freedom that comes with hitting the open road or a scenic trail on a bicycle.  While the rise of indoor bike trainers and apps has growth like crazy in recent years, any cyclist will tell you that they are no substitution for riding outside.
Unfortunately, finding good bike routes can be difficult. If you're not familiar with an area, it can be tough to know which roads are safe and which ones to avoid. In this guide, we will teach you how to find good bike routes no matter where you are. We'll also provide some tips for staying safe on new routes while cycling. Let's get started!
How To Find Good Bike Routes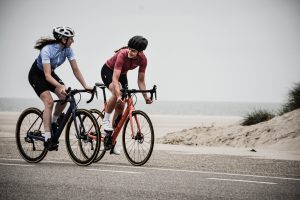 There are a number of ways to find good bike routes, all depending on the type of riding you want to do.  Some good ones include:
Strava
Strava is a fitness app that lets users track their workouts. It's great for cyclists because it has a built-in feature that shows you the best bike routes in your area. To use it, create an account, download the app on your phone, open up Strava, and click "Explore."  Then, click on the "Create Route" feature and you an map out whatever route you want.  It is a great way to look at a planned route and make sure it goes where you think it does, check the elevation changes and distance, and other key vitals.
Also in the Explore section you'll see all of the best bike routes in your area. You can filter by distance, so if you want to find a short ride or one that covers more ground, it's easy to do. If you use heat maps, you can also see where other cyclists have ridden. This is a great way to find new routes and avoid busy streets.
Heatmaps are updated monthly, so you can always find the latest and best routes.
One nice thing about Strava is that you can create a route, analyze it and make sure it is what you want, and then upload it to your bike computer.  It takes a couple steps, but is definitely worth it if you are exploring new terrain.
Google Maps
Like Strava, Google Maps a great way to find bike routes. To use it, open up the app and type in your starting point and destination. Click on the bicycle icon. This will show you all of the best bike routes between your starting point and destination. Google Maps also has a feature that lets you see the elevation of each route.
This app is particularly helpful if you're looking to get an idea of the amenities or scenery in close proximity to your ride, since Google has pretty much everything in the world on their maps. To find new routes, click on "More Routes" and it will show you additional options. You can also zoom in to check out what the biking routes look like. This will give you an idea of how steep the hills are and what kind of terrain you'll be riding on, especially if you use earth view.
One thing I personally like about using Google Maps is you often can see the surface type or even the general shoulder width by zooming-in with earth view.  This will help you avoid hitting the wrong kind of surface for your particular bike.
Ask Local Bike Shops
There's no better way to find good bike routes than by asking local bike shops. They know the area well, can recommend routes that you may not have considered or even heard of, and let you know what to avoid and look for. When talking with them, you should also let them know what kind of cycling you're looking for, whether it's mountain biking or road riding. If they've gone on the trails themselves, they can give you the best routes for beginners and advanced bikers. Bike shops may have maps where they mark the best routes, so be sure to ask if they have any available.
Additionally, many bike shops have riding clubs or bike clubs that do regular rides.  Ask what the favorite routes of the bike clubs are, and you are sure to get some excellent ideas on where to go.
Facebook Groups and Forums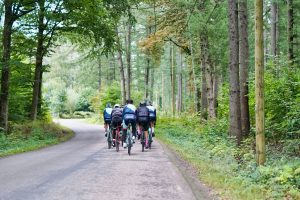 Facebook is another great place to find local cycling groups. Search for "cycling" and your city's name. You may be able to find a group or two right in your own city. After joining, post about what kind of cycling you're interested in and ask for recommendations. These groups can be extremely informative when it comes to this type of information.
These groups are also a great way to make some cycling friends. Cycling groups are typically filled with passionate cyclists who love to share their favorite routes.
If you're unable to find much luck on Facebook groups, you could always try other social media platforms or cycling forums. Be nice to everyone and try building up a good reputation for yourself. This will make it easier to find people who are willing to share their routes with you.
Tips for Having a Great Cycling Trip
When scoping out a new bike route, it's important to be prepared and know what to avoid.
Avoid Highways and Major Intersections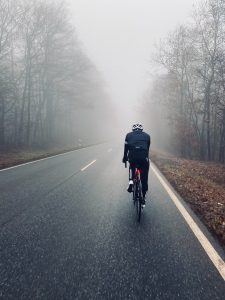 If possible, you'll want to avoid state highways (and obviously freeways) and major, complex intersections. These places can make cycling much more dangerous, especially if you're unfamiliar with the area. Sometimes biking routes will cross busy streets, so always be prepared to stop.
In many states, riding on a state highway is illegal.  Riding on Interstates or Freeways is always illegal.
As you're learning how to find good bike routes, it's important that you know which roads are safe and which ones should be avoided. Sometimes you'll have to use your best judgment.
Steer Clear of Construction
You'll also want to stay away from areas where there is a lot of construction as this can result in uneven pavement or even hazardous conditions for cyclists. New road patterns can also make for unsure drivers, and it could be dangerous to take a ride near one of these streets, even if construction is finished or wrapping up.
Stay Alert and Come Prepared
Remember that it'll be impossible to avoid everything as things come up unexpectedly. That's why it's crucial that you remain alert at all times when riding on new roads and trails. You need to stay focused on what's around you, whether that's another biker on the trail, an animal running across the path, an unaware driver, or the pothole straight ahead.
Be sure to wear bright clothing so that drivers can see you easily, and always use hand signals when changing lanes or turning. It's also smart to ride with a partner if possible so that you can watch out for each other.  If you are heading out on a long ride, bring plenty of water and nutrition along so you don't fade.  You may even want a top tube bag for easier carrying of your in-ride supplies.
Use Gravel Bikes for Gravel Roads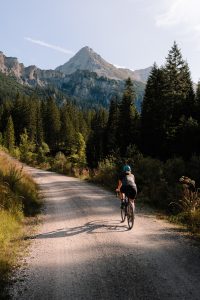 If you're looking for a bike that can handle gravel roads, consider getting a gravel bike. These bikes are designed to ride on loose surfaces, such as dirt trails or gravel roads. They have a wider gear range than road bikes and are sturdier, so they can handle the bumps and jolts of gravel roads.
Gravel bikes also have wider tires, which gives you more traction on loose surfaces. These can definitely handle the toughest of roads and opting for a gravel bike can lead to some amazing adventures.
Jim is an accomplished triathlete and endurance cyclist, and has raced in more than 3 dozen USAT-certified races.  He is also an avid trail runner and gravel bike rider.
His areas of expertise are in endurance training, cycling, triathlon technique, race direction, and training plans.  In addition to writing extensively about the endurance world, he has managed gyms and fitness centers in the US.  Jim is a longtime writer for Complete Tri, Compression Design, and his work can be found on the resource pages of many triathlon and cycling clubs in North America.