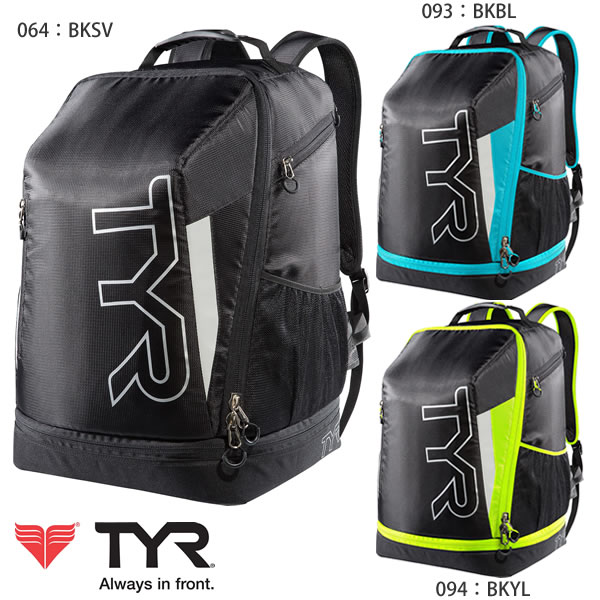 Triathlon bags, or transition packs as they are sometimes known, are a piece of triathlon gear that is not necessarily essential but can make life much easier if you begin to get somewhat serious about a sport.  Triathlon bags are basically backpacks or gear bags built especially for the sport of triathlon.  While the most common use of a triathlon bag is to hold everything you need on race day and become your transition "command central", these packs can also be extremely useful for carrying gear to and from key training activities.
Can you just use a duffle bag or backpack to carry your gear?  You can, but it won't take long to discover the benefits of a bag that is specifically designed for triathletes.  Transition bags usually have a little more space than your typical gym duffle, but more importantly they are designed to fit the specific gear you use during triathlon.  Unless you are relatively confident you will only do one shorter triathlon in your entire life, investing in a triathlon bag is a wise move.
Triathlon Bags:  What to look for
A good triathlon bags will have several key features that are tailored specifically to the sport of triathlon.  First, most good tri bags will have multiple compartments for the various activities that you need gear for on race day.  One compartment may be for swimming, another for bike shoes, and perhaps a compartment can be dedicated to nutrition and hydration.  Second, the swimming compartment should have the ability to hold a wet or damp wetsuit while keeping the other compartments dry.  Anyone who has let a wet wetsuit get too close to their other triathlon clothing that was intended to stay dry understands why a waterproof compartment is so important.  Third, the best triathlon bags on the market tend to have a place to strap or hold your bike helmet.  Bike helmets can be bulky and awkwardly shaped, not fitting neatly into a bag that wasn't built for it.  Finally, our favorite tri bags have a backpack option that is easy on the shoulders.  The last thing you want to do before a race is fatigue your shoulders and back just from carrying your gear to the transition area!
Best Triathlon Bags – Our Recommendations
Good triathlon bags are often made by the same makers that make either wetsuits, triathlon clothing, or cycling gear.  We look to that list of usual suspects anytime we are evaluating tri bags, and here is a list of favorites that we would recommend.
Orca makes a high-quality Triathlon Backpack ($130) that provides good space inside and various compartments.  The compartments help isolate wet and dry equipment so you will not have an issue with post-race blending, and allows you to keep dry clothing in a specialized pouch.  There is ample helmet space, but what we really love is the neon green interior which makes finding your equipment inside much easier.  Why didn't we think of that?  At $130, this it isn't cheap but we find it to be an excellent quality product.
The Louis Garneau Tri Pack Revo Bag is a great all-around transition pack and our favorite, if the $100 price tag doesn't bother you.  Price aside, there are many thing to like about the Garneau Revo Tri Pack.  It is built with plenty of compartments and pockets so you can keep your gear neatly organized during transition time.  We also like the amount of ventilation on the bag, both helping gear inside cool and dry off, but also creating a more comfortable experience for the person wearing it.  We are also fans of the amount of reflection on the bag, making it a pack that can easily double as a bike trip pack.  Finally, it features the helmet carrier net that we are fans of.  At 46 liters of capacity, it is hard to beat.  For those who like the Garneau but are on a tighter budget, they also make the Race Day Pack that retails for $70.  It is a little smaller and doesn't have all the pockets and features of the Revo Tri Pack, but is a quality pack in its own right.
Blue Seventy makes our second favorite bag (just behind the Garneau Tri Pack Revo) in its Blue Seventy Large Transition Bag with the top zip.  Priced at around $100, it is a quality product and has been known to be both durable and functional.  It looks more like a duffel – you load from the top – and Blue Seventy put the wetsuit compartment on the bottom so it can drip dry without affect the other clothing.  We also like the helmet carrier and the number of pockets inside the pack.  The only reason we rank it lower than the Garneau is because it has less capacity (32 liters vs. 46) but for some who prefer more compact packages, that may actually be an asset.
For those on a tighter budget, TYR makes its TYR Transition Pack at a price point between $50 and $65.  It looks like a simple backpack, but has several features that a triathlete would like.  Being TYR, they understand triathlon well and this pack does a nice job of holding more junk that you would expect by looking at it.  It has several compartments and pockets, and has an external helmet cage.  While some of our testing suggests it may not have the durability of lifespan of other packs on the seams and straps, it is at a lower price point and may be worth a try if you are in need of a bag.