If you're a triathlete, cyclist, or marathon or 10K runner, you've most likely used energy gels before. It's no secret that energy gel packs such as the Clif Shot or GU are commonly used during both training and racing, and can give you a little boost right when you feel your energy waning. Energy gels are a great and lite way for you to replenish calories and electrolytes when performing high intensity activity. If you've never used energy gels before, here's a quick overview of what they are and what they do:
Energy gels are made to refuel glycogen stores in your body that get drained over time as you burn off calories. These gels are usually made of simple sugars which is what your body prefers during high intensity activity. To keep it simple, energy gels are what you need to keep you energized and feeling great during your training sessions and competitions.
They come in different types.  Some focus on electrolytes, other are more balances.  Some have caffeine, others do not.
Also, note that many athletes prefer to intake their nutrition in the form of workout drink mixes, that are mixed in to the water that they are already carrying with them.  But for this article, we're talking about gel.
To help you decide which energy gel packs you should buy, we did extensive research to come up with the four best energy gels on the market. So what are the four the best energy gel packs on the market?
Clif Bar CLIF SHOT Energy Gels
GU Roctane Endurance Energy Gel
Hammer Rapid Energy Gel
Honey Stinger Organic Energy Gel
1. Clif Bar CLIF SHOT Energy Gels
Check out the Clif Bar CLIF SHOT Energy Gels at Amazon.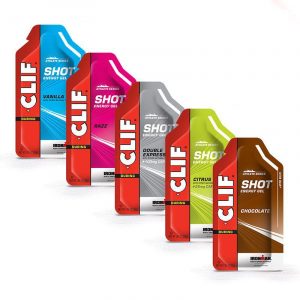 Clif gels are definitely one of the most popular energy gels on the market, made by the same maker who makes the popular Clif Bars. There are so many delicious flavors to choose from. Each of these flavors offer between 22 and 24 grams of carbs and are light and refreshing. But what makes Clif Shot energy gels so amazing?
Variety of flavors. It's known that not everybody likes the taste of energy gels. Luckily, CLIF  Energy Gels are available in many different flavors, including boston cream pie, chocolate, citrus, double expresso, mocha, and strawberry.
Customized caffeine levels. To accommodate your personal needs, CLIF Shot gels come in different caffeine levels ranging from 0 to 100 mg. You can choose an appropriate caffeine level that's appropriate for your activity.
Litter leash packaging. Each energy gel is packaged with a litter leash top which stays attached to the gel. This makes it easy for you to open the gel and not have to worry about disposing or littering the top.
The ingredients in the CLIF Shot Energy Gels are as follows: Organic Maltodextrin, Organic Evaporated Cane Juice, Water, Sea Salt, Potassium Citrate, Natural Flavors, Citric Acid, and Green Tea Extract. As you can see, it's a very short list compared to other gels on the market.
2. GU Roctane Endurance Energy Gel
Check out the GU Roctane Endurance Energy Gel at Amazon.
GU Roctane Endurance gels are also one of the most popular energy gels on the market. These 100 calorie gels offer 19 to 21 grams of carbs and come in five assorted flavors, each of which are vegan, gluten-free, and kosher. So what else makes GU energy gels so popular?

Variety of flavors. GU Roctane gels come in 11 different flavors ranging from blueberry pomegranate, chai latte, lemonade, pineapple, tutti frutti, vanilla orange, and more. Each flavor comes with different caffeine levels.
High in amino acids. Amino acids are incredibly valuable for any athlete. They help increase endurance, burn fat, reduce fatigue, decrease muscle damage, and much more. Each GU energy gel serves a staggering 1425 mg of amino acids to help fuel and restore your body! This is three times the amount of amino acids found in GU's original energy gels. What an upgrade!
Dual source of energy. The composition from maltodextrin and fructose in these energy gels use compatible pathways for our bodies to easily absorb and prolong the effects of this high-energy gel.
The GU Roctane Endurance Energy Gels contain all vegan ingredients and are completely gluten free and kosher. The best way to intake these GU energy gels is to consume one packet five-minutes before performing any physical activity and followed by hydration tabs or water. This is unlike other gels which recommend you to wait at least 15-minutes. Afterwards, all you need to do is take another energy gel every 45-minutes during your physical activity.
3. Hammer Rapid Energy Gel
Check out the Hammer Rapid Energy Gel at Amazon.
Another top energy gel on the market is the Hammer Rapid Energy Gel. Each gel is around 100 calories and offers 20-23 grams of carbs.  These gels have different caffeine levels based on flavor and are made of a pH-balancing formula which makes it easy to digest and absorb. Here are some key features that make Rapid gels one of the best: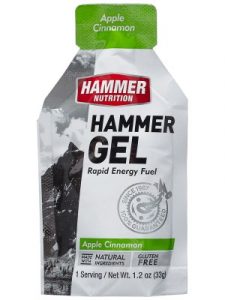 Variety of flavors. Hammer Rapid Energy Gels also come in a lot of flavors, including apple, apple cinnamon, peanut butter, tropical, montana huckleberry, and vanilla. Each flavor offers different amounts of sodium, amino acids, and caffeine levels, so pick wisely!
Complex carbohydrate formula. Hammer energy gels are made with a complex carbohydrate formula to provide a smooth and consistent energy release. This will keep you feeling great during your activities.
No simple sugars. These energy gels are made with no added simple sugars. Without the addition of simple sugars, these gels are easy to digest and can be consumed straight, diluted, or as a flavoring for other drinks.
Hammer Rapid Energy Gels are vegan, kosher, and produced with no added sugars as mentioned earlier. These high-quality gels will prevent unexpected insulin spikes which cause sugars highs and crashes.
4. Honey Stinger Organic Energy Gel
Check out the Honey Stinger Organic Energy Gel at Amazon.
Another best energy gel we recommend is from Honey Stinger. Their Organic, non-GMO energy gels contain 100 calories and 21-27 grams of carbs. Honey Stinger focused on creating the ultimate organic energy gel for those who want a health-focused gel. Here's why the Stinger Organic gels are so amazing: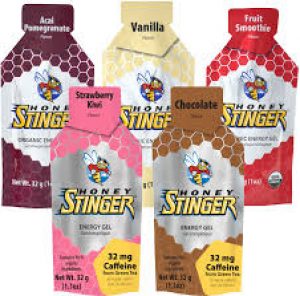 Organic, organic, organic. These gels are certified gluten free and contain all organic ingredients, including honey, syrups, natural fruit flavors, and even added electrolytes. This is the perfect natural energy drink.
Stinger Organic gels are conveniently packaged so that it's easy for athletes to consume and continue their high-intensity activity on the go. You can take the gels before, during, or after activity and still receive high energy boosts.
Everything free. Honey Stinger created the ultimate healthy energy gel by making them USDA organic and certified gluten free. These non-GMO gels are dairy free, soy free, nut free, and kosher.
There's a handful of flavors to choose from, including fruit smoothie, acai pomegranate, chocolate, strawberry kiwi, mango orange, and vanilla. Each flavor has all the features we listed above, so make sure to give them a try!
What to look for in energy gels
Good flavor. Due to more and more performance supplements being released, having great flavored energy gels is important. You want to actually enjoy what you put into your body.
Ease of Use. You'll want to pick an energy gel that is convenient. It should be as easy as taking an energy gel out of your pocket, opening it, and consuming it.
The right carbs, electrolytes, or calories for your activity.  There's no point in taking an energy gel that doesn't do what it's supposed to. You should always look for a gel that actually provides you a boost of energy to keep you energized and active.
Healthy ingredients. Like most athletes, you should care about what goes into your body. Always read the ingredients listed on each gel and make sure you're happy with them. Don't put anything into your body that'll damage it over time.
Caffeine?  There is not right answer on this one.  Some people like caffeine in their gel shots, others do not.  The obvious advantage of caffeine is that it will give you a little giddyup for a bit after taking it, which can be nice if you are doing a race or workout that is mentally taxing.  The downside is that caffeine can mess with your gut (just like drinking too much coffee at once).  Some recommend alternating between caffeinated gels and plain ones.
Gel Pack Tips for Triathletes
Quickly access the gel pack without compromising cycling safety
When using energy gel shots on the bike, tape them to your top tube in a way that allows you to easily rip an opened gel pack off of your bike.  When they are spent, you will simply have the tops of the packages taped on your bike, which can then be easily removed. This allows you to take a gel with just one hand.  At the end of your ride, simple remove the tape and gel pack tops, and discard.
Don't litter!
What do you do with gel packs when you are done with them?  Keep them on your body.  The running, cycling, and triathlon community are generally known as a pretty courteous bunch, but there are sometimes a few bad apples who litter.  Don't be one!  We recommend riding with triathlon shorts or cycling shorts that have pockets.  You can put the spent packages in there.  The pockets will get a little sticky and dirty, but that is what washing machines are for!
Nothing new on race day
We say this often, but don't have your first experiment with gel shots be in the middle of the A-race you have been training for.  If you want to include gel packs or gel shots, use them in your training.  Find what works, experiment with when to take them and brands you respond to.  Race day should feel like and old friend, a day when you are not throwing anything new at your routine.
Jim is an accomplished triathlete and endurance cyclist, and has raced in more than 3 dozen USAT-certified races.  He is also an avid trail runner and gravel bike rider.
His areas of expertise are in endurance training, cycling, triathlon technique, race direction, and training plans.  In addition to writing extensively about the endurance world, he has managed gyms and fitness centers in the US.  Jim is a longtime writer for Complete Tri, Compression Design, and his work can be found on the resource pages of many triathlon and cycling clubs in North America.