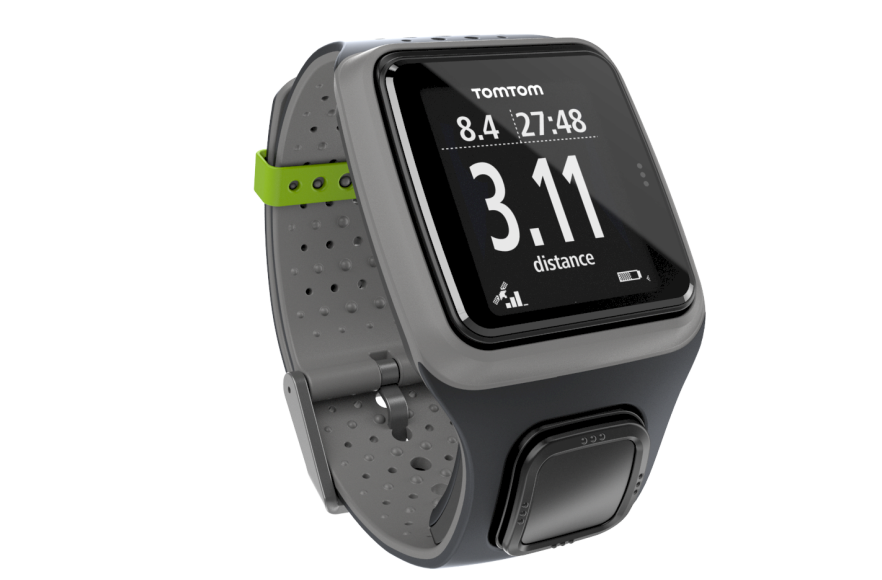 There was a time when running or sports watches could only offer time and heart rate, and offered little additional value.  But with the proliferation of GPS-enabled devices, modern triathlon watches are quite advanced in their offering and can help any athlete train with more precision.
The watchmakers have turned the simple watches into complex fitness tracking tools.  They can tell you how far you've gone, how fast you are going, and even integrate with your bike's power meter (if you have one).  These triathlon watches work in three different modes of swimming, running, and cycling. If you are running a triathlon and looking for a smart watch, you need to look for all these modes. Through comparing different watches available in the market, we have identified our four favorite watches for you.  Some are spendy, some are cheaper.  All are ones that we would recommend other triathletes.
Garmin Forerunner 920 
Let's cut to the chase: The Garmin 920 is our favorite triathlon watch.  The Forerunner 920 is the best multipart watch on the market, in our opinion.  We love the features, the fit, and the design — it is much thinner than even its predecessor (the 910) and it a quantum leap from the old Garmins of several years ago.  With the ability to track all three sports, and to be in training mode for a whopping 24 hours, this watch is suitable for everyone all the way up to the serious Ironman triathlete.  If you want an even newer model, the Garmin 935 is like the 920 but with a few added features.
Design
Many people complain that the sports watches available in the market are not comfortable to wear because of the larger size. Garmin Forerunner 920 is no different regarding size, but the larger size has an advantage as the buttons on front and side are easy to locate.
Features
Any triathlon watch should be able to track your runs, rides, and swims accurately.  The 920 goes above and beyond and truly becomes a training buddy. It can monitor your average speed, heart rate, and regular alerts to keep your speed up, including predictions on what your finishing pace and time will be (something we don't always use — it can be unnerving). It is also an excellent steps tracker and is smart enough to tell you how much fitter you are getting with time. In the water, it is a reliable partner in swimming with a very delicate GPS tracker, SWOLF tracker, and a length tracker. The length tracker helps you to calculate the number of times you have reached for each stroke in the water — something that can allow you to determine if your stroke is becoming more powerful and efficient over time. The SWOLF tracker helps to calculate the strokes each length is taking.  One of our favorite features, though, is a calculator on how much rest time you should have based on your most recent workout — and if we have learned one thing, it is that most triathletes underestimate the importance of rest.
Tom Tom Multisport

Tom Tom is a company that entered the sports market relatively recently.  They began making GPS devices for navigation, and are the trusted partner of companies such as Apple and Uber.  In the sports market, they are making their mark with the Multisport watch.  The greatest feature of TomTom Multisport is its innovative design and one-button usability. It can track all the three modes in a triathlon with simplicity. As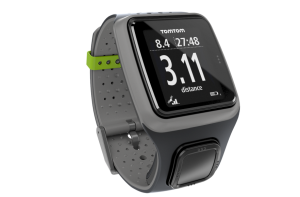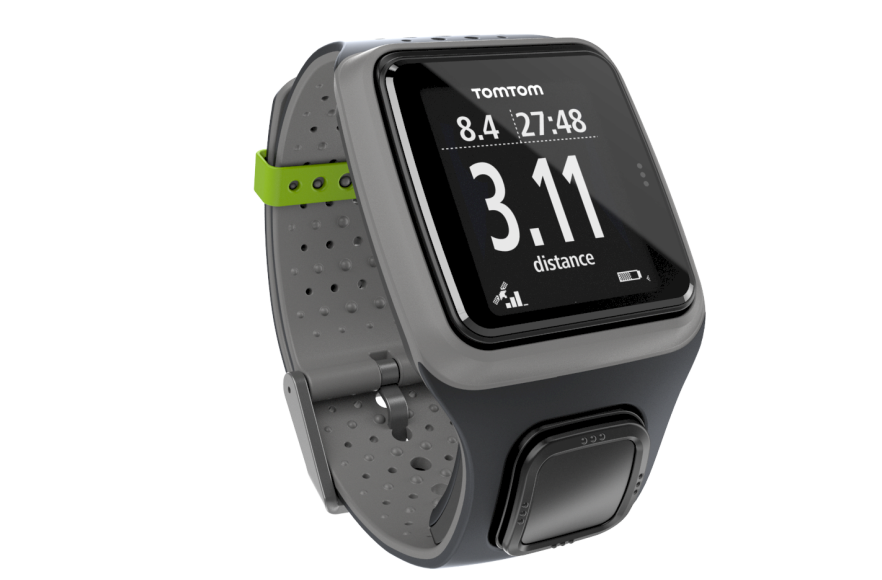 compared to the other sports watches, TomTom Multisport is less expensive, but may lack some of the accuracy in swimming mode.
Design
The watch is designed to ensure comfort and performance at the same time. It has a large LCD with a single-button menu system. The screen is among the largest we have seen on the multisport market, but it is designed in a way that is not obtrusive.  The watch comes in a gray and dark pink color.
Features
With the one-button control system, it becomes relatively easier to operate the watch as you don't need to remember what button does what. Some watches are more complicated, not something you want when you are fatigue or quickly switching between sports.  The button acts as a D-pad, and you can operate the watch by simply scrolling within the menu. This watch is aimed at tracking your abilities during swimming, cycling, and running. It can work as a pedometer, calorie tracker, distance calculator, GPS-system, and stroke detection.  The swimming mode is useful for lap pool swims, but not ideal if your main swimming is done in open water.
Polar M400 GPS Watch

The M400 is a new class of fitness wearables combined with simplicity and high performance of expensive watches in a single device. It is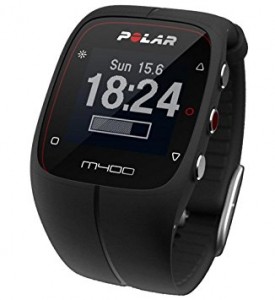 surprisingly functional and a great option for the fitness enthusiast buying their first proper running watch. The professional triathlon runners can use it well, but it lacks underwater heartrate monitoring and route navigation.
Design
Unlike the bulky triathlon watches, M400 is incredibly slim and light. Being less obtrusive than the other GPS-tracking watches, it looks perfect even on the skinnier wrists. The five buttons are smartly placed so that you can operate the watch without any stress.
Features
The M400 is a perfect workout companion that functions as an activity tracker and fitness band. The watch has different modes depending on the activity you are performing, and particularly excels on the run leg. You can choose from "Aqua fitness" to "Yoga" and even "Classic Roller skiing."  It is waterproof, but the company suggests that you not push buttons underwater and it is not meant to go far below the water surface.  One feature we like is the option of free training plans to be download to the watch, making it a true workout buddy.
Fitbit Flex 2
Fitbits are not often considered in the same league as Garmins and other sport-specific watches when it comes to multisport training, but the Flex 2 is worth a look.  Despite having no display and heart tracking, Fitbit Flex 2 is worth the compromise for many, and comes at a significantly lower price. Thanks to its band-like design and effectiveness even in the water, it is a basic tracker that multisport athletes can use for all three sports. It has a long battery life and sleeker design with the ability to track your all the activities and sleep. It is connected to your phone and shows all the activities through an application.
With the strong brand of Fitbit, and the likelihood of the Fitbit lineup growing in the future, it is intriguing for triathletes to think about building their training database on the Fitbit platform.  If you simply need something that can track your time and distance in the water, on the bike, and during the run, the Flex 2 fits that bill.
A very important distinction, though, is that the Flex 2 is not meant to be used to glance at your speeds and mileage within a workout — and that is exactly what many triathletes need.  Instead, it is a great tool for looking back at your workouts over time and understanding how your training has been trending.  It is also not going to be compatible with most power meters, if that is important to you.
Non-Swim Options
The devices listed above are all listed because of their ability to handle all three swims in a triathlon – the swim, the bike, and of course the run.  If you are willing to not wear a watch in the swim and only track your cycling and running performance, your options open up considerably.  If you are not taking them in water, you can consider several more Garmin and Fitbit models, including the Fitbit Blaze workout watch.
Final Thoughts
The choice of a triathlon watch depends on your usage. If you are a professional, elite, or aspiring elite triathlete, or you just like knowing that you have the best gear out there, you should go with Forerunner 920. It has all the necessary features to help you during your training. For all the fitness enthusiasts not willing to spend quite as much, the other three watches are definitely good enough to provide training precision and some motivation on your runs, bikes, and swims.  This technology is changing so fast, though, and the peripherals you can use with the watches are in such rapid advancement, that we would consider this a ~2 year investment, and at that time you will probably be looking to upgrade.