Sugoi has long been making some of the best tri gear on the market.  They go far beyond triathlon, as they also make some of the top running and cycling clothing as well.  They have some of the top compression gear on the market, and make some create cold weather workout outers as well.
We have been reviewing lots of tri shorts around here, and naturally we included the Sugoi brand.  Last summer, we began using the Sugoi triathlon shorts, and loved them.  Sugoi makes two different levels of tri shorts:  Entry level is the "turbo" line, recently renamed the RPM.  Upper-end is a combination of the Piston shorts and the RS line.  We used both the Pistons as well as the RPM, and found both to be highly effective both in terms of performance as well as comfort.
Lines:  Sugoi makes some of our favorite tri shorts in addition to some of the best cycling shorts on the market.  As noted above the RPM or Turbo line is entry level and sells for about $55.  The RPMs are a great all-around tri short, and give you everything you need as a triathlete.  Hard to even call them entry-level, as they are a very good pair of tri shorts.  The RS and Piston are a higher-end short, with the key difference being in the fabric.  They are going to sell for the $130 range.  You won't see new Piston shorts on the market, but there are plenty carryover models in stores and online that are still very high quality.  They have a higher-quality chamois for the inside of the shorts, and the outer is made from a more aerodynamic and comfortable fabric called Ultra Aero.  Aerodyamic fabric, you ask?  Yes, even something like the fabric on your shorts can create more eddies, or wind resistance, when multiplied over the course of a long race could slightly add up.
For all intents and purposes, we think the RPM or Turbo is a great short for 95% of racers.  Unless you are an olympian or trying to win Kona, there is no need to go all-out on the shorts.  For those doing a Half Ironman or who simply crave that extra bit of comfort, the upgrade may be warranted.  If you are doing an Ironman, we always recommend using real bike shorts and living with the extra transition time.
Performance: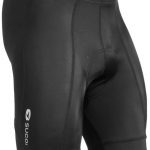 You can talk about specifications and features all day long, but when it comes to tri gear, the proof is always in the road test.  The Sugoi tri shorts really stand out in terms of performance.  We've raced in a lot of shorts, and some shorts focus on being soft and flexible.  Others are firm, giving you almost a touch of compression along with the athletic performance.  The Sugois seem to fall in the second category, providing a stiffness that is actually quite comfortable.  It keeps your upper thigh nice and compressed, and we have found it to be quite comfortable even in longer races.
Another thing we notice about the Sugoi's is that they tend to be very quick drying.  Of course, all triathlon shorts are fast-drying, but the Sugoi shorts get a bit of an edge in this category.  Coming out of the water, the shorts seem to dry within seconds, making for a comfortable bike leg.  Even when doing races in the rain, we have found these shorts to stay light and firm, not absorbing moisture like we have seen with others.
The leg grips apply the right amount of pressure, and the seams have been strong and comfortable throughout many races.  No seam rash or other points of discomfort.
Comfort:
As noted above, these are very comfortable shorts, especially for those who prefer a touch of stiffness in their shorts.  We have used others that have a softer overall feel – TYR is a good example – and we have been happy in both.  The combination of comfort and compression in the Sugois tends to be something we keep going back to, however.
We have been happy with the six-panel seat pad, and find the chamois to be as fast-drying as the rest of the shorts.  The flatlock stitching has been outstanding in the shorter races we have done.  We have used the shorts with multiple bikes as well — ranging from a more upright road bike to a starter tri bike to a high-end time trial bike.  In all cases, the shorts performed well and kept us comfortable for up to 25 miles.  Note that if you get to the HIM or IM distance in your races (and if you do, good for you!) you might want to consider wearing actual bike shorts for the longer ride.
Features: 
In addition to the six-panel chamois pad, the flatlock stitches, and the comfy leg grips, we also like that the drawstring quality is heavier than some other models we have tried.  It may seem trivial, but when you are getting ready to swim on race day, there is some comfort in knowing your drawstring is a cut above.  We are also big fans of the tight mesh pocket, located on either side, as this is where we tend to keep gelpacks.  The pockets are situated in a spot where you don't even know they are there if you aren't reaching for them.
Recommendation:
We love the Sugoi tri shorts, and whether you go with the Turbo shorts or the slightly more comfortable Piston or RS model, you won't be disappointed.  They are not cheap, at $55 to $75, but we have been very happy with their overall durability, which means they will be a good investment for you.  And compared to racing in a full-fledged triathlon suit, you will likely save a bunch of money going the shorts-and-singlet route.  We also like offerings from TYR, but will never steer you away from any of the Sugoi models.