While preparing to perform at your best and get a new personal record, reducing the chances of injury is something every athlete should consider. An injury could mean weeks or months out of one's sport of choice, or even be career-ending. From recovery to injury prevention, our bodies need to be prepared before we can truly push ourselves to the level we desire.
Endurance Benefits of the Stiff-Legged Deadlift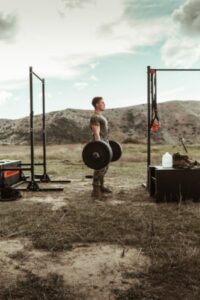 One very effective way to prepare is to explore your compound exercise options in the gym. Compound exercises are movements that activate two or more muscle groups simultaneously. The stiff-legged deadlift is a compound exercise that can help reduce the risk of injury by working the hamstrings and lower back, two very injury-prone muscle groups. The hamstrings are one of the most important muscles to keep cyclists in prime condition because cycling is a quad-heavy sport.
Underworked hamstrings are something to be wary of, as they can create an imbalance that increases the likelihood of debilitating injuries. By stretching the hamstrings, the stiff-legged deadlift raises the ceiling for the potential of your quads and lowers the chance of an injury. Healthy hamstrings are a crucial part of a healthy lower body. Basketball players will see quite a significant benefit from the hamstring aspect of the stiff-legged deadlift because of the massive part that the hamstrings play in jumping.
On a similar note, the lower back is highly susceptible to injury, especially for cyclists. This is due to the optimal posture for maximum efficiency being rather far forward. By strengthening the muscles in the lower back, the stiff-legged deadlift can improve overall posture and reduce the risk of pain during long rides.
The glutes are also pretty heavily involved in the stiff-legged deadlift and are often underworked due to lack of exercise, which can cause discomfort. Often overlooked and vital for overall movement, the glutes play a major role in many everyday activities such as walking, running, and climbing stairs. Athletes in sports that emphasize flexibility, such as dancing and hurdling in track and field are more prone to gluteal injuries due to the nature of their respective sports, which means that the stiff-legged deadlift could be instrumental in keeping their performance in optimal condition.
Those who are long-ride cyclists might find their leg and back muscles getting out of balance during the season, because the muscles worked by cycling are not evenly distributed. Don't assume that just because you ride 200 miles a week, your legs are in perfect shape.
How to Perform the Stiff-Legged Deadlift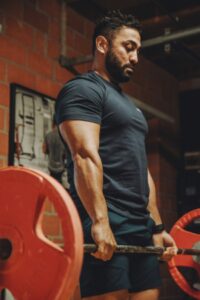 Before you begin, it is important to make sure of a few things.
Start light! There is no reason to shoot for overly heavy weight on your first go around, especially when working to prevent or recover from an injury.
Know your equipment. Standard bars are 45 lbs (about 20 kg) and can be challenging for those recovering from traumatic injuries or those with disabilities. For this reason, many gyms come equipped with a 25 ib bar (about 11 kg) that may come in handy if the standard bar proves too heavy.  If you are in your home gym and using dumbbells from your dumbbell rack, maybe notch the weight down a bit rather than simple doing 1/2 of what you would do with a barbell.  Dumbbells add complexity to any lift.
That's about it! Without further ado, here is your step-by-step guide on how to perform the stiff-legged deadlift.
Stiff-Legged Deadlift Steps
1. Get in position. Begin by facing the bar. Place your feet about shoulder-width apart beneath the bar and make sure they are facing forward. You will only need to do this first part once to get the bar off the ground. You should be holding the barbell with an overhand grip, with your hands positioned just outside of your legs. From here, raise the bar off the ground while keeping your back straight. Now you are in position to perform the stiff-legged deadlift!
2. Hinge at the hips. Keeping your knees slightly bent, hinge at the hips and lower your torso towards the ground while maintaining a straight back.
3. Keep your posture. As you lower the barbell, allow your knees to straighten out slightly, but do not lock them. Keep your back straight, your head up, and your gaze forward. Your arms should never bend during this exercise.
4. Feel the stretch. Once you feel a stretch in your hamstrings, pause for a brief moment. This is where the majority of the benefit from this exercise comes from. Take a second to establish a mind-muscle connection and move on. You should feel your glutes, hamstrings, and lower back.
5. Return to the top. Use your glutes and hamstrings to lift your torso back up to the starting position. As you lift, squeeze your glutes and push your hips forward to extend your body fully.
6. Repeat. Notes on recommended sets and repetitions in the next section.
Repetition and Set Recommendations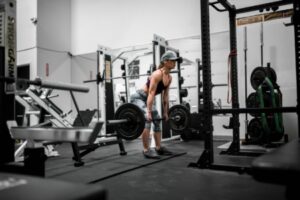 We all lift weights for a variety of reasons so repetition ranges can vary between people and training regimens. A good range for someone looking to recover from an injury is completely different than that of someone who is trying to improve their conventional deadlift max.
Generally speaking, 4 sets of 8 reps should get you where you need to go, or at the very least help reduce injury likelihood and discomfort in the muscles worked. Remember to start light! You can always raise the weight when you are more familiar with the form of this exercise.
For more advanced lifters, 3-4 sets of 12 at a higher weight is a good rep range. When advanced lifters hit a certain level, the stiff-legged deadlift can be extremely beneficial to their 1 rep max. Increasing the weight from month to month over the course of a few months is typically the best way to work up to a set of 12, with month 1 beginning at 8 reps, month 2 at 10, and month 3 at 12. Feel free to adjust the weight at your own pace as you move along.
Additional Deadlift Benefits for Athletes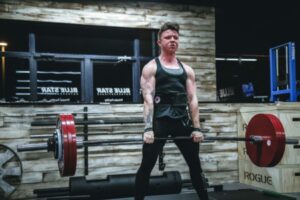 The Stiff-Legged deadlift is not only useful for beginners. It can be used to supplement countless different training regimens. Want to improve your conventional deadlift by a significant margin? Absolutely. Want to increase hip mobility? Sure! Overall posture? No doubt about it. Any sport that involves running or jumping will see improved performance once you incorporate the stiff-legged deadlift into your training routine.
Outside of sports, the stiff-legged deadlift can improve functional strength because it mimics the movement patterns of everyday activities, such as picking something off the ground, which can improve overall strength and stability of the lower body and back.
Overall body composition will improve with this exercise as well because it is a compound exercise, which involves multiple muscle groups. Finally, the stiff-legged deadlift improves flexibility and mobility in the hips, which promotes long term health of alll muscle groups involved.
Jim is an accomplished triathlete and endurance cyclist, and has raced in more than 3 dozen USAT-certified races.  He is also an avid trail runner and gravel bike rider.
His areas of expertise are in endurance training, cycling, triathlon technique, race direction, and training plans.  In addition to writing extensively about the endurance world, he has managed gyms and fitness centers in the US.  Jim is a longtime writer for Complete Tri, Compression Design, and his work can be found on the resource pages of many triathlon and cycling clubs in North America.