In Tokyo over 50 years ago, a proud father produced Japan's first bicycle racing apparel for his son, a promising racer. Today, Pearl Izumi USA, Inc. has involved into a multi-national company with a cult-like following. The name Pearl Izumi USA, Inc. is derived the gem "pearl" and an area of Japan known for its clear water "Izumi." Literally translated, Pearl Izumi means "fountain of pearls."
One of their most popular products is their In-R-Cool cycling short. The Pearl Izumi In-R-Cool comes in two different series—the P.R.O. and the Elite. The Pearl Izumi P.R.O. In-R-Cool retails at around $140-160 (but we can help you get them for $100) while the Elite In-R-Cool retails at around $100-$120 (but we found them for as low as $60). The In-R-Cool technology was originally introduced in their P.R.O. Series, but after its initial popularity, they incorporated the technology into their top-selling Elite short as well.  This technology, used in other garments too, such as cycling bibs, is designed to help regulate the body temperate in a variety of outdoor climates.  The nylon-based fabric is highly breathable and moisture-wicking.
We tested both the P.R.O. and Elite shorts during summer months to see if they kept us as cool as the product's name implies.
Here's what we found:
Performance: A few cyclists reported that these shorts were great for the first 3000 miles. After that, padding near the edges at the rear started to wrinkle and cause chafing. However, many other triathletes and cyclists alike disagreed and claimed that they never experienced chaffing in these shorts. We'd have to agree—although we didn't ride in them for over 3000 miles this summer, we were rather impressed by how comfortable and cool they kept us. We really liked the leg cuffs and the grippers. They're the best we've ever seen.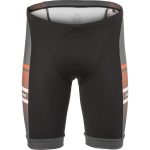 Users reported that they were fast drying, had good padding, were a good fit, and had excellent breathability. Most triathletes felt these shorts were great for long rides and warm-hot weather. Pearl Izumi's In-R-Cool fabric is powered by coldblack. This special fabric provides superior cooling and reflective sun protection. It reflects UV light and reduces the fabric's surface temperature to the same temperature as the white fabric anatomic multi-panel design for a streamlined, high-compression fit. Their Direct-Vent Panels provided optimal ventilation—while we rode, we were impressed at how cool these shorts kept us.
Riding is just part of the equation, though, and you can forget about the run leg of a triathlon.  The Elite In-R-Cool shorts have a bike pad that is barely noticeable during a run.  That is important, because one of the biggest complaints we write about when doing tri shorts reviews is that the seat pad is uncomfortable during a long run.  Pearl Izumi, as expected, got it right, with a pad that is good for cycling but then is not a factor during the run.
Comfort: Pearl Izumi's folded transfer fabric at the leg opening provides a soft, comfortable stretch. The Pearl Izumi In-R-Cools feature a 3D Chamois with 3 layers. Users reported that they couldn't really feel the 3rd layer. However, despite the thin 3rd layer, we really thought that these shorts were comfortable. The short's fabric is made with UPF 50 + and utilizes a special perspiration-activated technology that cools your body's surface temperature by 5%. The shorts also include "Pressure Relief Technology" and active carbon yarns that improve thermoregulation and eliminate static-induced fatigue.
If you are going to be doing ultra-long distance riding as part of your tri training or racing, we recommend simply wearing bike shorts for that leg.  We would probably but the cutoff at anything over about 60 miles.  For less than that, however, the comfort level was high in these PI shorts.
Features: Both the Elite and P.R.O. series feature reflective elements for low-light visibility. In our opinion, the Castelli shorts had better reflectors. However, most athletes that buy the In-R-Cools are after the cooling-technology. If you're looking for "cool," then these shorts are probably for you.
Recommendation: If you live and/or practice somewhere that's hot year-round, these shorts are worth the splurge. Pearl Izumi makes quality products and we doubt you'll be disappointed with these shorts. They come in a variety of different colors, they're appealing, and they're very comfortable.
If these shorts are still too expensive for your budget, and/or you don't plan on riding as much, we recommend downgrading to the Pearl Izumi Elite In-R-Cool Tri short. These Tri shorts retail at around $60-$80. However, if you're going on 50-60 plus mile bike rides, spending the few extra dollars for the P.R.O. or the Elite cycling short is worth it. We DON'T recommend using these shorts in a chlorinated pool. Many users made the mistake of swimming in these shorts and discovered that their hundred dollar shorts started falling apart after a month or two. If you are training for a triathlon, we highly recommend investing in a pair of jammers.
Do you own a pair of Pearl Izumi's? We'd love to hear what you think about them!