The Orca Equip has a proven track of success for those who are serious about their open water swimming, but also a price point that makes it affordable for beginner triathletes.  Orca has been making the equip for several years, and its presence as a mainstay in the Orca lineup shows just how popular it has been.  The Equip is in the midrange (Just over $300 list, but often on sale) which makes it an excellent choice for entry and mid tier wetsuit users. The wetsuit is designed fashionably by Orca, one of the more popular manufacturers who are regarded highly in this industry.  We have personally used Orca products and can attest that Orca knows what they are doing at all price points.
Orca Equip Review
The Orca Equip is light in weight and elastic near the shoulders. The suit is well fitted with slimline cuts and, like more expensive wetsuits, has panels for forearms with high friction that help in the pull phase during swimming. It also provides athletes freedom of movement when they are in the midst of an open water swim. It is a good choice for those who are using wetsuits for the first time given the combination of the price point and the features. Short of elevating your open water swim technique
 to where it needs to be, getting into a good wetsuit is one of the best things you can do to improve your swim.
The wetsuit is composed of 39 cell Yamamoto neoprene, material used in many Orca models.  39 cell neoprene is known for being able to stretch more than 500% without breaking or tearing. It has 1 mm Yamamoto neoprene on the sleeves that increases comfort and flexibility while swimming, with a very flexible 1.5mm neoprene around the should transition area. It is made up of long-lasting, high quality HydroCell SCS neoprene. The arms, chest and torso thickness in Orca Equip measure about 2mm. As is the trend in wetsuits, it is considered that neoprene thickness throughout the suit varies which is very important as less thickness is also required in some areas such as under arms for a flexible motion. The Orca Equip helps the beginner with its functions and qualities to improve their underwater and in-water performance.  In its latest design, Orca started using a material called InfinitySkin on the Equip, a flexible material that was previously only found on higher-end models.
The Equip was revised in 2015. It has Hydrostroke Forearm Panel which was earlier seen in Ocra Apex 2. The panel also has silicon print which eases the water pull phase of the stroke by increasing power, something that originally featured only on higher-end suits. One of the notable features that lacks in Orca Equip is its coated neoprene on the underarm panels that are flexible, as are found in the higher end Alpha, Orca's signature suit (you'll spend about $300 more for those suits — worth it if you plan to do alot of longer races but not if you are a casual sprint racer).  Due to this uncoated and flexible neoprene the dress becomes less hydrodynamic, but probably not entirely noticeable for novice swimmers.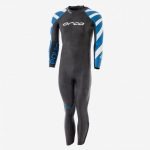 QuadraFlex underarm panels are water resistant and allow you to have flexibility and easy movement wherever you need it. The Orca Equip is a suit that fits everyone and is accessible for most athletes. It also has 3 mm stretch neoprene, Speed Transition Calf, which permits quick and convenient transitions.
Ocra's are easy to get off in transition due to the angled openings in the legs. Swimmers report that bouyancy is good in this suit but not as high as in some of the more expensive ones, but for the price point most triathletes are pleased with the overall wetsuit performance.
Equip Sizing and Features 
For male triathlon participants, it is available in sizes of 2, 3, 4, 5, 6, 7, 8,9, 10 and 11 while in women it is available in XXS, XS, S, M ,L and XL. It should be noted that most users suggest erring on the larger size when in doubt, as Orca tends to fit their sizes for very fit athletes. You may find, if you are a typical weekend athlete, that you require a tad more space than a pro does in your wetusit. Don't overdo it, though, as wetsuits are supposed to fit tightly. The Orca Equip is available only in black. For fastening it has a Slipstream Zip. It is technology that has proved to reduce the drag between the wetsuit and water to the least possible amount.
Conclusion
In short, the Orca Equip is a good buy for starters who want to start economically with some features that would have been more expensive just a few years ago.  While there are now some great entry level wetsuits on the market today, for a more avid triathlete it may definitely pay to upgrade to the midrange.  The Equip, along with the Blue Seventy Reaction, are a couple of our favorite wetsuits in that range.  Orca has been cranking out good wetsuits for a long time and seems committed to keep doing so, making them a brand we would have no problem recommending, and the Equip is a model we have always liked.