The Sonar is Orca's best-selling mid range suit.  It is highly versatile and for the majority of triathletes is probably the best choice in Orca's lineup.  It's a great "value" suit – moderately priced but jam packed with features – many of which were on Orca's top-of-the-line wetsuits just a year or two ago.

Features:
The Orca Fullsleeve Sonar triathlon wetsuit features 2mm SCS-coated Yamamoto #39 neoprene construction for the majority of panels.  Yamamoto#39 has been the benchmark neoprene on high end performance wetsuits for years.  It's only just now being replaced by the newer (and extra stretchy) Yamamoto #40 on premium suits.  This is actually good news if you're in the market for a mid range wetsuit since it's now more affordable than ever to get into race-proven Yamamoto 39 cell material.
Additionally, the Sonar's cell neoprene is coated with Yamamoto's SCS (Super Composite Skin).   SCS is a fast, water repellant coating that lowers resistance and improves glide through the water.   It basically reduces the drag that you body produces as it skims through the water.SCS coated Yamamoto #39 has a great reputation in the sport for durability.   In fact, Orca uses the Sonar for its in-house wetsuit rental program, which probably says a thing or two about its longevity.
The 2018 edition of the Sonar has been upgraded with a few new features that were previously only found on Orcas's higher end suits.  This is consistent with the way Orca has done things for years – debuting new technology on the top line suits before bringing these features to the mid range offerings.  This system really benefits the Sonar as it's always the first suit in line to get last year's state-of-the-art technologies.
We like the super stretch material in the chest, which allows for more chest freedom.  The most common complaint we hear from swimmers and triathletes about their wetsuits is that they feel their breathing is constricted.  Most top manufacturers are taking steps to reduce this issue, and Orca's super stretch is working quite well.
One big upgrade is the addition of Aerodrome buoyancy panels to the lower back and lower legs.  Aerodrome has been used on top-end Orca suits for a few years, but for 2018 has been added to the Sonar.  It's a special 5mm neoprene that has increased buoyancy resulting from microscopic air cavities trapped inside.  By strategically placing Aerodrome panels on the core and lower legs, the Sonar improves swimming form by providing lift to the lower body.  This buoyancy benefits both weak swimmers and triathletes with more muscular lower bodies resulting from biking and running focus.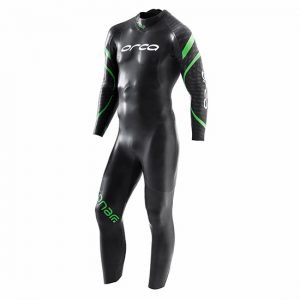 Additionally Orca has improved flexibility in the arms and shoulders by incorporating a combination of Deltastretch, HyperStretch, and MultiStretch panels.  Looking past the slick names, these are essentially different weaves of nylon jersey that are used in high movement areas – think shoulders and elbows –  so the wetsuit moves with your stroke instead of hindering it.  By altering the weave and fabric blend, Orca tailors each panel for the desired combination of stretch, buoyancy, and durability.  It creates a nice fit over a triathlon suit as well, if that is what you choose to wear underneath on race day.
Orca has also revamped the neckline with a sleeker, lower profile collar that lays flat and reduces chafing.  The Sonar is available in both Men's and Women's sizes.  It's also available in both full sleeve and sleeveless models.
Pricing and Discounts: 
Considering you will likely spend around $400, it might not seem like a bargain, but the Sonar is a good value and a strong wetsuit overall.  When you compare it to suits in the $600 to $700 range, you get highly comparable features, only with less exaggerated paneling that will result in a very minor reduction in buoyancy and speed.  If you area in the market for the Sonar, you may want to compare it against the Blue Seventy Reaction, another of our favorites at this price point.
Von Collins is a longtime triathlete, coach, writer, and the author of Your First Triathlon Guide and other fitness books.
Von Collins is an accomplished triathlete and cyclist, and the author of four fitness and training books: Smarter Running, Your First Triathlon Guide, Fit Foods, and 30 Rut-Busting Workouts.
Von has been cited as a triathlon, cycling, and fitness expert by Healthline, CNET, Forbes, Eat This, Not That and other major outlets.
Von has done dozens of triathlons and endurance bike races, coaches, and is an avid part of the cycling and triathlon community.