Are you gearing up for your new training season?  Trying to get your triathlon gear in order as you start your training plan?  We want to help.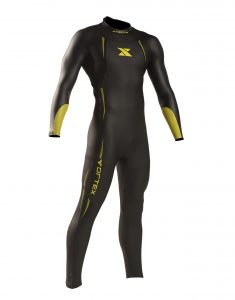 We have found some of the best tri gear discounts for you — some as much as 50% off or more.  Some of these are limited-time specials, others are closeouts.  Either way, they are a chance to save lots of money.  As you get ready for the new triathlon season, take a look at these deals.  We like each of these products, as they fit our mantra:  "Buy Quality, and Buy Less".
Tri Wetsuits and Swimming Gear:
Xterra Vortex Wetsuit

Xterra's midrange all-around wetsuits, a tried and true model that we love.
Built with sophisticated paneling to give you buoyancy and flexibility in the right places, and available in a sleeved or sleeveless version.  Get huge savings right now — Use our code, 'EBOOK', for this incredible deal at Xterra!

Xterra's Vivid Wetsuit

The Vivid is a great, thin, year-round wetsuit, but we bet you never thought you could get it for $99 (regularly $250).  Yes, that is 60% off. Eco-friendly, with neoprene maxing out at 3mm.  An excellent buy right now with our code 'EBOOK' over at www.xterrawetsuits.com.

Special Ops goggles

TYR Special Ops 2.0 Swim Goggles 

Good swim goggles are an underrated part of your triathlon wardrobe, and TYR makes one of our favorites on the market right now.  The TYR Special Ops 2.0 goggles do a great job of not fogging and the field of vision is ample.  Best of all, the goggles adjust their tint to the amount of light that is coming in, making them a very good choice for those sunny open water swims. Who doesn't need an extra pair of swim goggles in their gym bag?  We love them, especially when they are 50% off.  
Cycling Equipment: 
Pearl Izumi Barrier Bike Jacket.

Pearl Izumi makes great cycling gear, and we would not hesitate to add this outstanding cycling or running jacket to our mix.  Perfect for those cooler morning rides, or days when you aren't quite sure what to

Pearl Izumi Barrier Bike Jacket

expect weather-wise.  The jacket can convert to a vest mid-ride with easy-to-remove sleeves.  An elastic draw cord and plenty of venting help make sure it can adjust to just the right comfort level for each ride. Also works great for runs.  In our opinion, cycling jackets are one of those items that you need more than one of, anyway.  It can be had for 30% off right now, while supplies last.

Garneau Ride Gel Cycling Shorts 

The Ride Gel shorts are great for your shorter training rides, indoor cycling sessions,and spin classes.  Made with Garneau's Tequila Chamois, they offer a nice fit and comfortable seat pad for short-to-midrange rides, at a price that won't break the bank.  Upon our last check, you can find them for an extra 25% off right now, here.

Garmin 520 Bike Computer

We featured the Garmin 520 on our list of the best bike computers, and for good reason.  Garmin is a brand we trust, and the 520 is their best bike computer.  Right now, you can find it for 25% off which is about as much of a discount as you will come across anywhere.  We like the Garmin 520's reliability, its profile, and its features.  With 15 hours of battery life that the ability to integrate with your smart phone and apps like Strava, the 520 is one of the few go-to bike computers we recommend.  Completely wireless, it is pretty much plug-and-play and you will be using it quickly after you get it.

Scott Fuga Plus Bike Helmet  

Have you had your bike helmet for a while?  Does your hair stink just a bit after every ride?  Maybe it is time to refresh your head protection with a great deal from Scott.  The Fuga Plus is a great all-around helmet for the road or the trail.  Versatile and comfortable, the MIPS brain protection system will help protect your head, and the high-level of adjustability means that there is

Cannondale Synapse

a good chance the helmet will fit you just right.  Black or white available, 60% off now, while they last.

Cannondale 700 Synapse Carbon

We don't often feature an actual bike in our "9 Best Deals" pieces, but right now you can get a nice 20% off Cannondale's 700 Synapse Carbon. A light, quick road bike with disc brakes and the ability to handle 32mm wheels, this is a great all-purpose bike for someone who may want to ride in a bunch of different conditions, and then use that same bike on race day.  The bike has a nice, wide gear range, and being able to buy from REI means you get the best of both worlds — home delivery, and then local stores in case you need to have anything adjusted. Find it here.
Running Gear:
Pearl Izumi Escape Thermal Tights

Winter might be ending, but in many parts of the country you will be running in cooler temps for a few more weeks. Keep those runs comfortable and your joints warm with PI's Escape

Pearl Izumi Select Thermal

Thermal tights, our favorite all-around running tights for temps from 50 degrees on down. We found them for 40% off at Amazon this week, something we hardly ever see. You can't go wrong with these ultra-comfy and snug-fitting tights.  Perfect for spring, fall, and winter running.  Here. 
Other Deals
Speaking of great deals, don't miss our piece on the best triathlon watches.  It outlines some great deals on an essential piece of precision training equipment that we think every triathlete should invest in.
Have you gotten on the indoor smart bike trainer kick for your early-season training?  All of the components and streaming options can make your head spin.  We make sense of it, here.
We are always on the lookout for deals of any kind in the cycling and triathlon communities.  We watch and review products ranging from power meters to swim jammers, and everything in between.  Check back often as we update this and our other pieces regularly.