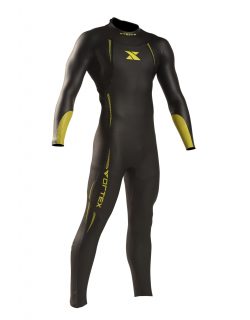 Are you gearing up for your new training season?  Trying to get your triathlon gear in order as you start your training plan?  We want to help.
We have found some of the best tri gear discounts for you — some as much as 50% off or more.  Some of these are limited-time specials, others are closeouts.  Either way, they are a chance to save lots of money.  As you get ready for the new triathlon season, take a look at these deals.  We like each of these products, as they fit our mantra:  "Buy Quality, and Buy Less".
Tri Wetsuits and Swimming Gear:
Xterra Vortex Wetsuit

Xterra's midrange all-around wetsuits, a tried and true model that we love.
Built with sophisticated paneling to give you buoyancy and flexibility in the right places, and available in a sleeved or sleeveless version.  Get huge savings right now — Use our code, 'EBOOK', for this incredible deal at Xterra!

Xterra's Vivid Wetsuit

The Vivid is a great, thin, year-round wetsuit, but we bet you never thought you could get it for $99 (regularly $250).  Yes, that is 60% off. Eco-friendly, with neoprene maxing out at 3mm.  An excellent buy right now with our code 'EBOOK' over at www.xterrawetsuits.com.

TYR Special Ops 2.0 Swim Goggles 

Good swim goggles are an underrated part of your triathlon wardrobe, and TYR makes one of our favorites on the market right now.  The TYR Special Ops 2.0 goggles do a great job of not fogging and the field of vision is ample.  Best of all, the goggles adjust their tint to the amount of light that is coming in, making them a very good choice for those sunny open water swims. Who doesn't need an extra pair of swim goggles in their gym bag?  We love them, especially when they are 50% off.  
Cycling Equipment: 
Running Gear:
Pearl Izumi Escape Thermal Tights

Winter might be ending, but in many parts of the country you will be running in cooler temps for a few more weeks. Keep those runs comfortable and your joints warm with PI's Escape

Thermal tights, our favorite all-around running tights for temps from 50 degrees on down. We found them for 40% off at Amazon this week, something we hardly ever see. You can't go wrong with these ultra-comfy and snug-fitting tights.  Perfect for spring, fall, and winter running.  Here. 
Other Deals
Speaking of great deals, don't miss our piece on the best triathlon watches.  It outlines some great deals on an essential piece of precision training equipment that we think every triathlete should invest in.
Have you gotten on the indoor smart bike trainer kick for your early-season training?  All of the components and streaming options can make your head spin.  We make sense of it, here.
We are always on the lookout for deals of any kind in the cycling and triathlon communities.  We watch and review products ranging from power meters to swim jammers, and everything in between.  Check back often as we update this and our other pieces regularly.