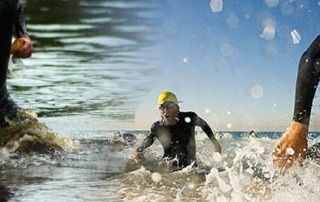 Triathlon Wetsuit Store is pleased to offer our Ebook, Your First Triathlon:  Do Your First Triathlon in 100 Days or Less.  The book is a guide for new triathletes, separating all of the noise from what you really need to know as a new triathlete.  It provides guidance on getting started, how to train, the equipment you will need, and what race day will be like.
Your First Triathlon also includes several discounts from trusted suppliers that could be worth $150 or more.  These discounts are exclusively found inside the book…… Your small investment in the book could payoff many times over on discounted triathlon gear for your race.
Find the book here.  Once you read it, don't hesitate to send feedback our way!  We think you will find the content and instruction extremely useful.
Also, don't overlook our free articles on the best entry level wetsuits and the best entry level triathlon bikes.  Both will help you make sense of the complicated world of triathlon gear.