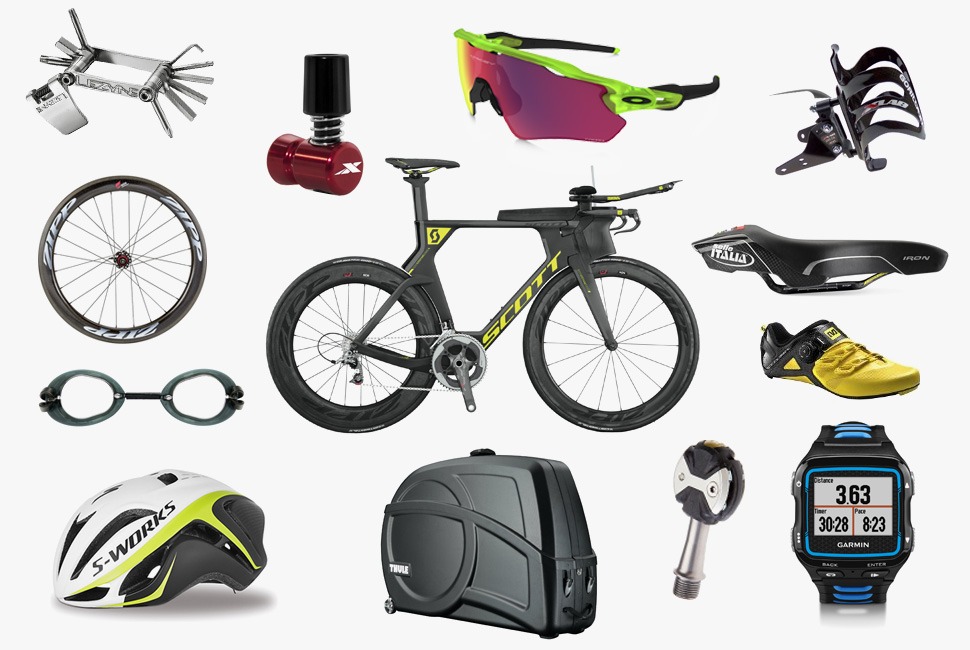 Another holiday season is upon is, and one great thing about triathlon is that the holiday season also doubles as the beginning of a new training season.  That means that it might be perfect timing for a new triathlon training accessory or gadget.  While the wetsuit market usually introduces its new lineup in the late winter, it is not too early to find nifty new training gadgets, cycling aides, or new technology in clothing or gear.
We wanted to provide you with a few ideas of those new products that caught our attention this year.  Our finds range from expensive cycling technology to lower-cost tri bags or even some stocking-stuffer tri speedlaces.  Whether you are buying for yourself or a friend or loved one, these might be new and different and a nice addition to a gear arsenal.
Microsoft Band 2:  Most athletes are into wearables, the only question is which one to invest in.  Garmins and Fitbits have long been the star of the show, but we really like the Microsoft product, the Band 2.  The Microsoft Band 2 can be a great triathlon training aide, but also a general health tool as well.  The Band is worn on the wrist, and provides the benefits of a wrist-worn training watch in a way that is compatible with your smartphone.  Think of it as part watch, part heart-rate monitor, and part mobile phone device.
The Microsoft Band 2 provides metrics such as heart-rate, activity tracking, GPS, and calorie burn.  More importantly, it syncs to your phone so you don't have to take your phone along on runs or rides.  Size-wise, the Band is small enough to fit comfortable on the wrist.  It has a smaller footprint than the Apple Watch or a Garmin watch.  The wristband is a little stiff, but that might soften with time.
While we have a more thorough Microsoft Band 2 review, the only major downside that we can find with the Band is that it is not waterproof.  That should not be a problem for basic sweat from running and cycling, but you can't swim with it.  If a GPS-enabled watch is a must for your swim workouts, you might want to consider one of Garmin's waterproof watches instead.
Price:  $100 to $250, depending on size and features.
Helios Handle Bars:  The Helios Bars incorporate many features that have previously been available only in bolt-on, individualized fashion.  The bars are designed more for road bikes than Tri bikes given the technology that goes into a good set of tri bars.  You can replace your bike's handlebars with a choice of straight, bullhorns, or drop road-bike bars.  Built into the bars is a lot of technology: Turn signals, GPS, a headlight that adjusts based on speed, and even a turn-by-turn navigation feature that uses your phone as its brain.  If the primary concern is safety, this might be a great addition for an avid urban or suburban cyclist.
Price:  $200
Garmin's New Powermeter:  This is what you get the cyclist who has everything.  Casually ask them if they have ever heard of a powermeter.  If they say anything other than "yeah, I have one on my bike!" you might be on to a winner.  A powermeter is a cycling device used by serious, competitive cyclists.  It allows the rider to measure their power output, which can be a more precise way of gauging effort than simply measuring RPMs or speed.  The catch:  powermeters are expensive.  If you have the budget, though, this can be a gamechanger in your training.  Garmin's Vector is pedal-mounted, which is different than most crank-mounted meters.  One great feature of the pedal-mounted Vector is that you can measure the effort from each foot individually, providing a good sense of if your stroke is balanced or not.  Best of all, the pedal-mounted devices are small and light – one of the more subtle powermeters we have ever seen.  Like we said, it is not cheap, so probably a better gift for serious triathletes who tend to spend more than $2,000 on their bike.
Price:  $675
Orca Transition Backpack:  Orca didn't invent the transition bag, but they introduced a transition backpack this fall that we think people will like.  We are big fans of the size, design, and features of Orca's newest transition bag.  Orca, long-known for making excellent wetsuits and triathlon gear, did a nice job with the new transition backpack.  It is a little smaller than Orca's transition bag, with a total of 50 liters of capacity, but has room for everything you need.  Many pockets, areas for wet and dry storage, and a vented back so that you don't have to have a wet bag touch your dry back, or vice-versa, when it is on you.  Probably our favorite feature, though, is the bright green interior that makes it easier to find things inside the bag.  Brilliant.  For about $110, it can be in the gift box for your loved one.
If you do not want to spend quite as much on a bag, Blueseventy makes a very nice transition bag for closer to $100.
Compression Socks:  Many athletes are looking for ways to improve their recovery in between workouts.  The  typical triathlete works out 4-6 days per week, meaning that the body can get pretty fatigued.  Compression socks are a common garment used by runners and triathletes alike, improving blood flow in the lower leg and proven to reduce Delayed Onset Muscular Soreness.  If your athlete doesn't yet own a pair of compression socks, try the 2XU Compression Socks for $50, or if you want to spend a little less, C+D makes a good sock for $25.
Speedlaces / Stretch Laces:  The ultimate stocking-stuffer for a triathlete is a good pair of speedlaces.  These are the shoelaces that stretch, allowing for fast in and out of the shoe, without compromising snugness while running.  most triathletes like to get new laces with each new pair of shoes, so you they can definitely always use more.  Best of all, these are an inexpensive so perfect to drop in a stocking.  Typical Price:  $10
Cycling Videos and DVDs.  Many triathletes like to workout in the winter, but they need to move indoors for much of it.  Cyclists often either go to spin classes, or opt to bike at home on a cycle trainer or stationary bike.  If so, they will want a cycling DVD to help guide their workout.  These DVDs often cost $10 to $25, and every cyclist and triathlete can always use another one.  Just be sure they don't already have the exact same workout, and you will definitely have a winning gift.
The great thing about buying for a triathlete is that there are gifts for every price range, ranging from locklaces for the stocking stuffer, all the way up to the Powermeter that will blow your friend or family member away.