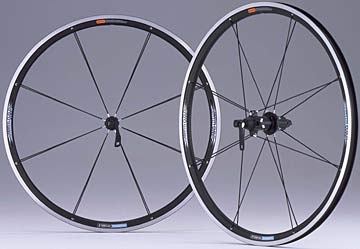 Shimano's WH-R500 (and the subsequent WH-R501A model) is positioned as an entry-level wheelset that provides an economical alternative for riders looking for a basic training wheelset. A pair of WH-R500 or R501 wheels has a list price of about $230, but they can be found for well under $200, making them comparable in price to Mavic's low-end Aksium wheelset. "Low-end" is relative, as the wheelsets in this price range perform quite well for riders of most calibers.  As part of the Shimano line, the WH-R500 sits below the Ultegra WH-6700, an aluminum wheelset that retails for nearly twice the price of the R500. Moving up to the carbon-rimmed RS81 wheelset in the Road Sport series will cost you about four times as much as the R500 or R501.
The R500 features aluminum rims, steel axles and freehub body, and an aluminum freehub shell; the freehub is compatible with 8-, 9- and 10-speed cassettes. The round stainless steel spokes are laced in a 20-spoke radial pattern in the front and a 24-spoke crossed pattern in the rear. All that steel makes for a beefy wheelset; the set weighs in at 1884g, which is almost 230g heavier than the 6700 and nearly 150g heavier than the Mavic Aksium
Despite its economy status, the R500 and R501 at least makes an effort to look attractive. The rims sport a two-tone anodized finish, and the hubs and spokes are finished in basic black. The rim profile is modestly elegant, but there's nothing remotely aero about its relatively shallow 24mm height.  Several new bikes come with the R500 or R501 as standard features, largely from the Giant lineup but also from some other brands.
The extra weight that this wheelset lugs around means that it's not anyone's idea of a racing wheelset, but the R500 doesn't claim to be speedy. Instead, its focus is on providing an affordable, sturdy set of wheels that can serve as a starter set on an entry-level bike or as everyday wheels that you can pound on while you spare your lightweight wheels for a time when they're truly needed.  We have heard from lots of riders who like the versatility of these rims, serving well for commuting during the week but then turning into an adequate training ride wheel on the weekends.  The aluminum and steel construction and round spokes are nothing but the basics, but actual experience over the years tell us that the R500 wheels are capable of standing up to thousands of miles of use under a moderately sized rider.  We expect the same thing from the newer R501.
Road Test
It's no surprise that the main complaint that riders have with these wheels is their weight. They're not snappy by any means, and they're not capable of race-level responsiveness. But no one can reasonably expect a wheel at this level to offer impressive acceleration, and as a basic training wheelset, the R500 performs more than adequately. Riders consistently report that the wheels hold up well to aggressive use and the abuse dished out by less-than-ideal pavement
With their relatively low spoke count, these wheels aren't ideal for heavy riders, but riders weighing close to 200 pounds report being able to put many miles on the R500 or R501 without significant problems with broken spokes or wheels going out of true
One common complaint with the R500 was always focus on the plastic rim tape that Shimano used on them. The thin tape, in combination with the sharp edges of the spoke holes, sometimes resulted in flats.  Replacing the plastic tape with more robust cloth tape seems to solve the problem, however that is a fix that might be above the skill level of some folks.  It might be a good job for a pro.
Pricing
The good news is that the R501 is a pretty common wheelset to find on the market, and the prices tend to be competitive.  Upon last check, we found it for the following price ranges:
$135 – $140 at REI
$130 – $140 at Amazon
You might find closeouts at a better price point, and the R500 can be found used for under $100.  For our money, though, we prefer the trustworthiness and return policy of Amazon or REI.
Alternatives
An alternative to the R500 and R501 could be either a comparable training wheelset or an upgrade to a lighter, faster, more race-ready wheelset.
•         Mavic Aksium. The Aksium wheelset is lighter than the R500, features bladed spokes and has a similar rim profile to the R500. Its list price is $20 higher, however, and its lower weight and 20-spoke lacing suggest that it might not be as durable as the R500 for heavy riders.  Still, we find that the Aksium gets excellent reviews from riders.  Find it here.
•         Shimano WH-RS20 or RS30. Upgrading to Shimano's Road Sport line gets you bladed spokes and (especially in the case of the RS30) an aero rim profile. It will also cost you significantly more money; the RS20 (and its new version, the RS21) commonly retails for just under $300, the RS30 for around $350.
•         Fulcrum Racing 5. With retail pricing falling somewhere between $350 and $400, this entry-level Fulcrum wheelset is much pricier than the R500. Reports of poor weld quality and excessive rim flex, especially under heavy riders, are common, casting doubt on whether this low-end wheel is worth the extra money
Summary
The R500 / R501 wheelset family is, without question, a no-frills, but its price is hard to beat. The point of a training wheelset is that it's able to endure the kind of situations that you don't want to subject your racing wheels to, and the R500 and R501 seem to live up to that expectation admirably, especially considering the low price point. Strong and reliable—if a bit sluggish—the R500 delivers reasonable performance in non-competitive contexts. The Mavic Aksium has some real advantages over the Shimano wheels, but its moderately higher price gives the edge to the R500 when budget is the primary concern.  We have found this wheel to be great on a trainer wheel, for those of you using a bike trainer in the winter.  Keeping a cheaper wheel ready to throw on anytime you go on the trainer can be a great way to save time.