Latest Posts Whether you are dusting off a 5-year old wetsuit for another Tri season, or have purchased a new one that just arrived in the mail, there are four things every racer should do to ...
READ MORE + The Volt from Xterra is an absolute steal at an MSRP of $99, which is not much more than what you can rent a wetsuit for these days. The Volt is a sleeveless suit that debuted in ...
READ MORE + Using a triathlon wetsuit becomes old hat after a few races, and you will never know what you ever did without it. It will feel like a second skin that gives you speed and ...
READ MORE +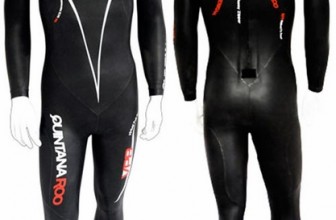 Quintana Roo (or "QR" as the brand's fans call it) is perhaps the most venerable brand in Triathlon.  Founded by former original Ironman finisher Dan Empfield in 1981, Quintana ...
READ MORE + Orca has come a long way since Kiwi age-grouper Scott Unsworth began selling his 'speedsuits' from the back of his car in 1992 at local race events.   With an unsurpassed Olympic ...
READ MORE +