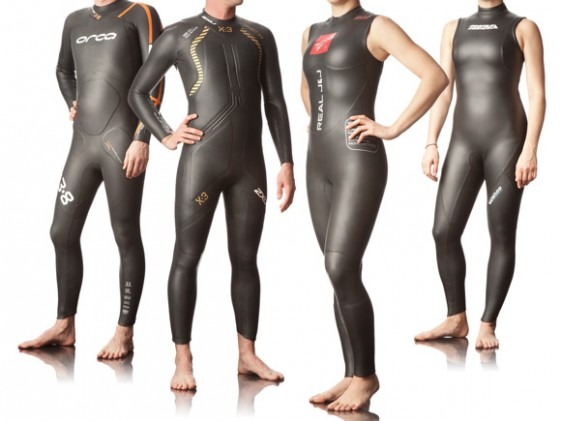 One of the most common question we receive each season is "where can I find discounted triathlon wetsuits".  The allure of getting a cheap wetsuit or a smoking deal on one is something that people will seemingly search to the ends of the earth for.
There are two types of less-expensive wetsuits:  Good wetsuits that are discounted, and cheaply made wetsuits.  We have an entire piece on what you get for the money in wetsuits, but suffice it to say that we think everyone should get the best wetsuit they can for the money.  Buying a cheaply-made wetsuit is hardly ever a good decision for anyone.
The Best Places to Find Discounted Triathlon Wetsuits
We have a few go-to places when it comes to finding good deals on triathlon wetsuits.  For years, we considered this a somewhat secret list, but then we figured that it is our duty to share these with our readers.  With no further adieu, here are the places we recommend for finding discounted tri wetsuits.
What to Look For in Your Triathlon Wetsuit Deals
If you decide to go the route of buying a triathlon wetsuit on sale, there are a few things you should be aware of and keep in mind as you look.
Find a Triathlon Brand. Many wetsuits on the market, especially those that are very cheap, are actually not

made for triathlon.  We would never recommend that you use a non-triathlon wetsuit for such a physical activity such as racing in a tri.  These wetsuits are often built instead for activities like waterskiing or surfing.  Stick to the triathlon brands, such as Blueseventy, Xterra, Orca, TYR, Zoot, or DeSoto, among others.

Understand the Return Policy. Often times, a clearance or discount triathlon wetsuit carries with it an important stipulation:  You can't return it.  All sales are final.  If this is the case, take extra care in make sure that the sizing, age, and style of the wetsuit are all to your liking.  There is a point where getting a nice deal on a wetsuit just isn't worth it.
Get the Right Sizing. Cheap, bargain wetsuits often come with a cost – the sizing is limited.  You can often find a good $400 wetsuit for $200, but the catch might be that only XS and XXL sizes are available.  Be sure you don't skimp on the sizing.  See our piece on how a wetsuit should fit.  As with so many things related to triathlon, getting the right fit is very important to the long-term performance of your purchase.
Buy New. We are all about being green, and reusing and recycling whenever we can.  But when it comes to wetsuits, we think buying new makes a lot of sense.  Used wetsuits might have tears, cuts, patches, or odors that you just don't want to put up with.  A new wetsuit is yours and yours only.  When it comes to other tri gear, especially bikes, we think that buying used can often be a great way to go.
Beware of the "Too good to be true" Deal. There are some great discounts to be had on tri gear, no doubt. But if you find something that is just too good to be true, especially if it is not from one of the sources that we list above, be wary.  We know that there are unethical websites who try to make a quick buck by not selling what they advertise, or not ship you the product in the timeframe that they promised.  Be sure that you are dealing with a good, reputable vendor and you should have some peace of mind.
What Next
Once you have found that great wetsuit for the cheap price you are looking for, then it is time to use it.  We have a few articles that you might find useful, including our piece on How to Use a Triathlon Wetsuit.  This will give you the basics on putting a wetsuit on, caring for it, and what it should feel like.  Next, check out our work on Triathlon Swim Training, giving you ideas on how to get the most out of the first leg of your race.  Finally, don't miss our Triathlon Checklist, a list of all the things you will need for race day as well as your training plan.
We know that if you can get the right training in place, and augment that with some carefully-chosen pieces of triathlon gear, you will enjoy this sport for years and years as we have.