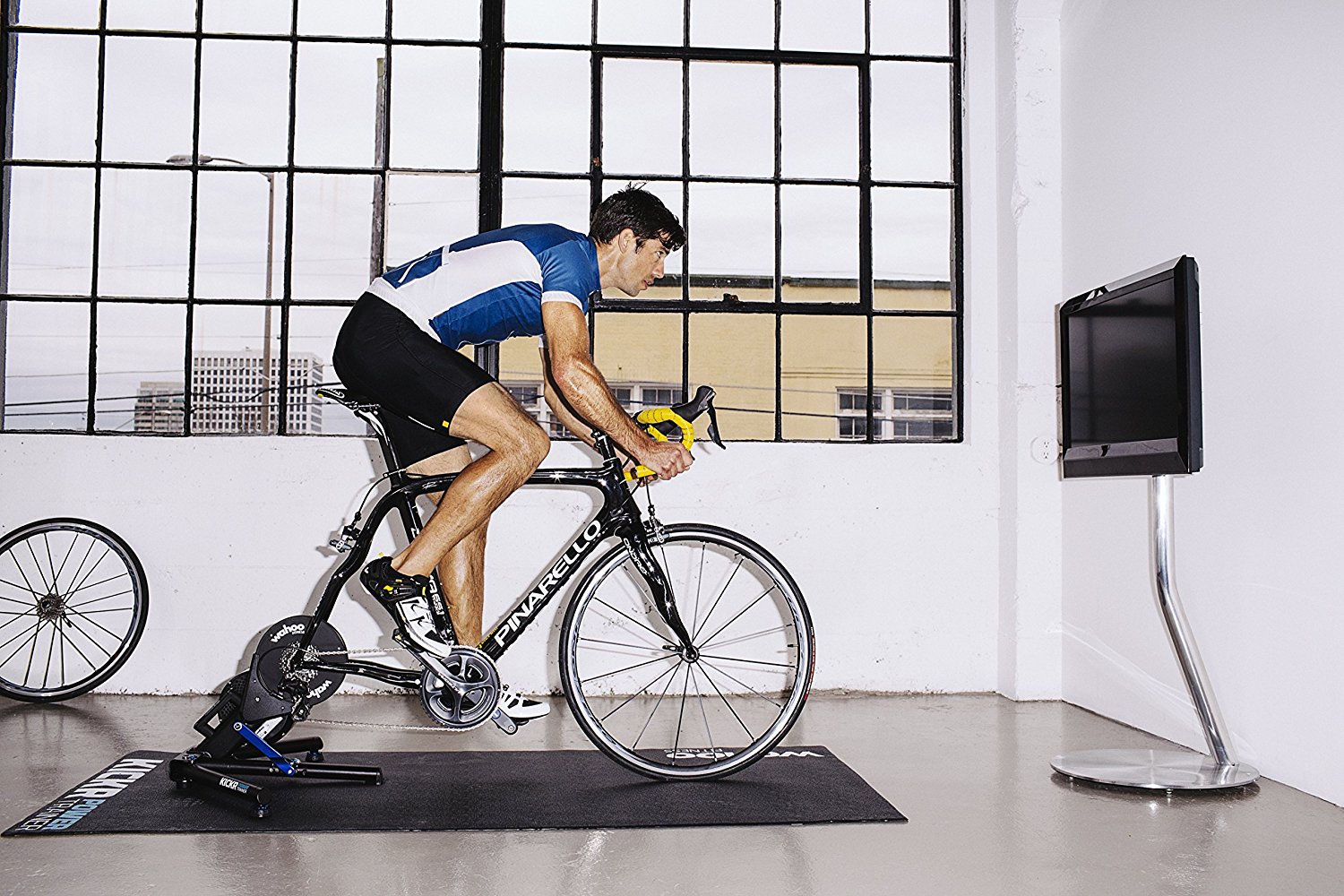 One of the more exciting developments for cycling in recent years has been the combination of smart bike trainers and smart cycling apps.  For those who do at least some of their riding and training indoors, it is probably safe to say this new technology is a gamechanger.
We could probably do a piece on smart bike trainers, and then another piece on all of the apps available to someone who wanted to do smart cycling workouts.  We decided, however, that it would be most useful to our readers if we put them together, in the same article, because one feeds off the other.
When we started doing a roundup on the market of smart bike turbo trainers, smart stationary bikes, and the apps that go with them, our head began to spin.  The choices, and the number of "if-then" statements, can be a bit overwhelming.  We will do our best to simplify everything into plain terms.
First, some definitions:
What Are Smart Bike Trainers?
Also known as spinners, turbo trainers, a bike trainer has long been an important tool for offseason and interval training.  You put your bike up on it, and pedal away.  The smart part is the twist – we consider a smart trainer to be one that allows your speed and power to directly interact with the app or program you are cycling to.  When you cycle harder, the app knows it.  When your course calls for you to go hard uphill, the trainer knows it.  For the purposes of this piece, there are also smart stationary bikes that can be used instead of a trainer.
What Are Smart Cycling Apps?
A smart cycling app is a program or live stream that allows you to interact with the workout in a two-way manner.  It could be an interactive class where your cycling stats are being streamed to the coach who is in a different part of the world, or where your trainer is responding to the changes in the course on your screen.  It can also be that you are "virtually" riding next to your friend – who happens to live 3,000 miles away.  These obviously require an internet connection, and you can access the app through an Ipad, computer, or sometimes via a bike computer.
What Will This setup cost?
This is where it gets complicated.
To do this right, the upfront investment can cost anywhere from about $600 (for a smart trainer, assuming you have your own bike to put on it) to $2,000 (for a Peloton stationary bike).  There is also a way you can rig up a non-smart trainer to have some level of feedback to the program….. but you will miss out on some of the two-way benefits.  To enjoy the latest technology, we recommend not buying anything more than a year or so old, since the engineering is advancing so quickly right now.
The streaming programs, in order to truly be compatible with the trainers, will have a cost as well.  We have seen a monthly cost ranging from $10 to $40.  Compared to the price of spin classes at a health club, that is highly competitive.
There are a few more things we will outline below – but those two things are your big costs.  Pick a trainer, pick a streaming program, and make sure they are compatible with each other.
Best Smart Bike Trainers Reviewed
We like several smart bike trainers on the market today, as well as some of the higher-end smart stationary bikes.  Here are a few of our favorites:
Cycleops Magnus.  (Find here)  We have been fans of Madison-based Cyclops for years.  Their Fluid lineup is one of the all-time reliable non-smart trainer models, and we have found their customer service to be excellent.  The Magnus is their $600 verson of a smart trainer, compatible with Zwift and several other interactive cycling apps.  With integrated ANT and Bluetooth technology, you will have the entire bundle that you need for a good, integrated workout with your app or online program.  You can measure power (with a built-in powermeter) up to 1500 watts – and if you are exceeding that you probably should ditch the home workouts for the Olympic training center anyway.  The Magnus is a wheel-on type of trainer, meaning that the friction is coming from your wheel against the trainer (instead of a direct link to your chain).  If you want a direct-drive trainer from CycleOps, the Hammer (find here) comes highly recommend for about twice the price of the Magnus.  Cycleops also offers their own app-based programming called Virtualtraining.
Wahoo Kickr.  (Find here) We have liked the Kickr for a long time, and the integrated nature of using it with smart training apps is just a bonus.  Also compatible with the Zwift and other programs, the Kickr is a direct-connect model, meaning you remove your rear tire and your chain direct-drives the trainer.  In theory, this setup is probably a bit more accurate in terms of measuring power.  The Kickr is going to be a little more expensive – we typically see it in the $1,000+ price range, depending on model year.  The electromagnetic resistance is highly-accurate and responsive, and you can measure up to 2,000 watts (not that you will really need that much).
Peloton.  Peloton's proprietary stationary bike is as smart as they come – as long as you are also using the Peloton subscription service for $40 a month.  The carbon fiber frame is stiff and responsive, much better than perhaps what you are used to in a stationary bike.  We like how quiet the bike is, which is something you get when the drivetrain, frame, and friction point are all integrated and made by the same manufacturer.  The 4' by 2' footprint is smaller (especially shorter in length) than what you would need to allow for a road bike on a trainer, and the quality of the built is excellent.  The screen is part of the bike, and it is of ample size given how close it is to you.  The bike is $2,000, so not inexpensive considering that it can't double as your outside bike.
TACX Neo Smart.  (Find here) The TACS Neo Smart resembles the Wahoo Kickr in many respects.  It is a direct-drive model, meaning you remove the rear wheel and your chain directly drives the trainer's gear system.  It boasts the ability to mimic many different types of road surfaces, and can measure power up to a whopping 2200 watts.  The accuracy level of the power measurement is slightly better than the Kickr, but they are both so close that you are going to directionally get a very good data output regardless.  The Neo Smart footprint is a bit wider than the other options, which might be noticeable when you are really cranking on an uphill and putting side-to-side torque on the frame.  It is compatible with all of the apps reviewed here (12 total) with the exception of the Peloton subscription.  It is more expensive than the direct-drive models from both CycleOps and Wahoo.
Best Smart Cycling Apps Reviewed
Once you have the device, then it is time to find the right program or app.  Here is our roundup of the apps on the market right now.
Zwift.  Zwift hit the scene a couple years ago and has been gaining a very loyal following of serious cyclists and intermediates alike.  It is an app-based system that runs on either a pc or an apple device, once you download the app and subscribe to the $10 a month software.  They offer many different rides based on three macro locations (London, Richmond, Watopia), each based on inspiration from actual routes or (in the case of Watopia) a virtual island.  You can ride the routes, have friends join you on the routes, or can opt for group rides or events which are often setup on an adhoc basis.  There are also options for interval training or free ride, making this highly accessible for all.  We think it works very well with either the Magnus, Kickr, or Neo Smart trainers above.
Peloton.  If you prefer, you can do the Peloton classes and rides, which by far work best if you also have the Peloton cycle.  More than 500,000 users subscribe to the Peloton service, which for about $40 a month allows you unlimited streaming of cycling classes and group rides.  Your riding is then streamed to the instructors so they can see how you are doing, and in some cases call you out as if you were in the room.  There is a leaderboard, which allows you to see how you are doing compared to other riders in a fashion similar to game theory.  This is a great option if you a) have the money to buy a Peloton bike, and b) prefer to ride as part of a class (you can find a class at almost any hour that suits you).  There is also a less-expensive option to simply stream their classes without the two-way integration, but in our opinion that sacrifices too much of the experience.
Tacx.  Perhaps 3rd place, in terms of momentum, is Tacx.  Resembling Zwift more than Peloton, Tacx is an app-based system that is "hardware agnostic" meaning that you can use any number of bike setups with it.  Compatible with the Tacx trainers as well as other 3rd party trainers, it has a simple interface that allows you to ride notable rides or tracks from around the world.  You can also ride based on GPS coordinates that you enter, which is usually if you want to prepare for an upcoming ride.  To use it, you will need either an Android or Apple app downloaded, but the rest of your data is stored in the web.  The app is free, and as of now the workouts are free, which is the only option of the three we reviewed with no subscription cost.
Other notable subscription services include Kinomap, Trainerroad (we hear good things about this one, but have not yet reviewed it), Skuga, Sufferfest, BKool, Veloreality, CycleOps, and PerfPro Studio.  All have their merits, but the three listed above tend to be our go-to apps right now.  That could all change quickly, as this market is hot and moving fast.  We will update our reviews regularly.
How They Fit Together
Looking at these choices of mechanical equipment and technical equipment, the question can easily come up of "how do these things all work together?"  Using our recommended examples above, there are a a couple ways you can set up your home training system, depending on which equipment you buy.
| App / Program | Recommended Compatible Trainer | Display Method | Cost |
| --- | --- | --- | --- |
| Zwift | CycleOps Magnus, Wahoo Kickr, Tacx Neo Smart (all listed above) | Downloaded program on Apple device or PC | $600 - $1,200 trainer, $10/month subscription (plus cost of a bike) |
| Peloton | Peloton Bike | Integrated screen on bike | $2,000 Bike, $40/month subscription |
| Tacx | CycleOps Magnus, Wahoo Kickr, Tacx Neo Smart (all listed above) | Apple or Android app on tablet or phone | $600 - $1,200 trainer, $10/month subscription (plus cost of a bike) |
Note that if you go the route of streaming the workouts your your tablet or pc, you might want to consider some type of tablet holder for your bike.  This will allow you to get the audio and video close enough so you can full experience the instruction and data that the system provides you.
Smart Trainer Workaround: Converting a "Dumb" Trainer
If you are on a limited budget, but already own a regular bike trainer along with a bike that you like and a tablet or phone that can handle the software, you have a "Plan B" option.  It will not give you the same experience as a smart trainer, and if at all possible we recommend trying to at least getting to the level of the $600 Magnus (shown above).  However, we can totally respect that people want to save money.  Here is how you can get some of the interactive benefits with your dumb trainer.  (we really hate to call them dumb — they are actually incredible little pieces of equipment and have helped us immensely in our cycling).
Purchase an ANT+ or Bluetooth Bike Speed and Cadence Sensor.  This part would attached near your rear hub or in the wheel.  It will cost about $35 for a basic, but we recommend a simpler-to-run bluetooth model for $70.
Purchase an ANT+ stick that will go in your USB drive…. or if you are using an iPad or iPhone, just be sure you got a bluetooth-compatible sensor in the prior step.  Cost is about $25.
By pairing the sensor with your tablet, phone or laptop in this way, you can get a readout of your cadence, speed, and power (established by doing a functional threshold baseline test when you set it up — it will give you instructions) on the app or program.  You will miss the two-way interactivity, most notably the automatic ability of the trainer or bike to mimic the riding conditions or drill on the workout (hills, sprints, intervals, technique work) but it will give you a partial experience.
What to Look for in a Smart Trainer and App Setup
There are a few things to look for when making the big investment in your smart turbo trainer or indoor cycle, along with the right app to use with it.  Here are the pieces of advice we have for you.
Do you Want to Ride Your Own Bike, or an Indoor Stationary Bike?  This might be the first question you should ask.  If you have invested in a nice triathlon bike and want it to be the basis for your year-round training, then getting a setup where you can put your bike on the trainer makes a lot of sense.  You can go with either the direct-drive or the wheel-on version, but you will have the benefits of a) saving money on the setup, b) building your conditioning on the exact bike that you will compete with and c) being able to use your same bike outside when you are ready for an outdoor ride.  An indoor stationary bike is almost always quieter, and often takes up less space overall.  On the other hand, with your own bike, you can put the entire rig away when you are not using it indoors (perhaps in summer) whereas a stationary bike will always take up some space.
Are you Looking for the Peloton Community?  With Peloton making such a huge push into the market over the past couple years after getting major investment, they have built a massive and devoted community.  That community is enough to motivate some people all by itself.  Zwift is not terribly far behind, but probably doesn't have the loyalty and dedication of the loyal Peloton users.  If having that kind of community and coaching is important to you, you might benefit from going the Peleton route.
Vendor Considerations.  When it comes to the programs, workouts, or apps you intend to stream, think about the vendor who is providing them.  If you go with Peloton, which hundreds of thousands of people have, you will be "locked" into them for your hardware, equipment, and future subscription.  If they decide to raise the subscription fee by 50%, there isn't much else you are going to be able to do with your Peloton bike other than pay the fee.  Also, we think it makes sense to go with a company who is showing signs of growth and strength, so you can be sure the workouts you decide to do and the community you join will be around for a while.
What is your Budget?  The two-year ownership costs for each of the options is quite different.  With the Peloton, you will need to buy the $2,000 bike, have it delivered for $250, and then pay $480 a year for the subscription.  After two years, you will be into it for $3,210.  If you have your own bike which you like to use, you can get a very good smart trainer for $600, a trainer tire for about $35, and then subscribe to a service for about $10.  Assuming you already own the tablet or laptop that you would run the program on, you would be looking at a cost of about $950 over the course of two years….. a substantial savings and you would still be getting quality workouts.