Browsing All Posts By
ADMIN Swimming in open water, with or without a wetsuit, can be a great experience but should always be done with safety in mind.  Swimming safely in open water will give you peace of ...
READ MORE + A few weeks ago, we began posting some open water swim tips.  This list will grow over time as there are literally dozens of great tips when it comes to open water swimming and ...
READ MORE + The TYR brand was founded in 1985 by Steve Furniss and Joseph DiLorenzo in California. Steve Furniss is a former Olympic Bronze medal winner and was the captain of the 1976 U.S. ...
READ MORE + Whether you are dusting off a 5-year old wetsuit for another Tri season, or have purchased a new one that just arrived in the mail, there are four things every racer should do to ...
READ MORE + The Volt from Xterra is an absolute steal at an MSRP of $99, which is not much more than what you can rent a wetsuit for these days. The Volt is a sleeveless suit that debuted in ...
READ MORE +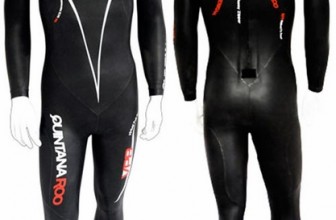 Quintana Roo (or "QR" as the brand's fans call it) is perhaps the most venerable brand in Triathlon.  Founded by former original Ironman finisher Dan Empfield in 1981, Quintana ...
READ MORE +